Penny Dreadful fans should rethink their expectations for the new spinoff City of Angels, which bears little resemblance to its predecessor. While the original Penny Dreadful was a sumptuous gothic horror series—a melodrama starring characters from Dracula, Frankenstein and Dr Jekyll and Mr Hyde—the new spinoff is more like a crime procedural with supernatural elements. The Penny Dreadful subtitle feels almost misleading, although some of the original DNA remains in Natalie Dormer's co-lead role, a spiritual successor to Eva Green.
Penny Dreadful: City of Angels

RELEASE DATE:
April 26, 2020
CREATOR:
John Logan
STREAMING:
Showtime/Amazon Prime
Showrunner John Logan swaps gothic horror for political crime drama in this new spinoff from 'Penny Dreadful,' featuring Natalie Dormer as a demonic villain in 1930s Los Angeles.
Set in 1938 Los Angeles, City of Angels stars Daniel Zovatto as Tiago Vega, the LAPD's first Mexican-American detective. Like American Gods and The Terror: Infamy (a gripping horror series set in a Japanese-American internment camp), this show combines folklore with a story about immigrant communities in America. Vega's mother (Adriana Barraza) is a dedicated follower of Santa Muerte, and Vega's first homicide case is a grisly murder where the bodies are mutilated to resemble Día de Muertos (Day of the Dead) makeup. His white colleagues automatically assume the killers are Mexican, sparking a powder keg of racial tensions. Vega's neighborhood was already set to be destroyed by a new freeway, and now the German-American Bund is in town, stirring up support for Hitler. Natalie Dormer's character, Magda, is a demonic presence throughout, shapeshifting into different roles to foment chaos and racism in the city.
Showrunner John Logan has an interesting résumé, writing a whole host of acclaimed movies (Gladiator, The Aviator, Skyfall) along with some more dubious titles (Star Trek: Nemesis; Alien: Covenant). Penny Dreadful was a passion project for him, reveling in gloomy, romantic Victoriana. It was bloody, operatic, explosively emotional, and very fun to watch. It was also blatantly about white people, sidelining its few characters of color while the main cast (including Eva Green, Josh Hartnett and Rory Kinnear) got deliciously meaty roles to chew on. City of Angels is an attempt to correct that, but while Daniel Zovatto gives a sensitive and engaging performance as the new lead, you can kind of tell this isn't John Logan's wheelhouse. The Mexican folklore elements are not especially deep, and the main plot is a familiar kind of police racism drama, with Vega torn between his job and his family. It explores an underrepresented segment of American history, but it still sometimes relies on tired crime drama tropes.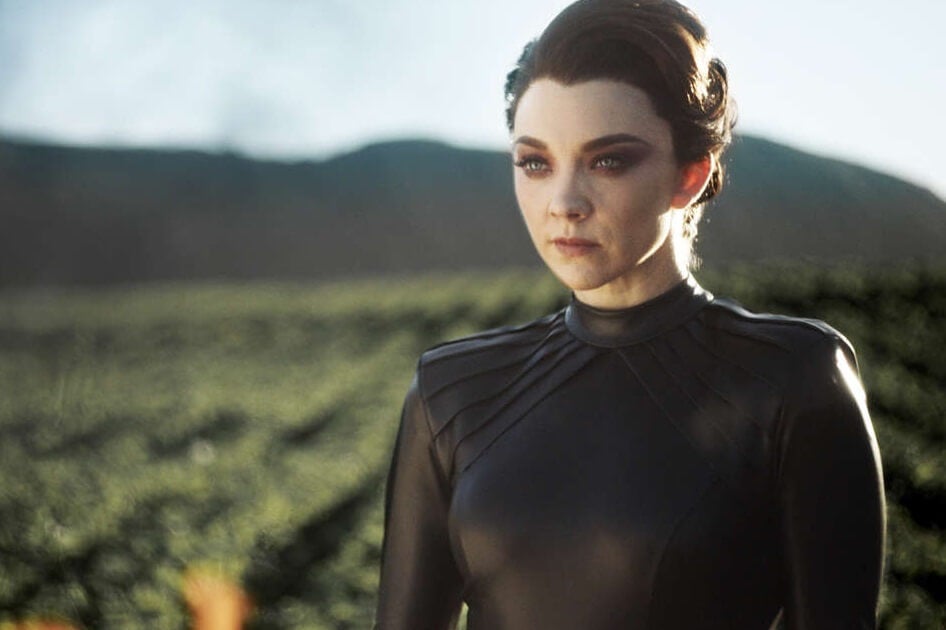 Logan is credited with writing six of the eight episodes, working with directors Paco Cabezas, Sergio Mimica-Gezzan, Sheree Folkson and Roxann Dawson. The production values are stunning, recreating 1930s L.A. with passionate attention to detail. Not just the props and costumes, but the heat, the dirt, and the glaring sunlight. You can practically smell the sweat. But that's only part of the journey to authenticity. In terms of straightforward storytelling, the two halves of the show don't fully fit together. Daniel Zovatto stars in a serious drama about racism and local politics, with Nathan Lane as his mentor—an older Jewish detective who is virtually a stock character, rescued by the fact that Nathan Lane is Nathan Lane. Meanwhile, Natalie Dormer is a remnant of the campier moments of Penny Dreadful, a supernatural villain who changes costumes and wigs every five minutes, vamping it up for the camera.
The first episode sets up a war between Santa Muerte (Lorenza Izzo) and Magda, with Magda as an evil influence while Santa Muerte, a more sympathetic deity, watches passively from the sidelines. Adopting an entertaining series of new personas—a dowdy secretary, a vulnerable German housewife, a tough-talking Spanish gangster—Magda manipulates various men to fuel a race war in L.A. She's obviously great casting, a theatrical scene-stealer who has a lot of fun with a rather silly role. Unlike the emotionally nuanced goths of Penny Dreadful, Magda is a pantomime Lady Macbeth with simple motives and little vulnerability. Her narrative opposite is the enigmatic Sister Molly (Kerry Bishé), a celebrity evangelist with a magnetic stage presence and a pure-as-the-driven-snow public image.
Contemporary media is understandably preoccupied with how fascist movements come to power, and City of Angels features some obvious parallels to present-day America. It digs into the racist history of the LAPD, and punctures the myth of America staunchly opposing Hitler before the war. Its heart is in the right place, but as a crime drama it's not especially fresh—and it might have benefited from more Latinx writers in the staff. The best moments come when it leans into its fantastical side, like a Zoot Suit dance sequence and Sister Molly's unsettling stage act. But after watching six episodes, it felt like less than the sum of its parts. Easy enough to watch, but less ambitious than American Gods, less insightful than The Terror: Infamy, and no match for the over-the-top thrills of the original Penny Dreadful.
Penny Dreadful: City of Angels begins on Showtime on Sunday, April 26.