"If you can conquer America, you can conquer the world."
Patrice Wilson tells me this by phone in early December. He's just getting back from Europe,  where he was scouting new talent and figuring out how to bring what he does overseas.
What he does is produce music videos featuring young girls singing instantly meme-able, ready-to-go-viral pop songs. Since helming releases from Rebecca Black, , and Alison Gold, he's been called a troll, a creep, and a puppetmaster. He brushes off those associations.  
"Shush Up," the third video from Gold and followup to 2013's "ABCDEFG," was just released. Within the first minute, the 11-year-old robs a jewelry store, gets arrested, and is strapped into an electric chair. She later struts around a gold-plated jail cell in hotpants, then confers with Wilson, who's in handcuffs, behind a plate of glass.
Like all his videos, there's no cohesive narrative, just a stream of confusing imagery over inane lyrics. Some of the video's more lucid comments question the age-appropriateness of Gold's image. Elsewhere, the word "slut" is thrown out a troubling number of times. (The video has been pulled from YouTube. It's not clear at this time why, though mirror copies can be found around the Web.)
Back in December, Wilson explained that people would definitely have a reaction to Gold's latest video. It's become his business model to make sure people do:
"If my haters had a problem with 'ABCDEFG,' they'll really have an issue with this new video."
Wilson's father is Nigerian, and his mother's Irish, so he grew up traveling between Africa and Europe. After moving to the States to attend Bible college in 1999, Wilson tried to promote his own music career but then switched his focus to producing. He eventually paired up with Australian producer Clarence Jey to form ARK Music Factory in 2010, with the idea that they could shape American pop stars through a song and music video package and then bring them to Europe.
But then they started putting videos on YouTube, and the business model took a different turn. In the summer of 2010, Kaya Rosenthal's "Can't Get You Out of My Mind" was released, and the video has since racked up more than 5 million views. Wilson makes a cameo in the very first scene.
One day in late 2010, Wilson got email from Georgina Kelly, asking if her daughter could have an audition.
"She was a good singer," Wilson says. "Not the best, but we could work with her."
The singer was Rebecca Black, and Wilson and Jey subsequently wrote and produced 2011's "Friday," an irresistibly inane song about a day of the week. The video and song cost $4,000.
People couldn't believe the song was so vacuous and un-self-aware, so they shared and clicked and shared, as if that would somehow validate its existence. The backlash the then-14-year-old Black experienced after the song went viral caused her to have to leave school, but then the Internet exhaled, and something odd happened: She found many of her haters had become fans. (Black did not respond to an interview request.)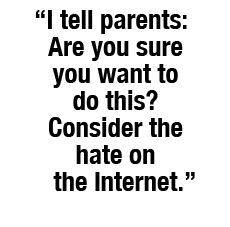 Things went differently for Wilson: ARK Music Factory fielded lawsuits from Black's mother disputing the song's copyright and terms of Rebecca's contract, and the litigation that followed led Wilson and Jey to part ways. ARK Music Factory still exists, but with different owners. Wilson launched his own company, PMW Live, in 2011.
I ask Wilson about Black's video for the song "Saturday," which was released in early December, a few days before our call. With "Saturday," Black is clearly attempting to assert her independence and distance herself from "Friday" with an obvious callback. Towards the end of the video, a man is arrested at a party she and her friends are attending. Wilson doesn't think it's a direct diss, even if others do. (The previous month, a Change.org petition circulated to keep Wilson away from minors.)
"She wanted to become a more serious artist," he explains. "She tried to get away from 'Friday,' but that's how she got discovered. Without 'Friday,' she would not exist." "Friday" now has more than 60 million views, and Black was able to take that love-hate and channel it into a somewhat successful vlog career.
After Black came 12-year-old Nicole Westbrook's "It's Thanksgiving" in 2012, an equally inane song about a holiday. The video featured Westbrook partying and singing with her friends, and Wilson's cameo makes him the only adult at their party. (He's also dressed as a turkey.) It has 15 million views, but she's yet to have a followup hit.
Wilson's longest project has been Gold, who seeped into the cultural consciousness with "Chinese Food" last fall. She managed to ride out the initial hatred Black faced and developed a pretty loyal fanbase. Her Twitter feed is full of "Goldies," a term coined by two 17-year-old Alabama fans named Abby and Gracie. They also run the @AlisonGoldFans account, and their fandom was solidified at a sleepover.
"We were talking about music and YouTube and then we started talking about how we should write a song like 'Friday' by Rebecca Black and become famous," Abby says via email. "And then at like the exact same time we were both like, 'HAVE YOU HEARD THAT CHINESE FOOD SONG?'"
They also keep up with Gold on Instagram, and occasionally Kik, a messaging app popular with teens. Their fandom has turned into a virtual friendship, but Abby says they've also developed something of a sisterly relationship with Gold:
"We feel kind of like her big sisters because we try to defend her if someone tweets something rude, and we just want the best for her."
"ABCDEFG" got a lot of criticism for a scene in which Wilson, the Hitchcock of tween-pop Internet video cameos, lures Gold to a virtual "club" and puts a love potion in her drink to help with a crush. He says haters will make assumptions but that he wasn't thinking of the connotations at the time.
The video begins with him surveying a miniature town, dressed like Mr. Rogers, then looking in the window of the house in which Gold resides. In all of his videos, we're seeing American teenagers free of any parental supervision, the bubble-world of youth used as a platform to churn out YouTube hits.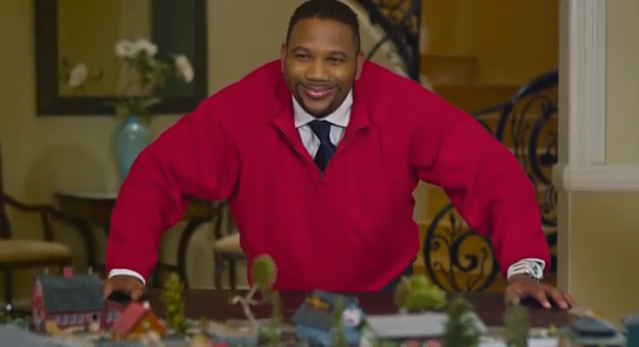 Wilson says he does ask for clients' input before writing songs and adds that making cameos is a matter of popular opinion.
"If Fat Usher's not in the video, they complain!"
Who's demanding Wilson's cameos is still a mystery. "ABCDEFG" now sits at more than 2 million views, with 7,500 dislikes. Wilson says he gives his clients and their parents fair warning that Internet fame comes with inevitable backlash.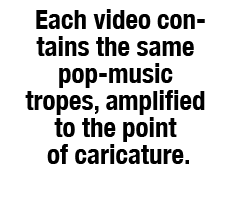 "I tell parents: Are you sure you want to do this? Consider the hate on the Internet. You saw what happened with Rebecca; the Internet is a hateful place. Just don't tell me tomorrow about the comments, because then I know you shouldn't be doing this.
"The haters are there, 80 percent, but then there are 20 percent fans. And you'll get the haters to become lovers."
That's what Wilson claims he's trying to do, even if it seems he's actively trying to monetize outrage and hate-clicks. But hate-clicks equal buzz, and though Wilson says he never actively set his sights on the tween demo, he explains, 11-to-14-year-old girls are the ones who audition.
But "Shush Up" unfolds like Wilson was trying a little too hard for those hate-clicks. Via email, Gold says she "wanted to go for something different this time." In a recent interview with U.K. site Mosh News, Wilson said the video is "pure art, and it's no different than a Willow Smith video or the 10-year-old dancer Kaycee Rice. It's no different from watching Dance Moms dancing with their kids or Toddlers and Tiaras."
Each single contains the same pop-music video tropes, amplified to the point of caricature. The songs are Seinfeldian in nature: While they are explicitly about what the title dictates, they are ultimately about nothing. So is Wilson critiquing this very American obsession with empty culture and shock tactics, a la Toddlers and Tiaras? Is he appealing to the Internet's base need for hate-clicks? How troubled should we be that young girls the focus of this hate, the ease with which "slut" is lobbed at an 11-year-old?
Wilson says this year he'll be debuting a new reality show that will "reveal" everything he does and possibly address the questions of his critics: "The audition, how they pay me, how I select."
Wilson might not be close to conquering America, but he's certainly used his shiny pop-music hit factory to redefine the viral hit, and what 15 minutes of fame means.
Screengrab via patomusic/YouTube