Like most users of social news site Reddit, Patrick Gill has seen a lot of memes come and go. A longtime lurker, he's laughed at Internet inside jokes like Ridiculously Photogenic Guy and Scumbag Steve, but he never got fully invested in the excitement.
That changed Friday when Gill was forced to pay attention to the newest meme making the rounds on the site. It was him.
Called Overly Attached Boyfriend, the meme was inspired by Gill's uncanny resemblance to Laina, a 21-year-old Justin Bieber fan who became an overnight sensation (and nightmare) when her intentionally creepy fan video of "Girlfriend" went viral a month ago. It quickly collected more than 2 million views and inspired the Internet to dub her Overly Attached Girlfriend.
"I caught on to [Overly Attached Girlfriend] about the same as everyone else," Gill, 17, told the Daily Dot Friday. "I saw it on Reddit and had a few people send me the fanvideo but just gave the meme a light chuckle.
"As for the look alike, I had a few friends bring it up about a week or two after the meme became popular. We thought it was funny and laughed about a little, but again, I never gave it much thought. I was up late Thursday night, saw the picture on my Facebook's profile, and, after a little confidence boost from a friend, decided to post it [to Reddit]."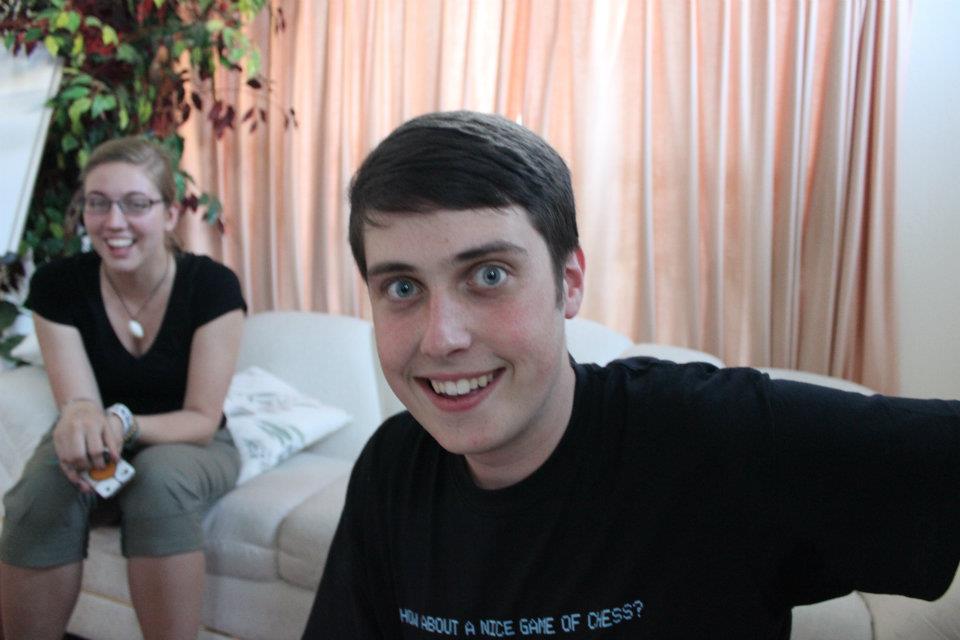 The rest is Internet history.
The three-month-old image spread rapidly around the site where it collected dozens of memes and reached the site's front page. In just a short 24 hours. the Overly Attached Boyfriend meme was born.
"Honey, it's been three weeks and I haven't met your parents yet," wrote one user in response to Gill's photo. "I need to ask your father something."
"Tells her he's gay, she gets a sex change so they can still be together. Forever," added another redditor.
Gill's Reddit post collected more than 1,200 posts. He couldn't believe it.
"I certainly expected the compliments and criticism once I found out it was a trending picture, but it was hard to actually take in all at once," he said.
"My mother has spent the entire day laughing at the comments and memes being posted, regardless of how off-color they get, and my friends have kept my Facebook occupied."
Gill is a high school senior in Arizona that participates in the International Baccalaureate, a non-profit organization that helps young students "develop the intellectual, personal, emotional and social skills to live, learn and work in a rapidly globalizing world," according to the organization's site.
While the meme focuses on relationships, Gill admits that he's "going on 17 years single."
If it were up to the Internet, however, he and Laina would make the perfect couple.
"I've been told to do videos and something in cooperation with Laina," Gill said.
"I do appreciate all the support that I'm getting from this. Even the somewhat offensive things are giving my family, my friends, and even myself a good laugh. If this doesn't become the next big thing or if I don't get another chance in the Internet spotlight, I'm fine with that. It's been a fun day."
Photos by Patrick Gill