You know Jake Paul.
We all know Jake Paul—the loud blond YouTube star who few over the age of 20 follow closely. Jake Paul, who jumped on a KTLA van when the network was covering how awful he is to his neighbors. Jake Paul, who played tattoo roulette and bragged about it in a rap song.
Jake Paul, whose Jackass-style stunts have earned him 17,520,104 YouTube subscribers.
Last week, the Daily Dot reported on YouTube drama surrounding Paul and his former girlfriend, Erika Costell's breakup, which he announced Nov. 7 on Twitter.
Following the announcement, fans of the couple, nicknamed "Jerika," took to social media to express their grief—and to blame the person they saw as responsible: Nikki Banner, 25, an entrepreneur and sometimes-actress and model. She got caught up in the saga last week after gossip vlogger Keemstar mentioned her on his YouTube show, "DramaAlert."
Banner told the Daily Dot that she's experienced a huge uptick in harassment since the news broke—mostly from preteen fans of "Jerika," she said.
November 7, 2018
They blame her for breaking up their favorite couple—a couple that, by all accounts, started out as a social media stunt. 
The Keemstar video made it seem as though Banner broke up Paul and Costell, but Banner insists that's not what happened.
"You can't break up a broken up couple," Banner said in a phone interview. She said that while she did indeed go camping with Paul in late October, in California near the Mexican border, she was under the impression that Paul and Costell were no longer an item.
"I would never have gone" if she thought they were together or would reconcile, she said.
While his Twitter announcement came in early November, it does say that the couple had split previously to the post.
Banner said she met Paul at a party in California earlier this year, although she couldn't remember the exact date. She had found him kind and charming, and she said the two remained friends.
In October, Banner said she accepted Paul's offer to fly out to California to go camping.
Banner said she went camping with Paul on Oct. 26; while she says she did "hook up" with him the first night she was with him, the next day he was texting other girls, including the model Joy Corrigan. Banner said he even asked her if he should hook up with Corrigan.
He also mentioned wanting to mend things with Costell, which Banner said she encouraged him to do.
The Twitter statement would indicate that any attempts at reconciliation were unsuccessful, but as the Daily Dot previously reported, social media interactions between the two in early November made the status of their relationship at the time unclear. 
Banner further says that Paul ignored her during the second day of their camping trip, which she says she spent in an RV four hours from the Mexican border. At one point, she said, the group ran out of water. Meanwhile, Banner said she is bearing the brunt of what she calls a "toxic fandom."
"I definitely am being slut-shamed," she said.
Banner sent the Daily Dot screenshots of an Instagram direct message in which a user called her "dirty slag scum," apparently using British slang for the word "slut." The user looks to be very young, no more than 14 or so.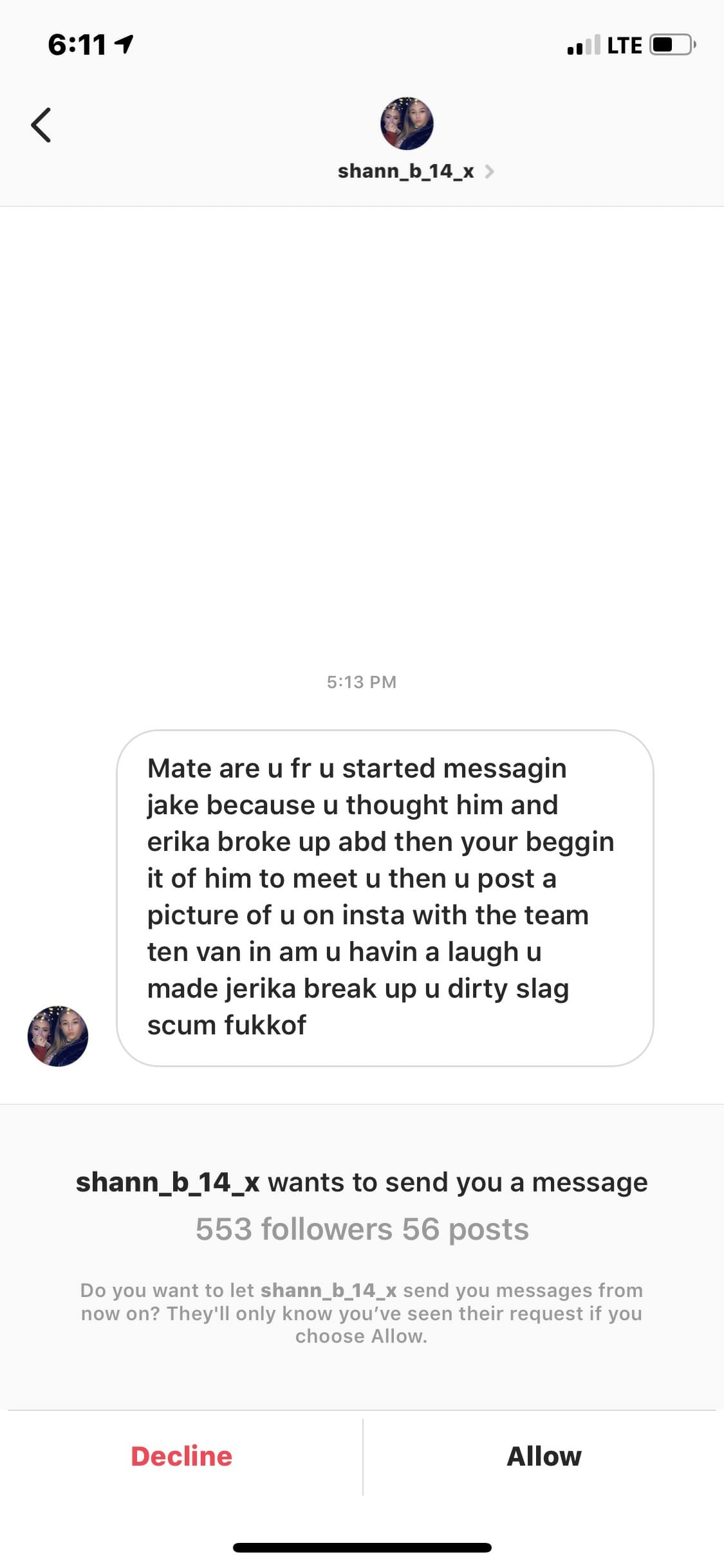 A Twitter user called Banner a "bitch" and said that Paul cheated on Costell with her. The Twitter user also appears to be extremely young.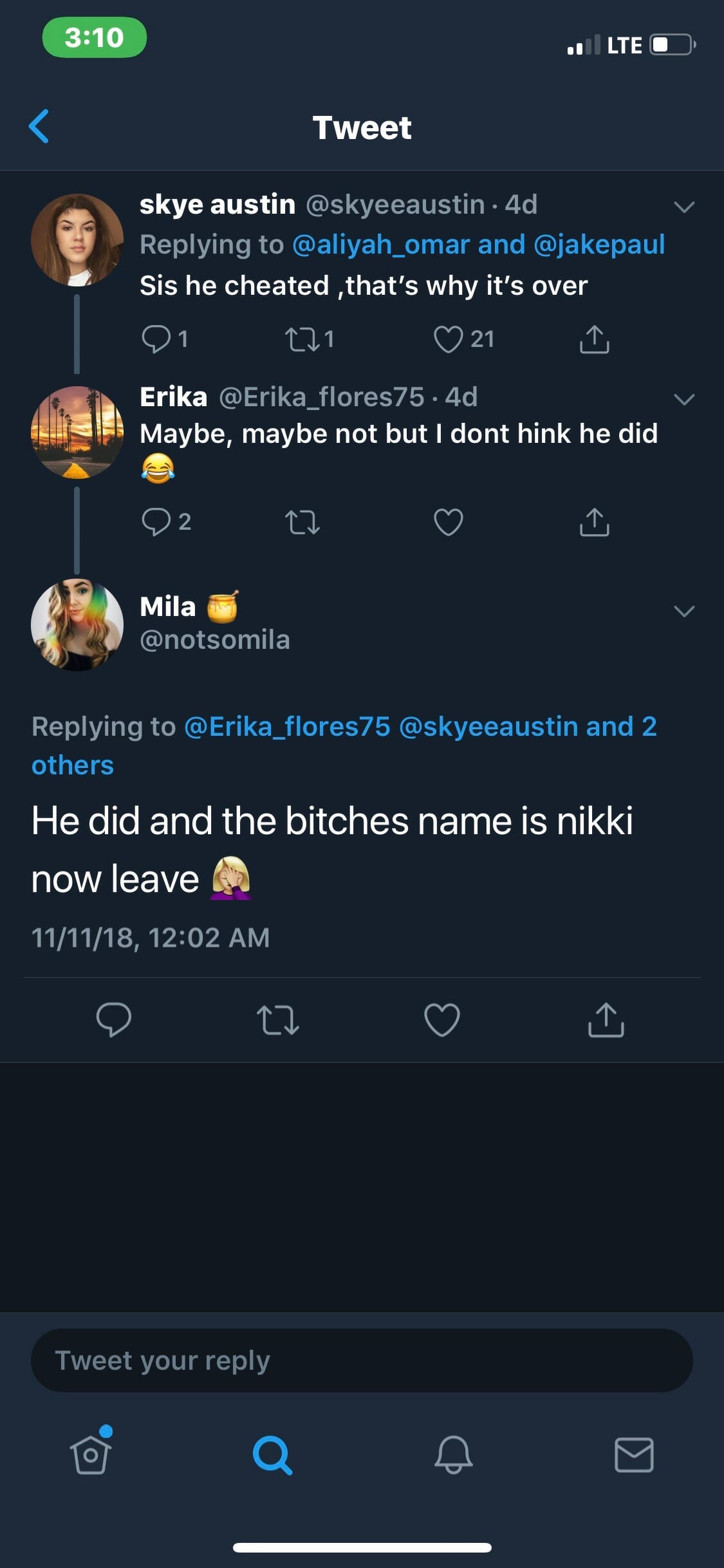 An Instagram user whose bio says she is 11 years old told Banner her face looked like a banana and that she couldn't do makeup.
@Kieranstonelake, who at least appears to be of legal drinking age, sent Banner a direct message saying, "don't play victim when your [sic] not, erika is the only fucking victim in this," further saying Banner "spread her legs" to get flown out for a camping trip.
The same user also said, "How do you cheat on a Victoria Secret model with an average instagram model," referencing the fact that Costell walked in the Victoria's Secret runway show. (It should be noted here that both women are impossibly beautiful in the way that young women of the social generation are—thin, tan, with flawless, photo-ready hair and makeup.)
It should also be noted that association with Jake Paul guarantees that one's name will be in the press; Costell and Corrigan, as well as a woman named Sofia Christoforou, all gained notoriety after being associated with the YouTuber.
Banner said she had spoken with Costell on the phone and stressed that she wanted to convey a message of solidarity and girl power. "I want Erika to go through this in peace," she said, concerned that the drama was going on around Costell's birthday.
Paul has been accused of cheating before; his relationship with the YouTube star Alissa Violet ended after he allegedly cheated on her with Kayla Haller. Violet also said Paul physically and emotionally abused her.
The Daily Dot has reached out to both Paul and Costell for comment.