If you weren't already familiar with Netflix's intro sound effect, you will be after watching The Joel McHale Show with Joel McHale.
The signature "duh-dum" appears frequently throughout "Pickler, Pebbles, Pillows and Priestley," the inaugural episode of McHale's eponymous new weekly Netflix show, a spiritual successor to his satirical talk show The Soup, which aired on E! from 2004 to 2015. McHale operates squarely within his wheelhouse here, delivering sarcastic commentary on viral internet videos and reality TV fluff, which he punctuates with several winking nods to the omnipresent streaming service, including an "impromptu pre-taped tour" of their production facility in the heart of Hollywood's "What's that smell?" district. (It's urine!)

McHale maintains his devilish, self-aware smirk throughout the show's entirety. He knows full well that mocking the vapidity of modern media with a disposable talk show is a fool's errand in the age of Twitter hot takes and socially conscious prestige television. But his willingness to do so anyway with a mixture of narcissistic wit and cheery self-deprecation makes The Joel McHale Show with Joel McHale an entertaining slice of escapism.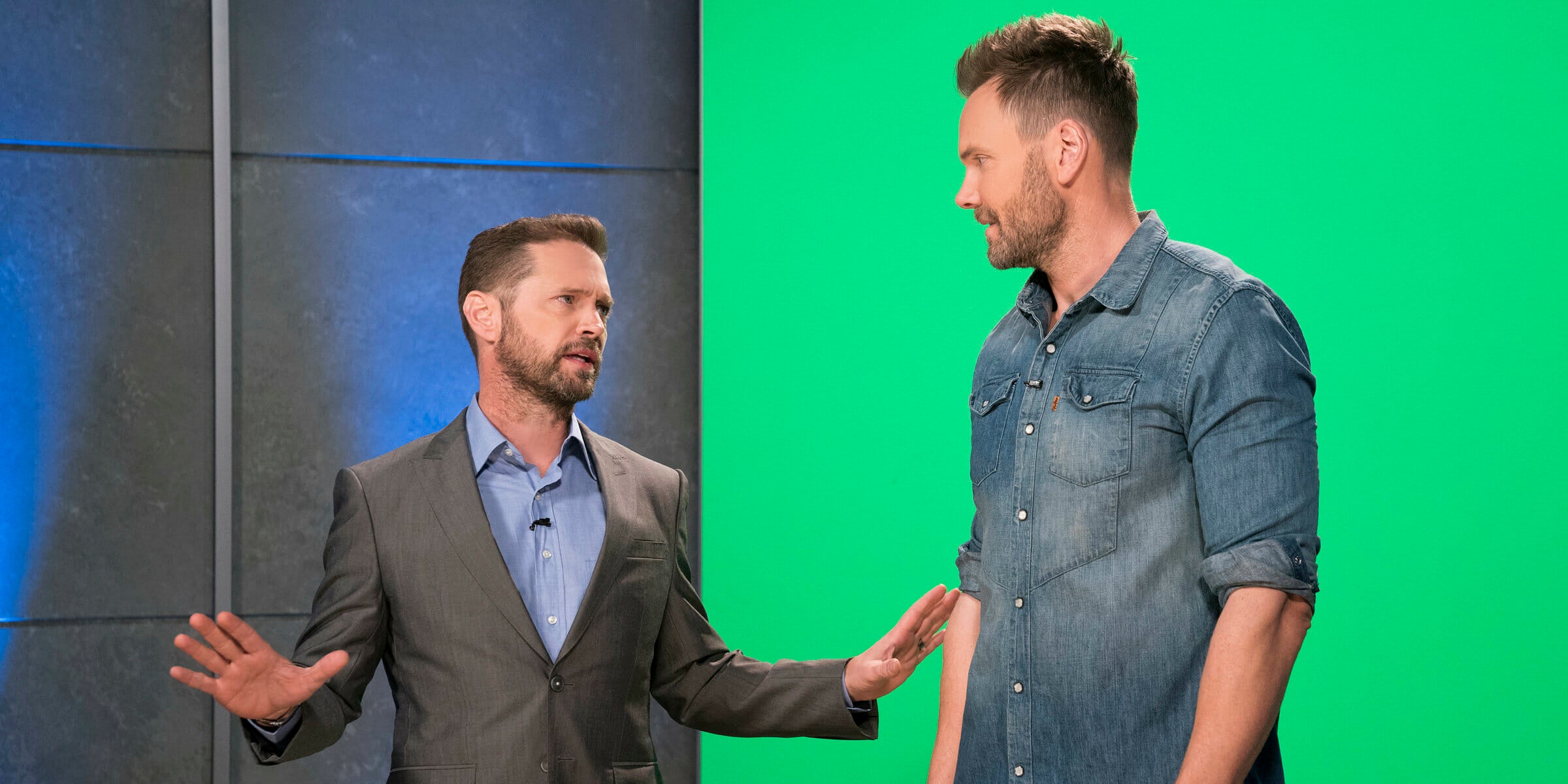 Still, despite his on-screen magnetism, McHale is at the mercy of the material he critiques, which proves to be a mixed bag on the show's debut. The unimaginatively titled "Sports Segment" gets a lot of mileage out of a shallow concept with its boilerplate graphics and product placement. ("Sports Segment is brought to you by Beverages!") He also takes viewers around the world with TV show footage from South Africa, "Regular Africa," and South Korea. McHale sneaks in one of the show's best lines here—"South Africa never disappoints, unless you've been incarcerated for decades just for being Black"—and fights to suppress his glee at saying the Afrikaans word for "child": "kunt."
Other jokes never make it off the starting block. Kevin Hart's brief intro cameo seems like a missed opportunity, and the grotesquely off-key singing from TLC's polygamy-based reality show Sister Wives is too physically painful to be humorous. McHale also misfires by taking jabs at American Idol alum Kellie Pickler's new talk show Pickler & Ben. The country singer might talk with an unbearable twang, but if that's all the ammunition McHale's got, it's hard to shake the feeling that he's just punching downward.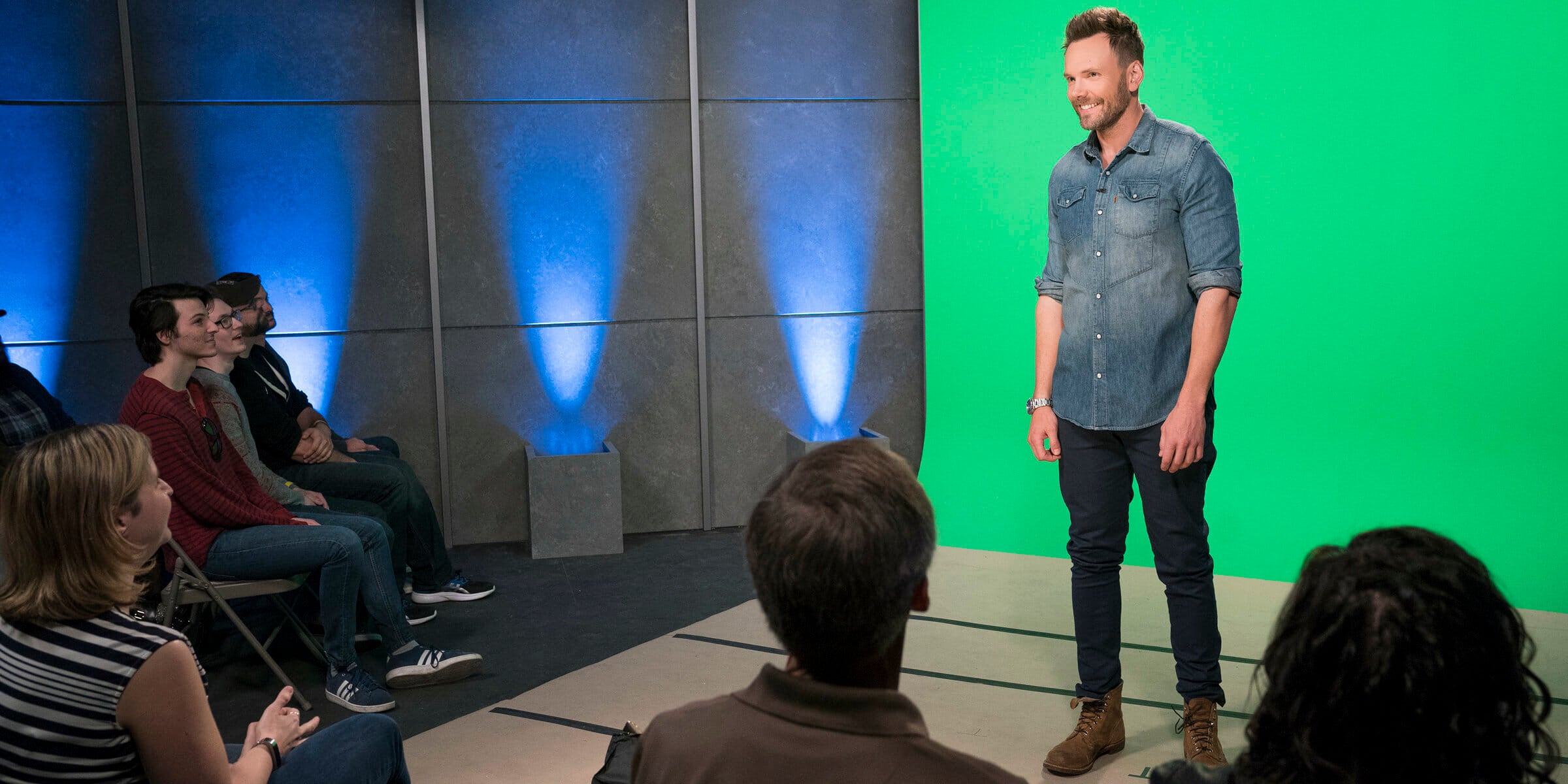 Thankfully the duds come early, and McHale switches targets too briskly for audiences to linger on them. But The Joel McHale Show with Joel McHale scores biggest when it hearkens back to its host's last major gig: Community. During his Netflix studio tour, McHale bumps into former co-stars Allison Brie and Jim Rash, both of whom give tongue-in-cheek nods to their most recent Netflix gigs, GLOW and Beyond Stranger Things, respectively. After shooting down Rash's idea for a Dean-centric Community spinoff, McHale calls Brie "Gillian" (as in Community co-star Gillian Jacobs) and says he can't wait for season 3 of Love, prompting one of the episode's best lines from Brie: "Fuck, I miss Chevy."
Though it's tantalizing to consider the cast of Community fulfilling its "six seasons and a movie" prophecy, it's also refreshing to see McHale get back to helming a show suited to his brand of good-natured snark. The Joel McHale Show with Joel McHale has 12 more episodes to iron out its kinks and load up on better source material, and even if McHale has nothing substantial to say, it's still fun to hear him say it.
Still not sure what to watch on Netflix? Here are our guides for the absolute best movies on Netflix, must-see Netflix original series and movies, and the comedy specials guaranteed to make you laugh.