There is so much going on in Eurovision Song Contest: The Story of Fire Saga that could easily have gone catastrophically wrong. It's taking on the world's biggest song contest—one that can regularly draw in audiences of at least 180 million on TV—that people both love and love to hate, a global competition that can be loud and colorful, completely campy but also completely sincere; previous winning entries include performances from ABBA and Celine Dion. The spectacle and the music of Eurovision are both key elements, so you can't skimp on that, either. But despite Eurovision's massive draw around the world, it's not nearly as well-known in the U.S., so Eurovision Song Contest also has to showcase what Eurovision is to that audience; at one point in the film, an American tourist asks Lars Erickssong (Will Ferrell) if Eurovision is like The Voice, a comparison that Lars scoffs at.
Eurovision Song Contest: The Story of Fire Saga

RELEASE DATE:
June 26, 2020
DIRECTOR:
David Dobkin
STREAMING:
Netflix
Two Icelandic childhood friends with dreams of winning it big at the Eurovision Song Contest finally get the chance to perform in the world's biggest song competition—and give Iceland its first win.
Running just over two hours, Eurovision Song Contest slightly overstays its welcome, the tone is inconsistent, and the story is largely predictable. (I also wish that it had embraced the spectacle even more than it does.) But it taps into a lot of potential in its sincerity both on and off the stage, the soundtrack offers some legitimately great offerings, and given that the real 2020 Eurovision Song Contest was canceled due to the COVID-19 pandemic, it's a hell of a consolation prize.
While many jokes might be directed toward the intricacies of Eurovision, it's easy to see how much reverence Eurovision Song Contest has for the real thing. (Ferrell, who co-wrote the script with Andrew Steele, is a huge Eurovision fan.) It's an area that's ripe for plenty of laughs, hijinks, and slapstick both from a script standpoint and a cultural one. But Eurovision Song Contest keeps it simple with your standard underdog-turned-fish-out-of-water fodder with a few swerves along the way.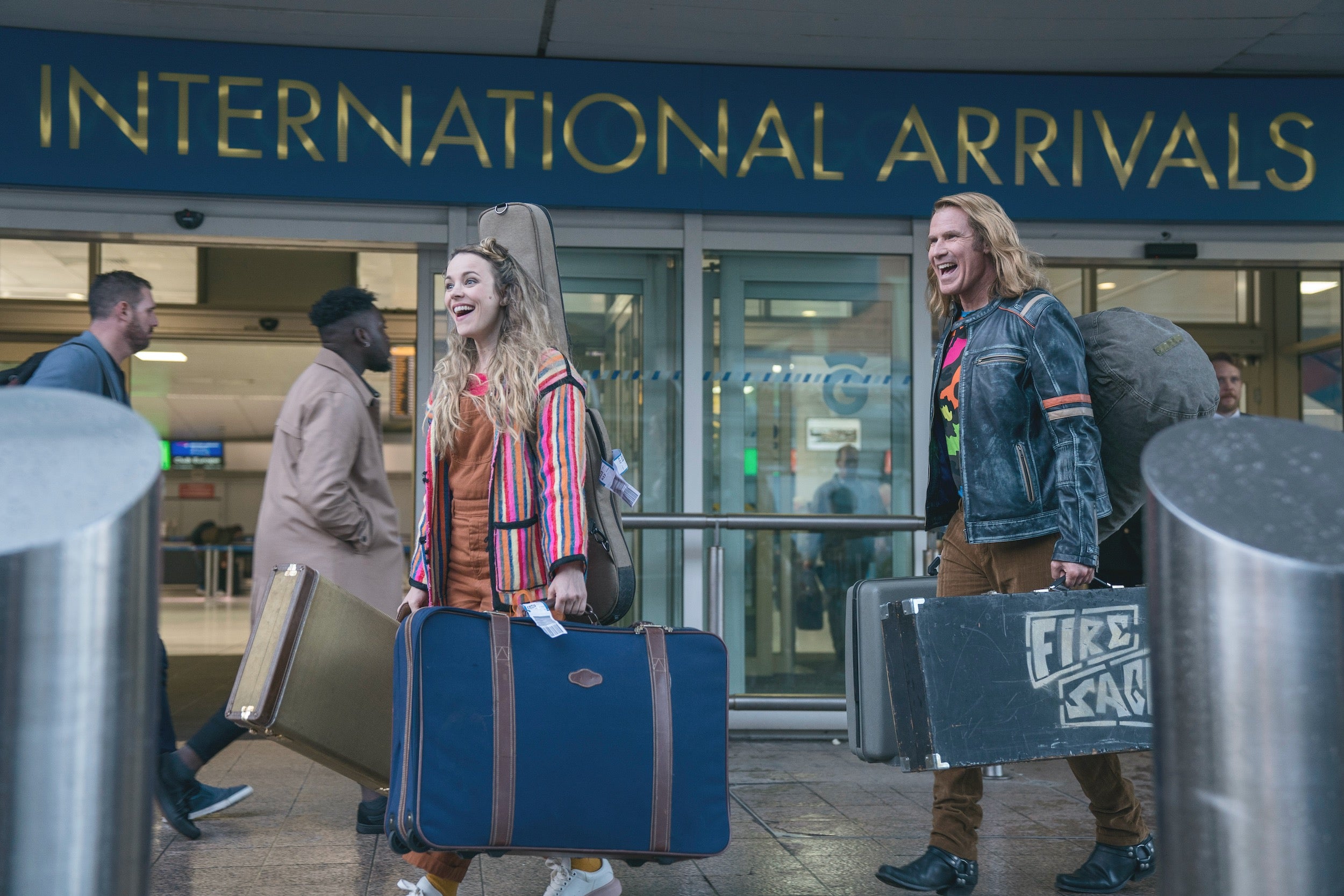 Lars' one goal in life is to win Eurovision, which was first sparked after watching ABBA's 1974 Eurovision performance of "Waterloo" from his small Icelandic fishing village of Húsavík. His biggest problem? It's not just that his father Erick (Pierce Brosnan)—whose handsomeness is embedded into the character itself—disapproves of his dreams. It's not even that his childhood friend Sigrit Ericksdottir (Rachel McAdams) stifles her own potential or desires, such as her longtime crush on Lars for the greater good of their group Fire Saga. (There's even a recurring incest joke about Lars and Sigrit being siblings throughout the film, which is attributed to the belief that Erick fathered half the children in Húsavík; it could also be a play on how most Icelandic surnames are derived from the father's name versus something passed down.)
It's that Fire Saga is kind of a joke; Sigrit is the more talented singer in Fire Saga, but her mother thinks that she's wasting her talents on Lars. Nobody in Húsavík takes Fire Saga seriously, and when they do get the chance to perform at the local bar, the villagers would rather listen to Fire Saga perform "Jaja Ding Dong"—a sexually suggestive folk ditty that will get stuck in your head—on repeat than anything they've got planned for Eurovision. Even the higher-ups at Icelandic Public Television who facilitate which act gets to go to Eurovision assume Fire Saga has no chance of winning.
Unlikely as it seems (elves may or may not be involved; Sigrit is a full believer and often leaves them gifts), Lars and Sigrit eventually do get to Eurovision, although Eurovision Song Contest takes its time getting there. And that's where the real fun begins.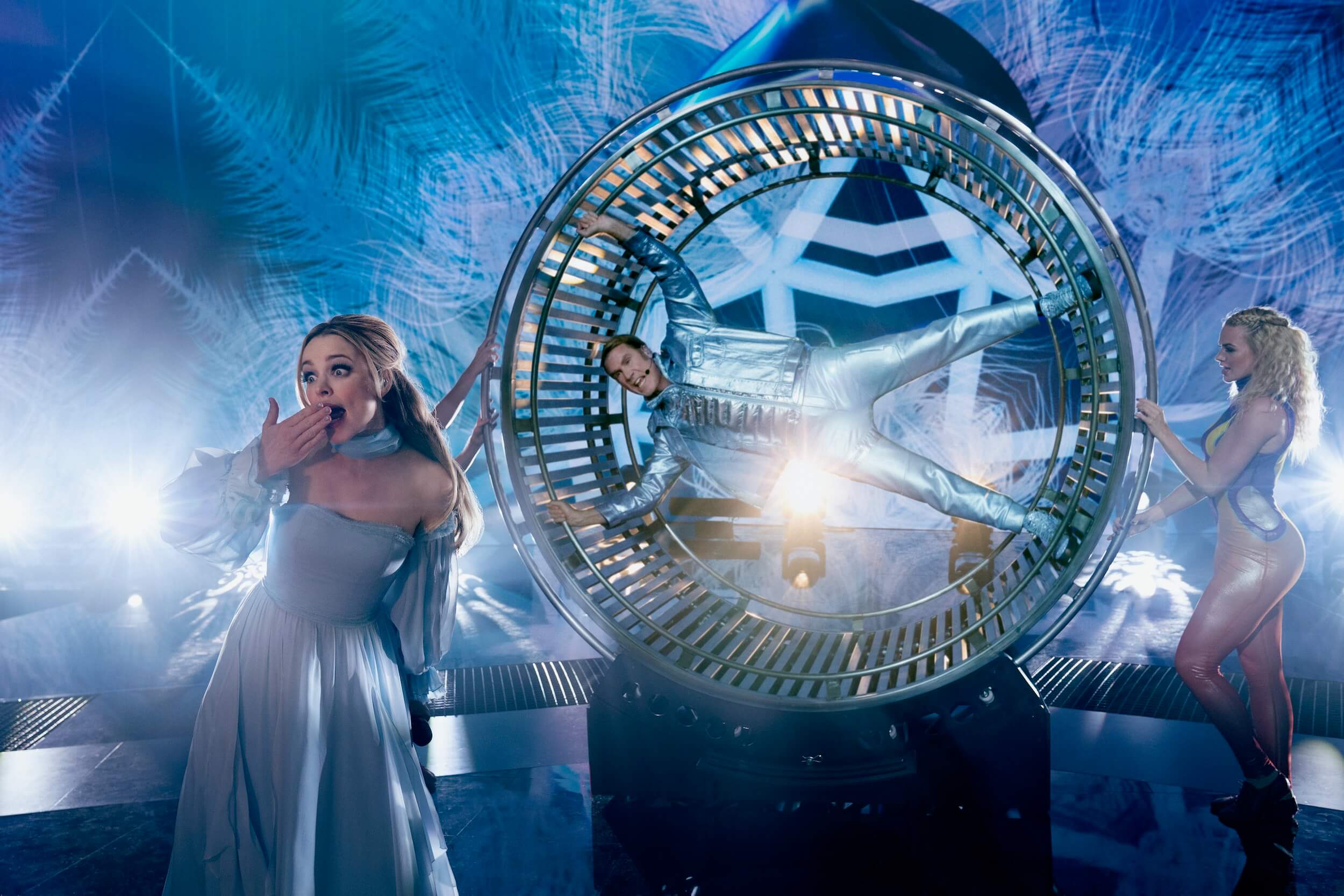 Even if you've never actually watched Eurovision, it's easy to see how it's captivated such an audience over its 64-year span. It's silly and pure, unadulterated joy wrapped up in loud patterns, catchy tunes, incredible vocals, and outrageous props. A couple of the performances are based on previous Eurovision outings, and several past contestants and winners show up as cameos in a scene that has plenty to offer regardless of your familiarity with Eurovision.
Alexander Lemtov (Dan Stevens), the Russian contestant and a contest favorite, arrives on the stage with a pyrotechnic-heavy routine that screams peak Eurovision—and chances are, might be one of the many songs on rotation once the soundtrack is released. Stevens, who's best known for playing a Downton Abbey fan-favorite and the completely adequate Beauty and the Beast live-action remake, is one of those actors who truly shines in a campy comedic role but doesn't always get to flex those muscles. Here, he gets to embrace the absurdities of playing Lemtov completely sincere while offering hints of nuance.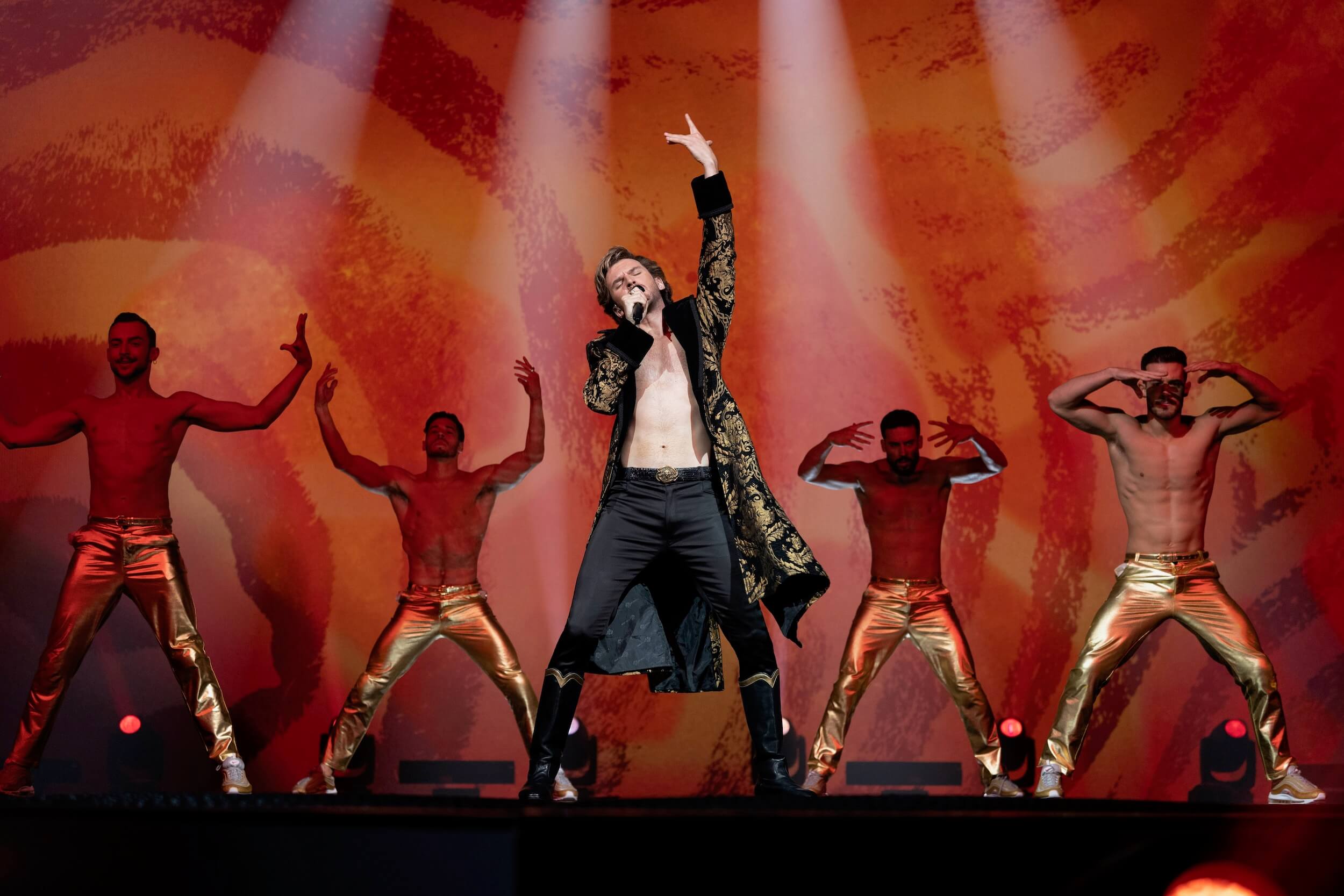 Taking on a romantic comedy, a son desperately seeking the approval of his father, and dashes of a music biopic-esque delve into Eurovision itself with, much of it feels like a story we've seen before; it doesn't take long to figure out where it's going, beats and all. And while we know exactly what Lars' deal is (and can vary between sweet and grating), Sigrit isn't given the same examination, although McAdams' performance gives much more depth to her character.
But Eurovision Song Contest is also an exciting and delightful musical escape, one where the musical elements make up for a lot of its faults that both lightly poke fun at Eurovision while showing how much it loves Eurovision. And you never know, Eurovision might have a lot of new and enthusiastic fans on its hands for next year's contest.
Still not sure what to watch tonight? Here are our guides for the absolute best movies on Netflix, must-see Netflix original series, documentaries, docuseries, and movies.