For Christians and non-Christians alike, the evangelical biopic Come Sunday might be a frustrating watch. Although it lacks compelling storytelling and nuance, the film explores what it's like for believers whose intimate relationship with God comes at odds with mainstream beliefs in the Church—and shines a light on the shortcomings of a modern-day Christianity that lacks empathy.

Based on an episode from NPR's This American Life, the film tells the true story of Bishop Carlton Pearson (Chiwetel Ejiofor), an evangelical minister of a Tulsa pentecostal megachurch who, in the late 1990s, had a radical change in belief. After watching a television show about suffering children in Africa and lamenting to God that these kids died without getting saved, Pearson told his congregation that God told him that those children—and therefore everyone on earth—would not go to Hell, because Jesus' death on the cross covered everyone's sins and saved everyone.
Obviously, this didn't bode well with the traditional believers of the Higher Dimensions Evangelistic Center—including those closest to Pearson, like his mentor and infamous televangelist Oral Roberts (Martin Sheen) and his partner-in-faith Henry (Jason Segel). For the rest of the film, viewers watch Pearson struggle through his transition in faith into what is now popularly regarded as the Gospel of Inclusion. Ejiofor does a spot-on imitation of the actual Bishop Pearson, as he laments and prays for there to be an easier route for him to take. But his supporting cast, save for Lakeith Stanfield, falls short as compelling antagonists.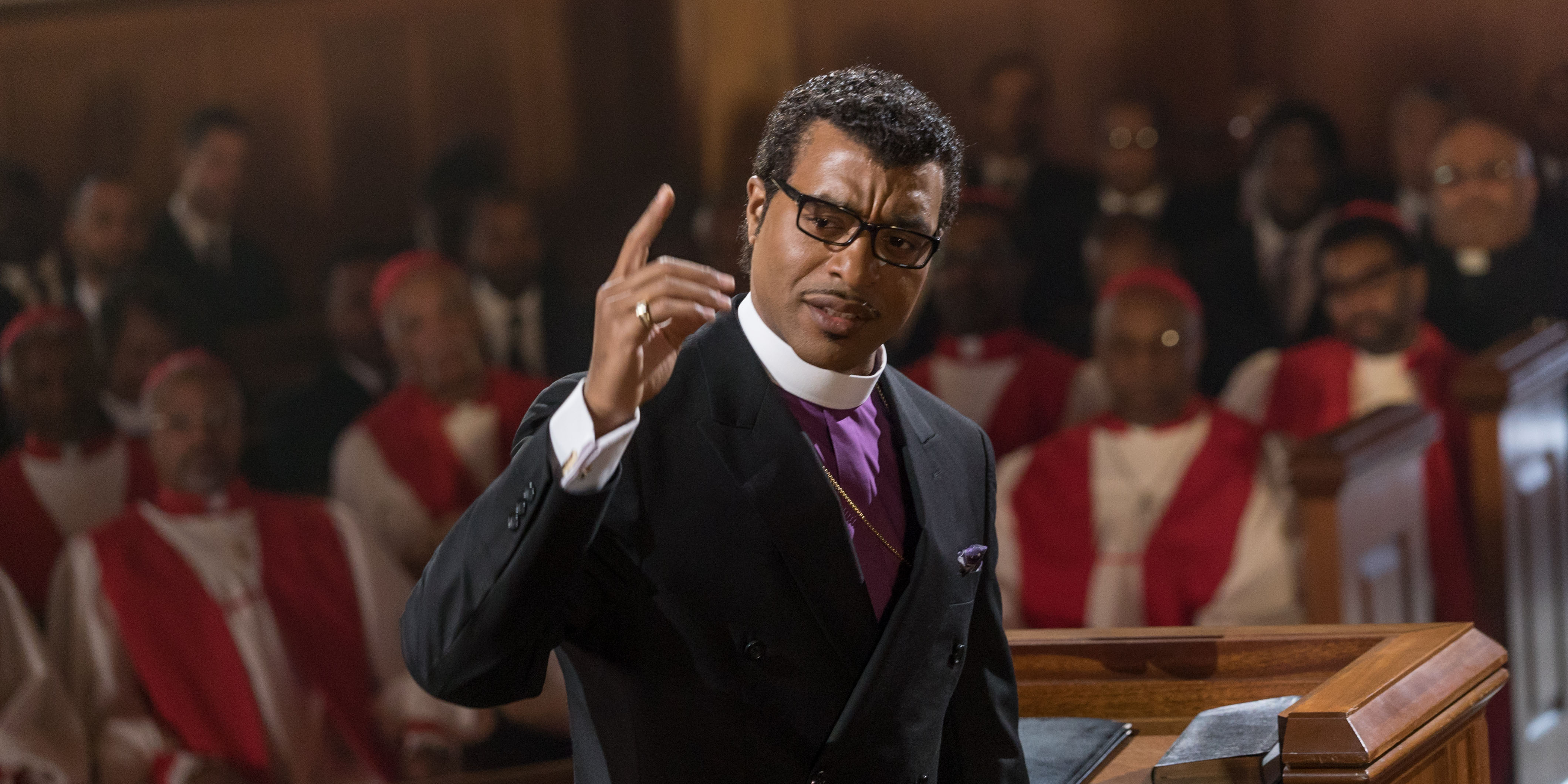 Director Joshua Marston does a successful job of making viewers feel like they're watching events unfold in real life, to the point where the film feels flat and lacks dynamic storytelling. The cards were always stacked against Marston—it can't be easy to physically show the internal turmoil of a crisis in faith. But the real downfall of the film isn't that it doesn't show Pearson's internal strife—it's Marston's insistence on presenting both sides of the conflict without bias, which hinders the movie from ever fully delving into any true emotion or character development. It's commendable that Marston seeks to show how Pearson's change in faith was confusing for everyone involved, but he goes too easy on the more orthodox characters. Because he insists on portraying Roberts and other white churchgoers neutrally, he washes over the fact that when Pearson begins his radical preaching, it's only an overwhelming number of white people who find it easy to dismiss him.
The portrayal of the story falls short, as well. The film basically switches between Pearson's serious sermons and the hushed conversations between its main cast, the film moves slowly and never quite finds its climax. In the end, it feels like biggest character development that viewers witness is Pearson simply becoming more comfortable in his beliefs, with Henry and Roberts simply becoming complacent.
But there is a lot to like here. Stanfield gives a heart-wrenching performance as Reggie, the closeted gay music director of Pearson's congregation who is dying from AIDS. Ironically, Reggie is also one of the only entirely fictional characters of the film. As Reggie struggles with his own belief in heaven and hell, he expresses his frustration that even when he does everything he's supposed to—by "being gay but not doing gay"—God still won't cure him of his disease. Like the suffering African children who were born into their difficult situation, Reggie knows he was born to be gay and he wrestles with the idea that God could be responsible for his eternal damnation.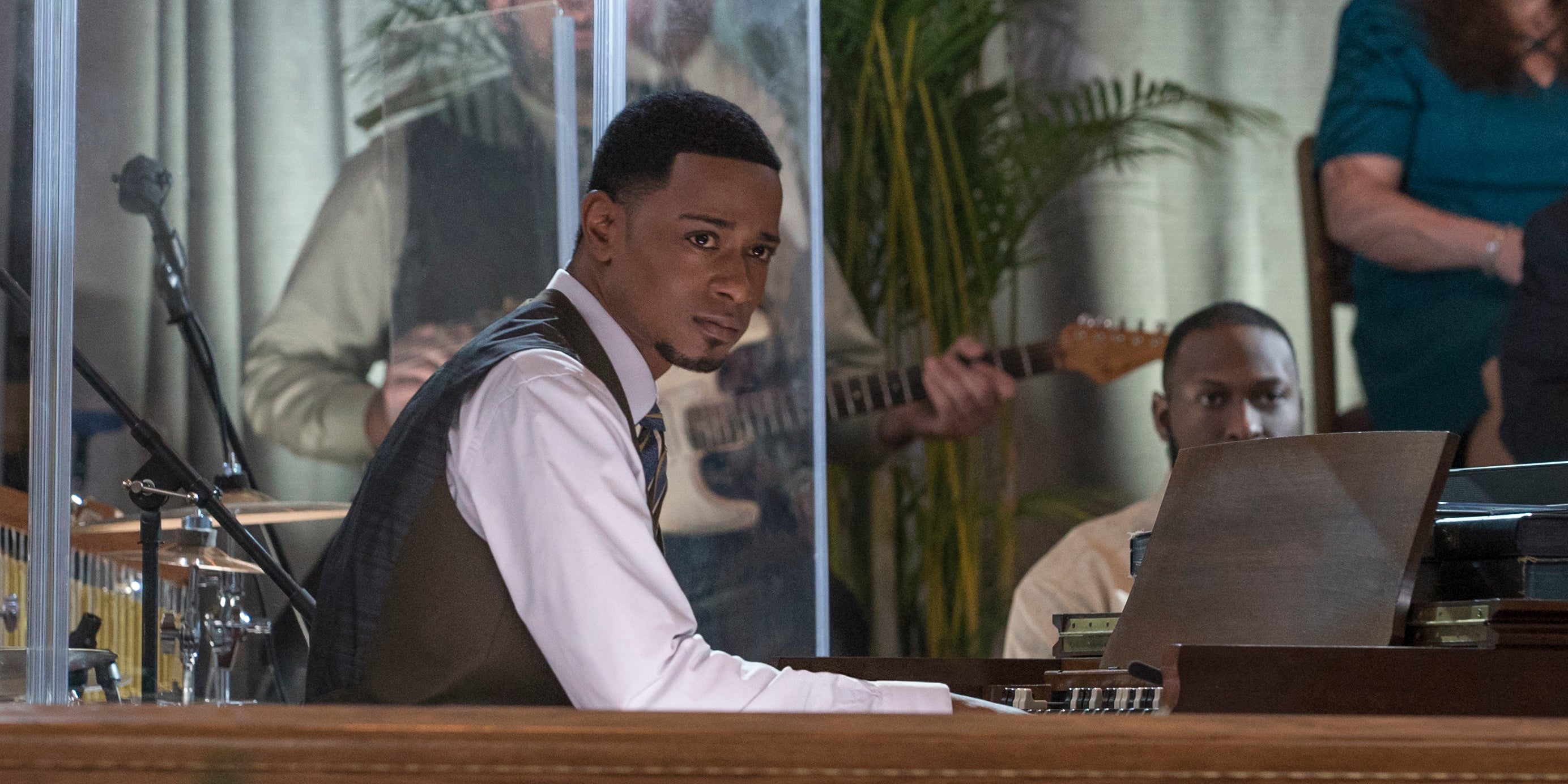 Come Sunday displays all of the shortcomings of modern-day Christianity that congregations still struggle with, including their unwillingness to embrace universal compassion for others—regardless of their sins—and their misguided hyper-focus on going to heaven, rather than celebrating their relationship with God on earth. The depiction of Roberts, especially—who shuns his own son for being gay and then shuns Pearson, as well—shows how far the biggest leaders of Evangelism have strayed from Jesus' teachings, who preached universal love and forgiveness.
At the end of the film, Pearson describes this shortcoming in the best way possible: some Christians fear that if God loves everyone unconditionally than we as people have to love each other unconditionally—and that's too big a burden to bear.
Still not sure what to watch on Netflix? Here are our guides for the absolute best movies on Netflix, must-see Netflix original series and movies, and the comedy specials guaranteed to make you laugh.