Natalie Portman wasn't nominated for an award at last night's 75th annual Golden Globes, but she still walked away a champion for the unprecedented levels of shade she threw while presenting the best director award.
Portman and co-presenter Ron Howard had the unenviable task of speaking after Oprah, who won the night with a powerful speech while accepting the Cecil B. DeMille lifetime achievement award. But Portman came prepared. As themes of women's empowerment pervaded the Golden Globes ceremony, the actress cut straight to the chase and highlighted Hollywood's enduring gender disparity with just one sentence: "And here are the all-male nominees."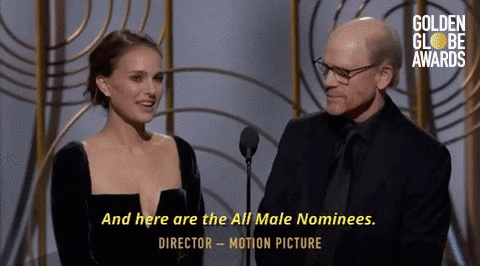 The audience groaned in shock as the camera cut to each of the five nominees—Guillermo Del Toro, Stephen Spielberg, Martin McDonagh, Christopher Nolan, and Ridley Scott—all of whom visibly squirmed under the spotlight.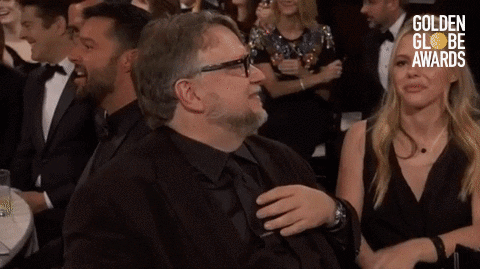 Guillermo del Toro went on to take the prize for his excellent The Shape of Water, but Twitter had already crowned Portman the undisputed victor of the moment. See some of the best reactions below.
when someone asks Natalie Portman about her "all-male nominees" comment pic.twitter.com/v1E2xvnJH6

— Aaron Michael (@happyasaaron) January 8, 2018
tonight my boyfriend and i are going to roleplay as Natalie Portman and the ashamed look on every Best Director nominee

— Sam H. Escobar (@myhairisblue) January 8, 2018
https://twitter.com/JoeBerkowitz/status/950207364891856897
Natalie Portman's Golden Globes stunt was so fierce that honestly, fuck anyone who says she can only play the white swan.

— Louis Virtel (@louisvirtel) January 8, 2018
The new trailer for Natalie Portman's Annihilation is the best one yet. pic.twitter.com/7Cqriwl1OZ

— jackson ryan (@dctrjack) January 8, 2018