If you've ever tried to make sense of the Motion Picture Association of America (MPAA)'s ratings system, you might know how difficult it is to get an idea of what things in a film you want to avoid. For example, while millions of Americans have boosted the blockbuster Gravity at the box office, millions of Americans have also had to resort to word-of-mouth to tell each other about the dizzying scares, which include everything from small spaces to gore to, well, space itself.
None of those chills would show up in a standard MPAA rating. But now, thanks to a new crowdsourced movie database, you may have a way to find out about these and other volatile content issues before you see a movie.
The concept of the new website Movie Triggers is simple: anyone can add a warning to a movie. Then other users can upvote or downvote the validity of each tag, or add new ones of their own.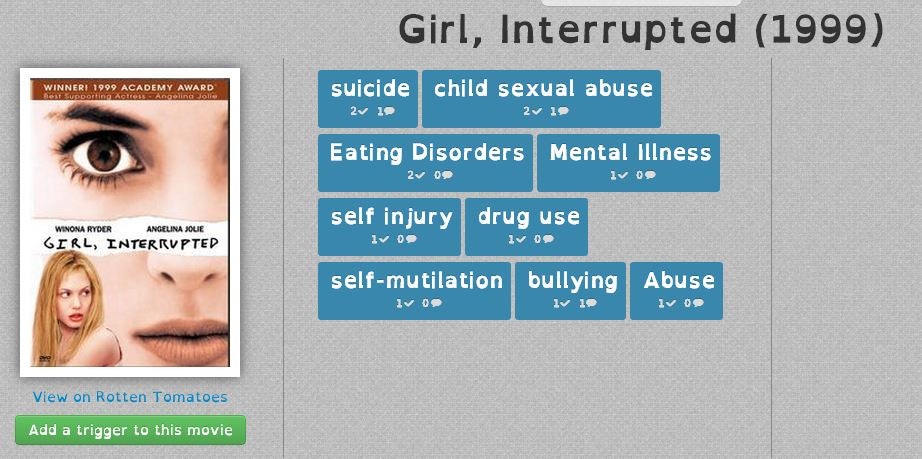 Screengrab via samsamsammy/Tumblr
The idea is to warn for anything that might be considered a "trigger." The concept of "triggering" originated in online feminist circles as the idea that certain images, scenes, and other provocative content can trigger feelings of panic or alarm or memories of past trauma. These "trauma triggers" could apply to anyone suffering from post-traumatic stress disorder.
The concept of trigger warnings originally emphasized protecting victims from re-exposure to things that could cause them emotional distress. like warning a victim of domestic violence about a scene featuring sexual assault. But in recent years, the idea of what might trigger someone's panic button has expanded dramatically to encompass fears both universal and specific.
On Tumblr, where most people are generally open to the concept of warnings, common trigger warnings include anxiety and shaming. I've been asked to warn for things ranging from the entire film A Clockwork Orange to the entire concept of space.
So it's easy to see why a site that allows people to list their own warnings for films can be useful. Currently Movie Triggers only has a limited number of listings due to its newness, but the warnings already seem complicated. The listing for Repo: the Genetic Opera, for instance, contains nine trigger warnings, including "incestuous implications" and "graphic surgery."
Some of the warnings may seem self-evident, like noting that horror hit The Conjuring, which is about an exorcism, contains "demons." But being able to look up current releases by triggering elements seems like a long-overdue Internet staple. On Tumblr, harrymonster noted that it might also serve as a much-needed alternative to "family-friendly" sites:
I've been using the [Christian-based Focus on the Family] movie and tv show info not because I like conservative head-up-your-ass views but because it told me what kind of violence and topics were in the movies so I could not get triggered. I am SO happy to not give them anymore traffic.
Of course, the downside is that in order to label a movie yourself, you have to watch it; but if others who've already exposed themselves to the elements can anticipate and use triggers successfully, Movie Triggers could be a very useful database.
The system of upvotes and downvotes may also take some getting used to. It's easy to imagine a worst-case scenario in which people vote on the validity of the triggers themselves rather than their application to various films. And the concept of trigger warnings is itself not without controversy, since there's no limit to the phobias and panic alerts that can assault the human mind. Movie Triggers could easily become a listing of every fear known to man, and too much freedom might ruin the site's efficacy.
But if you've been feeling like the MPAA's warning system doesn't go far enough, then it might just be the solution you've been looking for.
Photo by giarose/Flickr