Is the future of television in merging with the phone that reckoned to replace it?
Mosaic is a new HBO miniseries and interactive adventure from writer Ed Solomon and Steven Soderbergh, concerning the questionable death of wealthy children's book author Olivia Lake (Sharon Stone, in a marvelous portrayal) in a small, fictitious Utah town. What's unique about this mystery murder miniseries is the brilliant app, from which you can watch the story from different points of view with added content. It provides context to specific actions and informative behaviors that aren't entirely apparent.
The lonely Lake hates leaving her house and property, which her emotionally pliable surrogate son Michael O'Connor (James Ransone) desires for unknown reasons. He retains assistance from an enigmatic right-hand man, Tom Davis, played to a sinister tee by Michael Cerveris. All the while Lake sets off a chain of events by seducing starving artist Joel Hurley (Garrett Hedlund). Paul Reubens adds spice throughout as Lake's jet-setting bestie.
Discerning an opportunity to exploit a wealthy woman looking for companionship, a mystery man with interest in Lake's land drafts a crafty con artist. Played by Frederick Weller, the artful dodger is given specific instructions to sweep Lake off her feet and convince her to sell. He falls for her in the course, seemingly altering the mystery man's plans.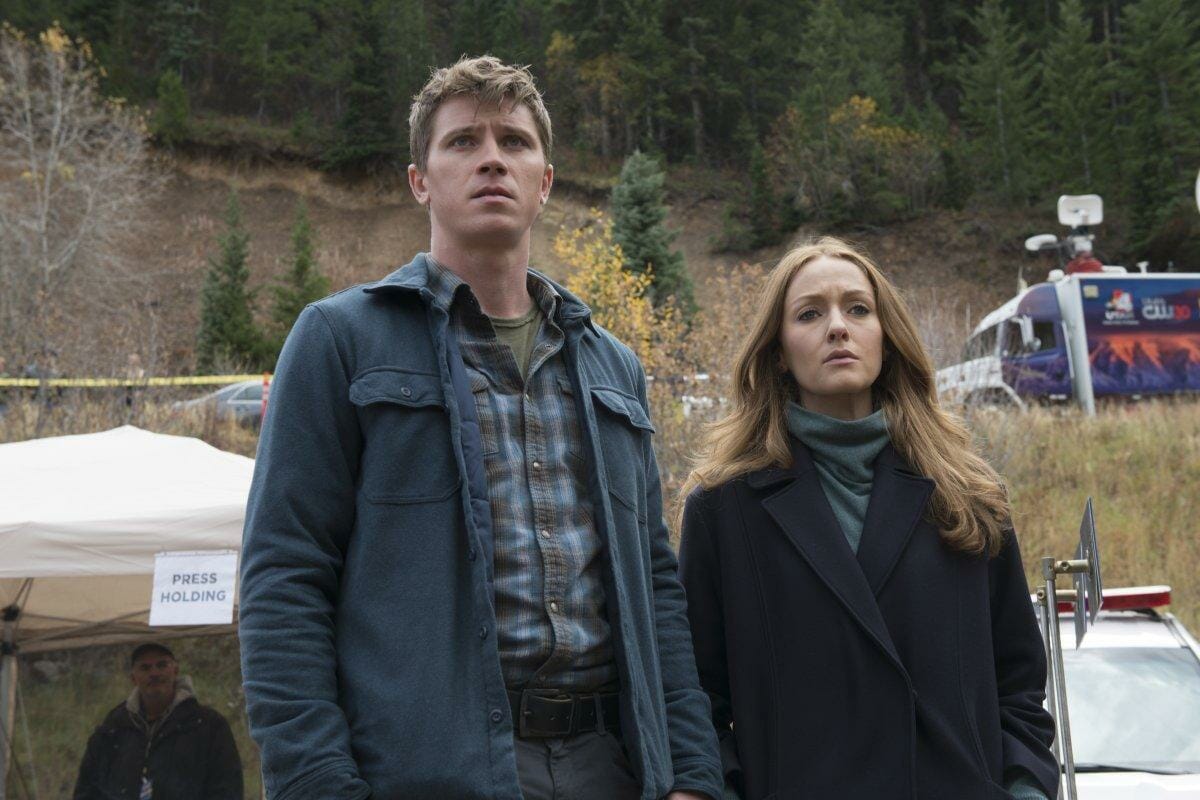 Once Lake ends up missing and presumed dead—and a fall guy behind bars—we're set on a secondary course. This one prominently incorporates the con man's sister (Jennifer Ferrin), and a clever town detective (Devin Ratray, in a breakout performance).
The app is the real winner with its adjusted perceptions of reactions and evidence. As playthroughs advance, notifications of flashbacks, flash-forwards, and accompanying information are shown.
Soderbergh, as usual, acts as director and cinematographer, delivering textbook work that brings the most out of each character. However, Solomon's storyline runs choppy. There's a significant portion of the story that would've been best introduced earlier into the plot, with additional clarity. Maybe that's the point: It's addictive and nearly all-consuming once the app's guidance is involved.
Mosaic should not be mistaken for a "choose-your-own-adventure" gimmick. The app and the decisions made within do not change the outcome of the story, merely the viewpoint, in the seven hours of narrative content. (Given what's learned through the app, the doctrine that the result remains irreversible, regardless of lens, adds to the general psychology of the series.) Even more interesting is that it's often up to the viewer to ascertain whether the characters were ever in control of their destinies—and you'll enjoy playing detective in this medium-altering experiment.
Still not sure what to watch on HBO? Here are the best movies on HBO, the best HBO documentaries, and what's new on HBO Go this month.