When Molly Burke was 6 months old, her grandfather noticed her head and eyes never stopped "dancing." At 4, she was officially diagnosed with retinitis pigmentosa, a genetic disorder that breaks down the retina leading to permanent vision loss. Ten years later, her vision radically declined for good.
As she was going blind, Burke began being bullied at school. Classmates and teachers would say she was faking it. Her friends stopped talking to her and one day walked her into the woods and left her there without any tools to get out. She began battling depression, anxiety, and stopped her public speaking about the disease—a hobby she'd started when she was 5. She felt isolated and convinced no one wanted to be around her. When she found YouTube in 2009, Burke was able to reconnect with passions she believed her blindness had rendered inaccessible, and there was magic.
But there was also work to do.
"I didn't have a bunch of girlfriends to hang out with on the weekend anymore and talk about makeup and go shopping with," says Burke. "I discovered the beauty community on YouTube and would just watch these [YouTubers] like Bethany Mota and Blair Fowler. They would do fashion hauls and talk about what was trendy in the stores right now. It was kind of my accessible way of reading a magazine or looking at a store window. It was like they were my sisters helping me figure out how I could love and discover after vision loss."
Through the help of therapy, Burke began regaining her confidence and at a certain point in her recovery, figured she couldn't be angry at society for being ignorant if she wasn't willing to help educate them about disabilities. "I knew that I needed to start public speaking and sharing my story again to empower myself and to help my community," shares Burke. In 2010, she won Miss Teen Canada where she drove home the message that no matter your situation, anything is possible. Following her win, she began working full-time as a motivational speaker—often speaking about accessibility to audiences as big as 20,000 people. While it didn't stop her career as a public speaker, Burke developed post-traumatic stress disorder after falling off a stage during a soundcheck and nearly broke her neck. After her accident, Burke made the decision to leave her agency and strike out on her own.
In 2014, Burke opened her own company and YouTube channel simultaneously. She continued to travel the world as a motivational speaker but now, by having control over her own schedule, was better able to deal with her anxiety. From her first YouTube video, "Molly Burke ALS Ice Bucket Challenge," Burke's energy and positivity is infectious and over the last four years, Burke has used her channel to make conversations about disability engaging and accessible to all audiences. "A huge goal of mine was not to be just 'the disabled YouTuber,'" says Burke. "I want my content to speak to the things I'm passionate about, and also show life as a normal 24-year-old girl, sharing that side of my life and hoping that normalizes disability in some capacity. Obviously, disability is part of every video I do because you can't take blindness away from me, but I love making content where I'm not talking about it. I think it's important because we always say, 'I am not just my disability, I am so much more than that.'"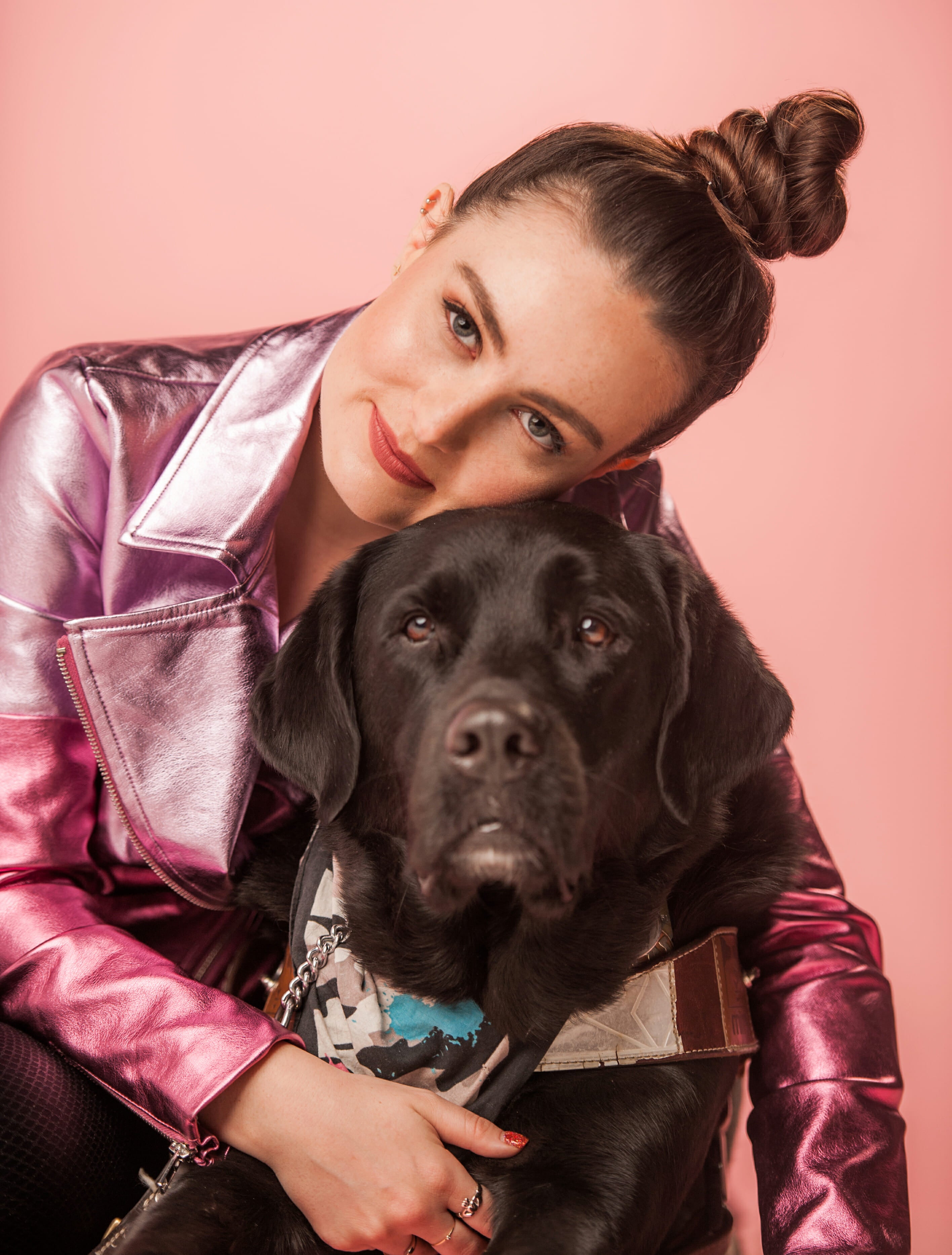 Since joining YouTube, Burke has changed the way the traditional creator community intersects with the disability community. Her videos volley between personal vlogs starring her guide dog Gallop, chatty videos dispelling blind myths, and collaborations with both able-bodied and disabled creators. For viewers who don't personally know someone who is blind, watching Molly's vlogs is an easy way to learn how to approach and help someone who is visually impaired. She's able to make audiences passionate about inclusivity and accessibility simply by giving them a person to think of and root for.
Burke approaches blindness with humor, pushing creators to ask her the awkward questions. In her video with Casey Neistat, Burke walks Neistat down a busy New York City street blindfolded, showing him just how much he has to rely on others helping him get through a simple coffee order.
"I think disability is really uncomfortable for people. We're taught our whole lives that it's the elephant in the room that we ignore—'Don't stare at them! Don't ask questions! Ignore the issue!' I feel like when I joke about it in such a blunt way and when I make sarcastic remarks about it, it makes people be like, 'It's not awkward! She's not uncomfortable!' and it makes them realize it's fine," says Burke.
Over the last year, Burke's subscriber count has exploded from 67,000 subscribers to 815,000 subscribers. YouTube has allowed Burke to tell her story however she wants to, and unlike public speaking, do so in a casual conversation that is available to everyone. In 2017, she moved to Los Angeles full-time where she lives independently: It's a dream that Molly set for herself at 5 years old.
"I was at the YouTube headquarters in San Bruno and they were mentioning how many hours of content is uploaded every minute to YouTube," says Burke. "It's very easy to be duplicated and get lost in similar [content]. That's so interesting because I remember before I started my content it was really like nobody else was doing it. Now three-and-half years after starting my channel, I feel like the disability community on YouTube has really grown and I've seen a lot more people empowered to share content and share their message. It's so important because it's so isolating growing up with a disability. It's so important to be able to turn to the media and find yourself and connect."
Burke receives comments daily from fans who share how she's changed their life. For some, hearing Burke speak so openly about mental illness has given them the courage to seek help. For others, Burke's content has educated them about disabilities and normalized what life for disabled people is like. But across the board, for every viewer who watches Burke's channel, it's impossible not to be inspired by her perseverance. To see bravery in her choice to see the good in the world because by following her example, it makes us all just a little bit braver.
Molly Burke has not only become the role model she wishes she had at 14 but a one-woman revolution.