During MTV's 2013 Video Music Awards, Miley Cyrus twerked on Robin Thicke as he performed his hit single "Blurred Lines." Two years later, the former Disney star hosted the show in dreads, performed with drag queens, dropped her album Dead Petz, and referred to Snoop Dogg as her "mammy."
Sorry Dad…. I'll be good tonight I promise … @vmas pic.twitter.com/QZWOfSfNg5

— Miley Ray Cyrus (@MileyCyrus) August 27, 2017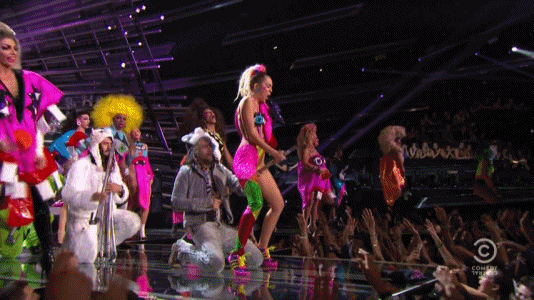 Cyrus vowed "to be good" this year, and true to her word the singer gave us a sweet but forgettable performance Sunday night. She performed her latest single "Younger Now" in a '50s-inspired cowgirl get-up. Cyrus sang the lyrics "no one stays the same" in her Dolly Parton-esque outfit, dancing to simple choreography, which only emphasized her recent shift back to her country roots. Her upcoming album Younger Now is set to release in September.
Fans loved the performance. Some are praising it as being one of the best of the night because of Cyrus' vocal prowess. 
https://twitter.com/MTV/status/901981568419340288
https://twitter.com/mileygrunge/status/901980179022708736
In fact the most problematic part of Cyrus' performance was that it wasn't. The performance was void of any drug references or ebonics. Her performance echoes the controversy that surrounded her May interview with Billboard, where the artist distanced herself from hip-hop and insulted the genre that she wore as a costume for half a decade. Cyrus has worked with Timbaland, Snoop Dogg, Mike Will Made-It, and more in the hip-hop industry.
The VMAs live on drama, but inviting Cyrus back after she gave two racially insensitive performances shows the kind of forgiveness that is extended to white women in the music industry. Cyrus never apologized for wearing dreads or twerking onstage. In response to her Billboard interview, the star said the comments were taken out of context. She gave a similar defense to Nicki Minaj back in 2015 when Minaj famously called out Cyrus.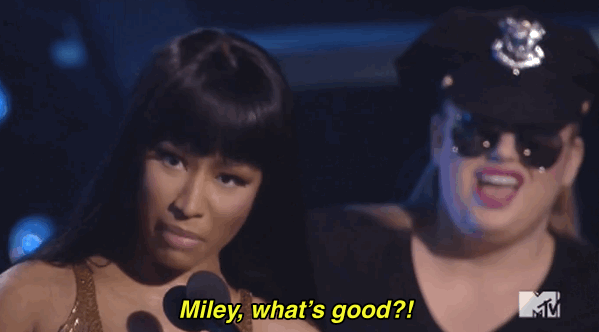 Cyrus' VMAs performance shows that the artist really does intend to move on from her foray into urban culture. It's too bad the VMAs let her do so without consequence.