Miley Cyrus and boyfriend Liam Hemsworth aren't commenting on rumors of a split, but the 25-year-old actress and singer's Instagram feed might be a silent confirmation that the pair has again called it quits. The former Disney star is sitting on 76 million Instagram followers and 0 posts after erasing her entire feed this week.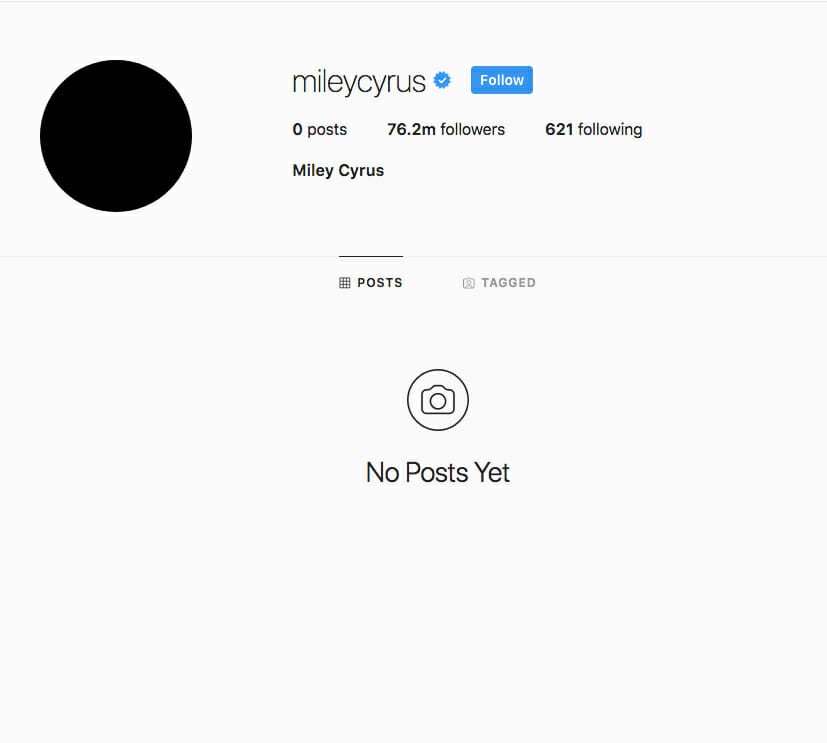 The "Wrecking Ball" singer even went so far as to remove her profile photo and opt for a black circle instead. Hemsworth, 28, hasn't made any changes to his Instagram account and still has pictures that include Cyrus.
According to sources that spoke to the Daily Mail, the couple parted ways over disagreements about starting a family. The Hunger Games star wants a family while the singer is still committed to her career and touring.
Cyrus and Hemsworth have gone this road before. After meeting on the set of the 2009 film The Last Song, the two began dating and were engaged in 2012. They split the next year, took a four-year break, and got back together in 2016. Rumors of a secret wedding circulated earlier this year and were as false as her pregnancy rumors.
As always, the internet is taking this relationship news the hardest, with thousands of fans freaking out on Twitter.
So if it's true that Miley Cyrus and Liam Hemsworth have split up then there is literally no hope in the world at all

— Shannon Smith (@shannonerynx) July 19, 2018
Literally, no hope.