Floyd Mayweather assured the boxing world that his tilt with UFC superstar Conor McGregor wouldn't go the distance, and the greatest fighter of his generation made good Saturday night in Las Vegas.
After three early rounds where McGregor—making his pro boxing debut and pocketing a reported $127 million for his troubles—used his youth and power to bully his 40-year-old opponent, Mayweather weathered the storm and exhausted the Irishman for a 10th-round technical knockout. Afterward, the 50-0 Mayweather announced it was his last fight, and celebrated McGregor as his "dance partner" for the lucrative sendoff.
https://streamable.com/5a5sj
The hyped clash between boxing royalty and mixed martial arts dominated social media, generating the top nine Twitter trending topics in the U.S. Saturday night.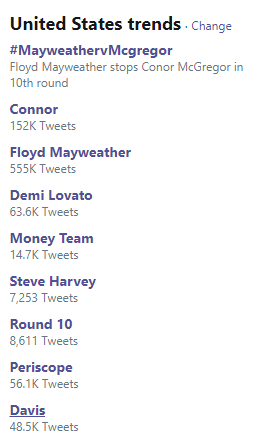 The fight was also a star-studded affair, with celebrities like Diddy, Steve Harvey, and LeBron James in attendance.
https://twitter.com/SInow/status/901678994868682753
#MayweatherMcGregor pic.twitter.com/uNA5QjhAr2

— Diddy (@Diddy) August 27, 2017
Thank you for having me in the ring tonight!! ❤️❤️ #MayweathervMcgregor pic.twitter.com/8lIpUElCHV

— Team Demi (@ddlovato) August 27, 2017
Me at the start of semester VS end of semester.#MayweathervMcgregor pic.twitter.com/tssATfxLVL

— Bilal Khan (@notorious_billa) August 27, 2017
According to the New York Times, the spectacle is projected to generate more than half a billion dollars in revenue. Despite rampant criticism that the fight would be one-sided and dull, those who spent $100 on the pay-per-view got a lively bout.
Mayweather endured the rust of not fighting in more than two years. The outcome surprised no one, but McGregor's bravery earned him begrudging respect from boxing purists.
https://twitter.com/drewmagary/status/901669971532623873