Macklemore's an unlikely hate figure. The award-winning rapper isn't a convicted rapist, or an outspoken drug user, or famed for biting the heads off chickens—or even merely in possession of dangerously alluring hips.
And yet, somehow, he's increasingly stirring up controversy wherever he goes. First he was pissing off Kendrick Lamar fans for winning too many Grammy's (despite his actually pretty decent text to Lamar apologizing). Then there was the crass costume for a secret show that looked an awful lot like a Jewish stereotype—despite the rapper's protestations it was intended as nothing of the sort.
Now the "Thrift Shop" singer is being attacked again, by an unlikely bunch of critics—union activists.
If you've tried loading the web page MacklemoreSucks.com within the last week (I know I have), you'll find a petition calling for people to "agree that Macklemore sucks," to sign, and to add your own reasons as to why.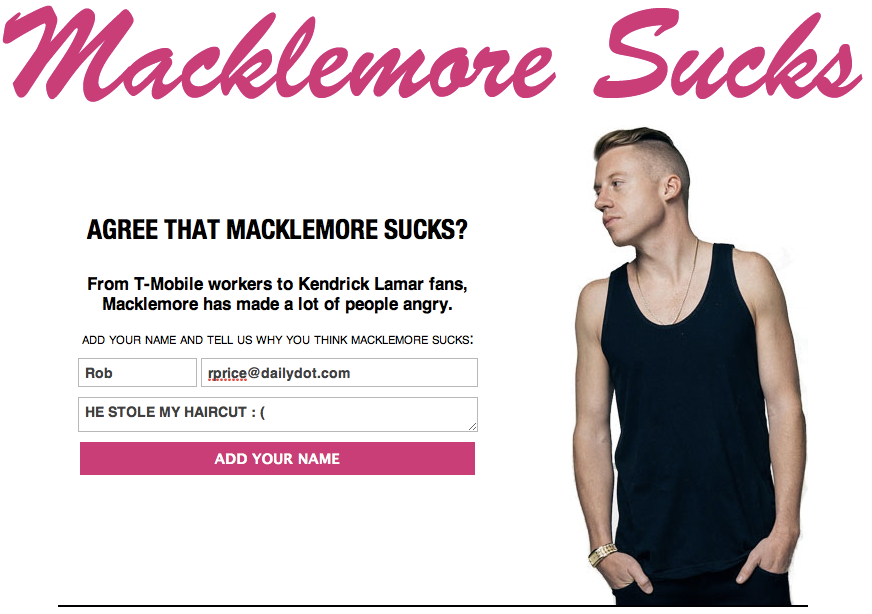 This isn't blind hatred, however—there is some substantial reasonsing behind it.
MacklemoreSucks.com has been set up by the activist group United Students Against Sweatshops (USAS), a self-described "national student labor organization fighting for workers' rights." They have a presence on more than 150 college campuses across America, and 4,000 followers on Twitter.
So what has Ben Haggerty, as Macklemore is legally known, done to incite their ire? He has the wrong friends.
One of Macklemore's friends in particular has caused consternation for USAS—John Legere, CEO of phone company T-Mobile, a company that USAS alleges is "notorious for bad conditions in its call centers." The group adds that "Legere ruthlessly cracks down on workers' attempts to speak out about [working conditions]."
USAS cites a Human Rights Watch report, which accuses T-Mobile of being among companies that "undermine workers' rights in their US operations"—one example being how the company "characterized employees 'talking about rights' as dangerous activity to be reported immediately to management."
For Macklemore's part, he has played promotional shows for the controversial company, and has also made some suspect-looking tweets:
Shout out to @TMobile for covering us when we travel. Makes it easy. #SimpleGlobal

— Macklemore (@macklemore) April 30, 2014
USAS calls for Macklemore to live up to his responsibilities as a "role model" and speak out against T-Mobile. The rapper is known as an outspoken advocate of marriage equality, singing about it in "Same Love", and has also been critical of racial profiling.
In a statement issued a statement to tech news site The Verge, T-Mobile said that it "respects the rights of unions to exist and recognizes and respects employees' rights to organize, or to refrain from organizing."
"We're proud to be recognized year after year as a 'Best Place to Work' and 'Top Employer' by industry experts," the statement continues, "and as one of the most ethical companies in the world by the Ethisphere Institute."
So, really, this isn't about Macklemore. USAS is engaged in campaigns across the country to encourage universities to "cut contracts with T-Mobile unless the company agrees to union neutrality." Scapegoating the acclaimed rapper is just a clever way to make an otherwise complex issue into something the layman can easily get behind.
And in case it's still too complex, we decided to do USAS a favor, and made them a GIF. Enjoy!
Photo via John Biehler/Flickr (CC BY 2.0) | Crop by Jason Reed