By now, most fans have likely finished watching Netflix's smash reality dating show sensation, Love is Blind. The three-week "event" kicked off earlier this month and wrapped with the highly anticipated wedding episode that dropped early Thursday morning. In the end, five couples made it in front of the altar, but not all left as newlyweds. There were happy tears, sad tears, and one near-criminally muddied wedding dress in the aftermath. However, given that the entirety of Love is Blind was filmed in late 2018, a lot has happened between now and then!
So who is still together? And who hates each other's guts, and will probably never, ever be able to sit in the same room at the same again? (Until the reunion show on March 5, anyway? Maybe??)
Warning: spoilers ahead, so proceed with caution!
Which Love is Blind couples are still together?
Incredibly, this mad, dystopian experiment somehow worked out—even more so than producers had anticipated—in that eight total couples left the pods engaged. Even more incredibly, of the six that were chosen to go Mexico, five made it to the end of filming.
"I think that's just a testament to the authenticity of the whole thing," Love is Blind series creator Chris Coelen said in an interview after the finale aired. "They went through this process, built this relationship and put it to the test. It's trial by fire and their relationships are forged incredibly strongly. I don't see them ever slowing down."
In full transparency, we'll go in the order of the weddings on the show, to see where they are today and if love truly was blind, after all.
Giannina Gibelli and Damian Powers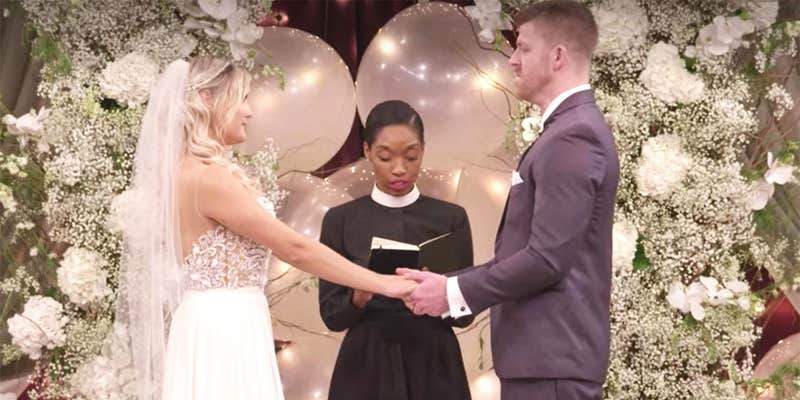 Gigi and Damian seemed all but doomed from the moment she essentially told him he was bad at sex. And then there were all of those petty fights, which began almost as soon as the couple arrived in Mexico. But somehow, against all contractual obligations odds, the couple made it in front of the altar, only—in a twist, few saw coming—to have Damian say "I don't," leaving Gigi to flee the venue in her wedding dress.
https://www.instagram.com/p/B9DhuJ3JyDr/
Miraculously, although they have yet to confirm ahead of the reunion special, it appears that Giannina and Damian rekindled their romance following their dramatic wedding day and tumultuous on-camera relationship.
"We talked about it and she didn't believe in traditional marriage, in a sense of feeling like we're trapped by a document that says, 'Oh, we gotta do this because when you get into a marriage, you move in together. You collaborate on finances. Then you're ready to start a family,'" Powers said in a joint Entertainment Tonight interview with Gibelli after the finale aired.
"There are all these senses that come with the word marriage," he added. "And with us having this date rushing up on it, when I got up there, it was just like, 'Is this right for us? Can we be stronger outside of here? Do we need more time?'"
Time may have been just what the love doctor ordered. Although getting all those cameras out of their faces probably didn't hurt, either.
Amber Pike and Matt Barnett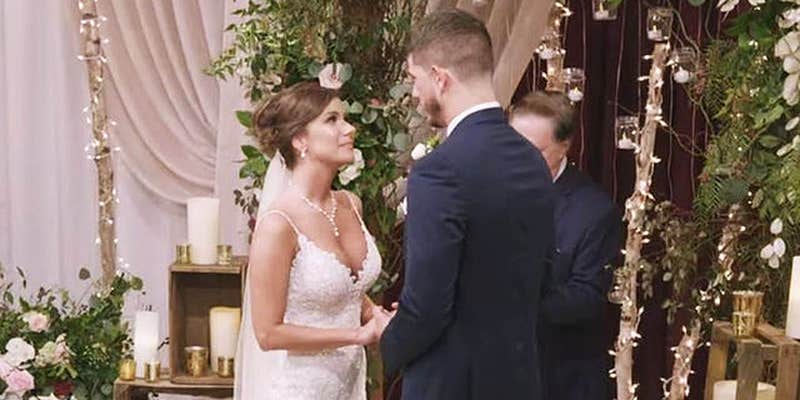 Despite legitimate concerns about his fiancee's various debts and a general aversion to *checks notes* working, all of which that led to cold feet before the wedding—when it came down to it, Barnett said "I do" to Amber.
As far as whether the couple is still married today, all signs point to yes. The couple also spoke with Entertainment Tonight, opening up about their relationship and experience on the show. Amber claims that her financial woes were taken out of context, as well as her perceived aspirations to be a stay-at-home mom.
The couple also teased the reunion show, saying they both got "closure" from it. "So much closure," joked Barnett, side-eying his spouse, who laughed loudly in response.
Kelly Chase and Kenny Barnes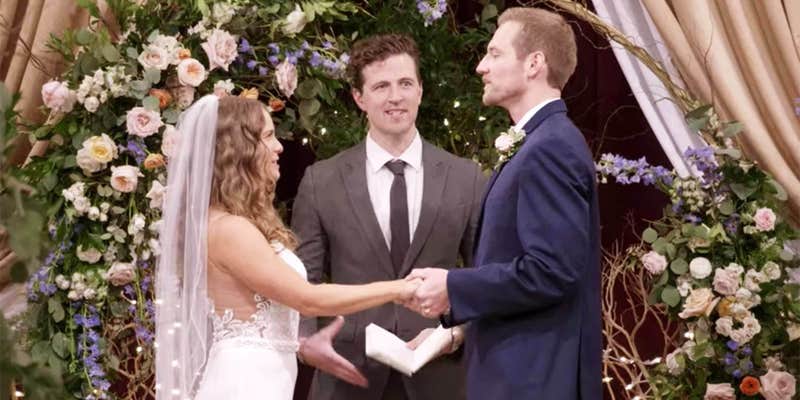 On paper, Kelly and Kenny seemed to be the most perfect Love is Blind couple. They seemed to generally enjoy each other's company! There was no drama! Heck, even their families got along well which is saying something, given the absurdity of the so-called experiment.
But as the episodes went on, cracks began to show. The pair still had not yet had sex, and Kelly admitted that—as charming and handsome and just overall freaking nice as Kenny was—that he was not her type, and that she did not find herself completely infatuated with him, comparing him to previous boyfriends.
In the end, Kelly left poor Kenny at the altar, who even in rejection managed to come off as the perfect gentleman. (And Kelly's mom may never forgive her.)
Imagine if Kenny's dick game is wicked strong and Kelly just threw a good man away cuz he didn't have dark hair.#LoveIsBlind #LoveIsBlindFinale pic.twitter.com/UOR3ERBXTZ

— Jessay #pumprules (@jessay) February 27, 2020
After the wedding was called off, Kenny was not in the mood to talk about the failed engagement.
Post-ceremony, poor Kenny made it clear he didn't want to speak about his and Kelly's future. "We're not getting married, and I don't know if we're going to maintain a relationship," he said, before asking the cameras to stop filming. "And quite honestly, it doesn't matter either way."
It seems highly unlikely that Kelly and Kenny maintained any kind of relationship after Love is Blind. Barnes has since moved to North Carolina. And unlike his fellow contestants, his social media is absent of photos from the reality series—save for a quick mention in his Instagram bio.
Jessica Batten and Mark Cuevas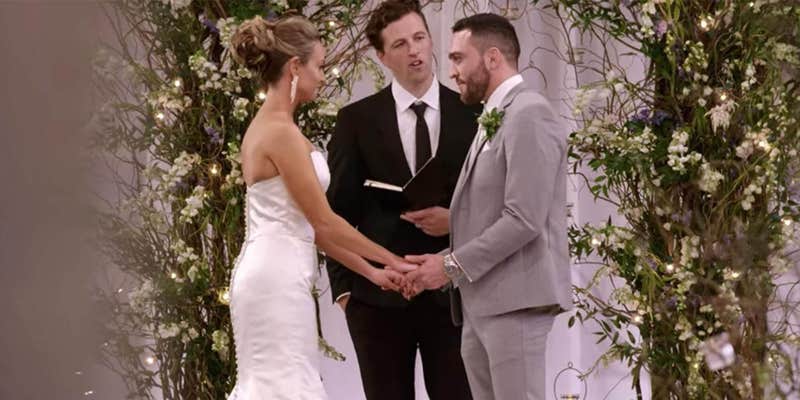 To the surprise of literally no one, Jessica Batten couldn't pull the trigger when it came to her decade-younger fiancee Mark Cuevas. Not only had Jessica been harping about their age difference only like, the entire time Love is Blind was filming, but she clearly was still in love with Barnett and had only agreed to Mark's proposal after she was dumped by the former.
https://www.instagram.com/p/B82M0HvBqDh/
So, it should come as even less of a surprise that Jessica and Mark wanted little to do with each other after the cameras stopped rolling.
"We haven't talked since the wedding day," Cuevas said in an interview with the New York Post after the finale aired.
"I reached out at some point—nothing bad, just to say, like, 'Hey, I hope everything's going well, I hope everything's doing all right.' I didn't hear back," he continued. "But to me, it's just sending love out there. Like, 'Hey, I hope you're doing OK.' And that's that."
On the bright side, Mark has had no shortage of eligible women expressing interest in dating him—as one can surmise from the comments on his various Instagram posts.
Lauren Speed and Cameron Hamilton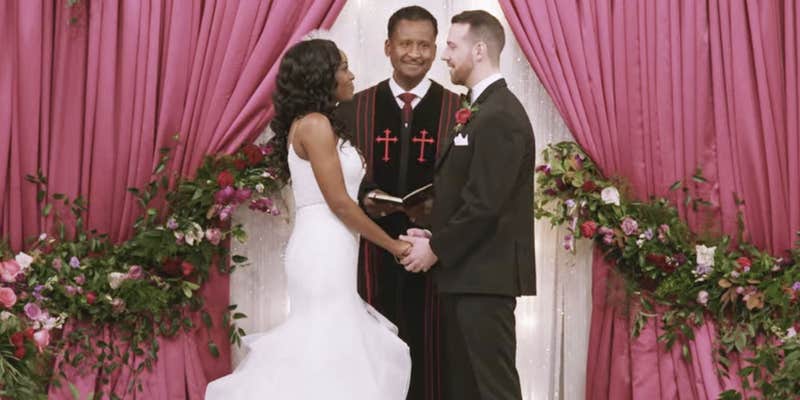 Oh, Lauren and Cameron. The ultimate Love is Blind couple; Lauren fought through her commitment phobias to give dear, sweet Cameron "the happiest day of his life." But even before the pair said their "I do's," eagle-eyed sleuths surmised that the couple was still together by comparing Instagram photos. And it did seem as if Lauren had indeed given up her studio apartment to move into Cameron's modest three-bedroom home.
"They found my master's thesis I wrote back in 2015 and put it on Reddit," Hamilton later told the Los Angeles Times. "They're analyzing our Christmas tree similarity."
Unlike the other couples, Lauren and Cameron have not bothered to play coy following the wedding finale, and it seems as if the two are still very much in love.
https://www.instagram.com/p/B9FnZcbFA9J/
Fans of Love is Blind will undoubtedly be waiting on bated breath for the reunion special, but in the meantime, it seems as if all is right in Lauren and Cameron's world. Mazel Tov, you crazy kids.
READ MORE: