Following her dual Oscar nominations for writing and directing Lady Bird, Greta Gerwig embraced the daunting task of adapting Little Women. Written by Louisa May Alcott, this beloved coming-of-age novel depicts the lives of four sisters in 19th-century New England. Funny, sentimental, and wonderfully observant, Gerwig's version takes some structural liberties with the source material, working on the assumption that many viewers already know the story. So we open with the revelation that the free-spirited Jo March (Saoirse Ronan) has rejected a marriage proposal from the rich and charming Laurie (Timothée Chalamet), before flashing back seven years back into the past, when Laurie first came into the lives of the March family.
Little Women

RELEASE DATE:
12/25/2019
DIRECTOR:
Greta Gerwig
RELEASE:
Theatrical
Writer/director Greta Gerwig ('Lady Bird') delivers a funny and heartfelt new adaptation of Louisa May Alcott's beloved novel, featuring an all-star cast.
Raised by warm-hearted matriarch Marmee (Laura Dern, terrifically plausible as Saoirse Ronan's mother), the four March sisters are Jo, Meg (Emma Watson, the well-behaved one), Amy (Florence Pugh, entertainingly stroppy and immature), and the shy young Beth (Eliza Scanlen). Their bickering and boisterous play-acting dispell any preconceived assumptions about 19th-century girls being stuffy and conservative, welcoming us into a lively family drama whose 135-minute runtime goes by in the blink of an eye.
The costuming choices are absolutely crucial to Gerwig's vision, because while she never adopts the kind of anachronisms we see in something like Dickinson (or even the quirkily brilliant new David Copperfield), the clothes are noticeably different from a typical 19th-century drama. When the March sisters go to a formal event, they'll wear buoyant skirts and tight bodices, sure. But the rest of the time, costume designer Jacqueline Durran swathed everyone in layers of scarves and shawls and woolen leggings. Jo's first scene very pointedly highlights the fact that she wears pants under her skirt, and overall it's a supremely cozy movie. These girls are comfortable; the historical equivalent of showing a female character taking off her bra when she comes home from work. The sisters have realistically self-conscious little arguments about their appearances, but they generally just don't give a shit. And why would they! They spend most of their time galumphing around the New England countryside or entertaining each other at home. The male gaze is functionally irrelevant.
Without erasing the realistic restrictions of a patriarchal society, Gerwig celebrates the humor and inner lives of women, teasing out relatable, universal truths about teenage girlhood. She embraces the overwrought feuds alongside the deeper conversations about how young women engage with their place in the world, best illustrated by a scene where Amy discusses the economic necessity of marriage.
Possibly to accommodate the time jumps between the sisters' adult and childhood storylines, the main cast are all older than their supposed ages. There are a few scenes where you have to suspend disbelief at the obviously 20-something Florence Pugh playing a petulant middle-schooler, but honestly it doesn't matter. The casting is brilliant across the board, with Ronan and Chalamet as the particular highlights. The former Lady Bird co-stars have delicious chemistry, constantly teetering on the brink between boyish joshing and outright flirtation.
As a former bookworm who somehow never got round to reading Little Women, I was in the odd position of watching this film spoiler-free. Numerous friends devoured the novel when they were growing up, and I was interested to hear that I had precisely the same emotional reaction to the movie that readers have apparently had for the past 150 years. So despite the structural changes, Gerwig clearly captured the spirit of the original. Intriguingly, she also leans into the tension between Little Women's role as a traditional novel about young women finding husbands… and the fact that Louisa May Alcott was pressured by her publisher to marry off her characters by the end.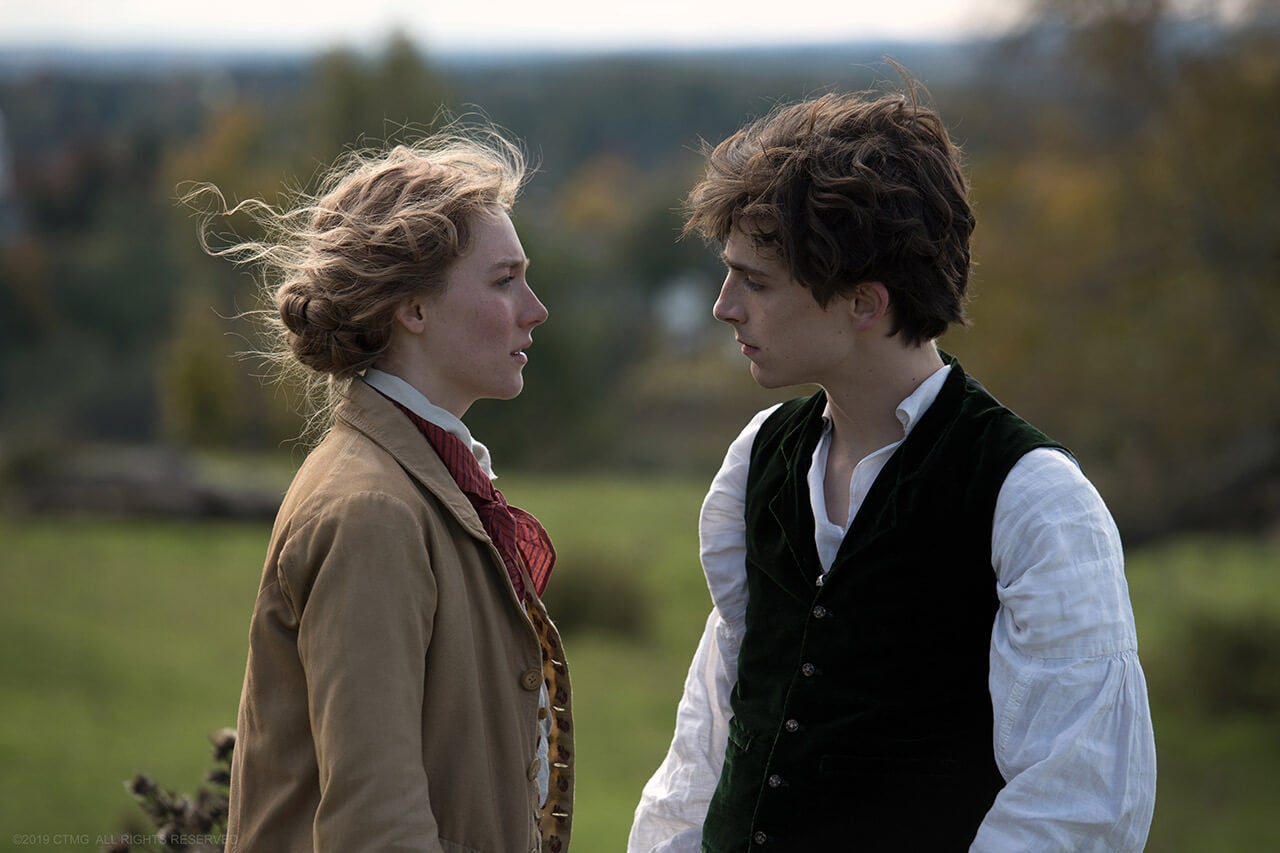 Alcott, who never married, based much of the book on her own life, with Jo (a writer and a strident feminist) as the authorial stand-in. To me, there was an obvious queer subtext to Gerwig's interpretation of Jo. Often dressing in men's clothing—or the 1860s equivalent of soft butch—Jo stands out from her more feminine sisters. She repeatedly assures everyone that she'll never marry, and her relationship with Laurie is complicated. Witty and passionate yet troubled and kind of bitchy, Laurie's appeal is obvious, and Chalamet is an extraordinarily good casting choice. He falls for Jo's loud personality and independence, but while they're definitely suited to each other—right down to their equally melodramatic body language and mean tempers—she's careless with his affections and doesn't want to be tied down. At one point she jokingly gets down on one knee and presents him with a ring before whirling away into another conversation. He keeps the ring for years, honing his talent for sultry brooding. He's a straightforward romantic lead, while Jo's sexuality is surprisingly ambiguous and open to interpretation.
Little Women really is the whole package, from details like the historically appropriate lighting to Gerwig's talent for blocking—an underrated skill these days. It feels positively miraculous to see a sentimental, cozy Christmas movie that's also a pitch-perfect work of cinema, offering thoughtful social commentary from an all-star cast. Go see it in theaters, or live to regret your choices.