Game of Thrones may take place in a pseudo-medieval setting, but its costumes are surprisingly timeless. Curated by Game of Thrones fan Zana Bayne, Tumblr account GoT Runway matches real-world fashion photos with costumes from the show, giving us a handy guide to the possible couture inspirations behind the styles of Westeros. 
While GoT Runway would be an excellent resource for cosplayers with a budget north of $10,000 per outfit, it mostly offers insight into the similarities between present-day fashion and the supposedly medieval styles we see on the show. For example, Joffrey Baratheon and his mother Cersei might look like the height of historical glamour, but they could very easily be dressed in 21st century Alexander McQueen.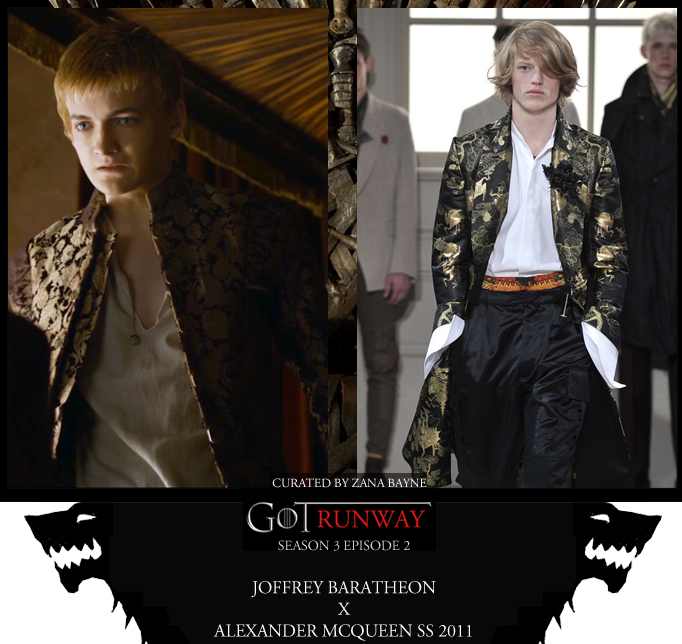 You'd think that Daenerys Targaryen's often modern-looking costumes would be easiest to replicate using modern clothes, but that doesn't take into account the fashion world's love of furs. Thanks to the overabundance of animal hides during winter season fashions, it's actually just as easy to find runway styles that look just like Northern characters such as Jon Snow or the Wildlings. In fact, this particular menswear show even accessorized one of its outfits with Jon Snow's white direwolf (kind of).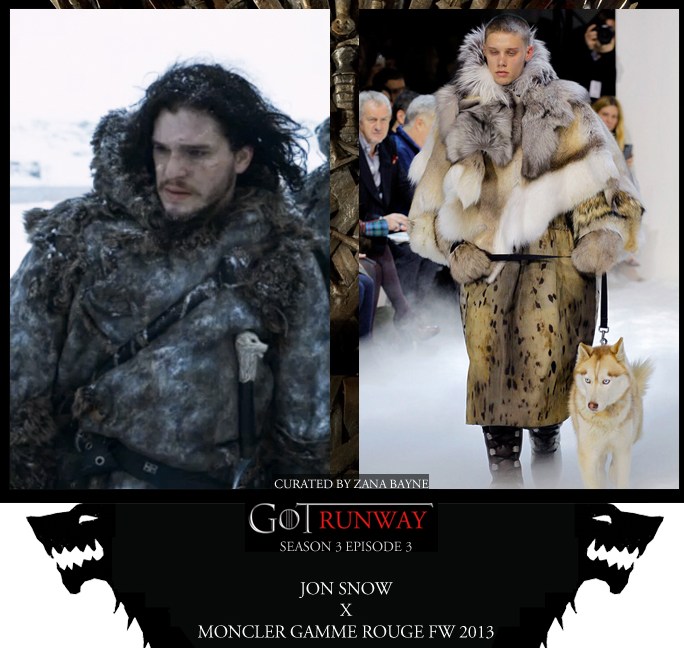 However, our favorite GoT Runway outfit has got to be this one, inspired by Jaime Lannister. If you've been watching Season 3, you'll know that (spoiler alert) things aren't going well for him. So far, Jaime has been imprisoned, humiliated, and finally had his hand chopped off by a disgruntled nobleman. But on the bright side, you can buy a couture version of his chic "severed hand" necklace outfit.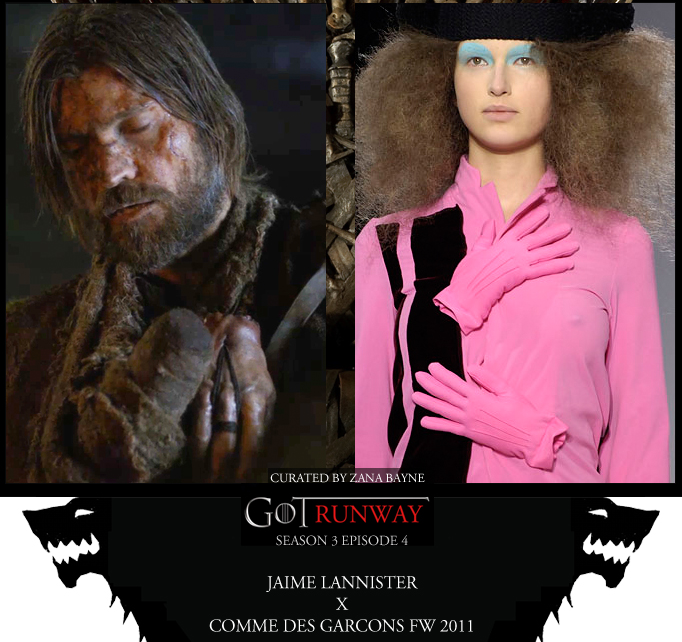 Severed hands aside, GoT Runway does have some good points to make. In a universe where dragons exist and zombies roam the frozen North, historical accuracy isn't really a major concern. While Game of Thrones is known for its gritty "realism," it probably wouldn't be as entertaining to watch if most of the characters were wearing woollen smocks. As it is, the Starks' medieval European armour is perfectly acceptable as a nod to the show's historical inspirations, but we're equally happy to acknowledge that Cersei Lannister might as well be shopping at Chanel. 
All images via GoT Runway