The first half of the final season of Fuller House debuted on Netflix earlier this month, and one line is drawing out theories about Michelle Tanner's whereabouts.
In episode 9, "A Modest Proposal," Danny Tanner (Bob Saget) sits with daughters D.J. (Candace Cameron Bure) and Stephanie (Jodie Sweetin), as well as longtime friend Kimmy Gibbler (Andrea Barber), who have all just gotten engaged. He gives them a kiss on the head before he leaves the kitchen, and stops to say, "You know, it's so nice to have three daughters again." They all nod.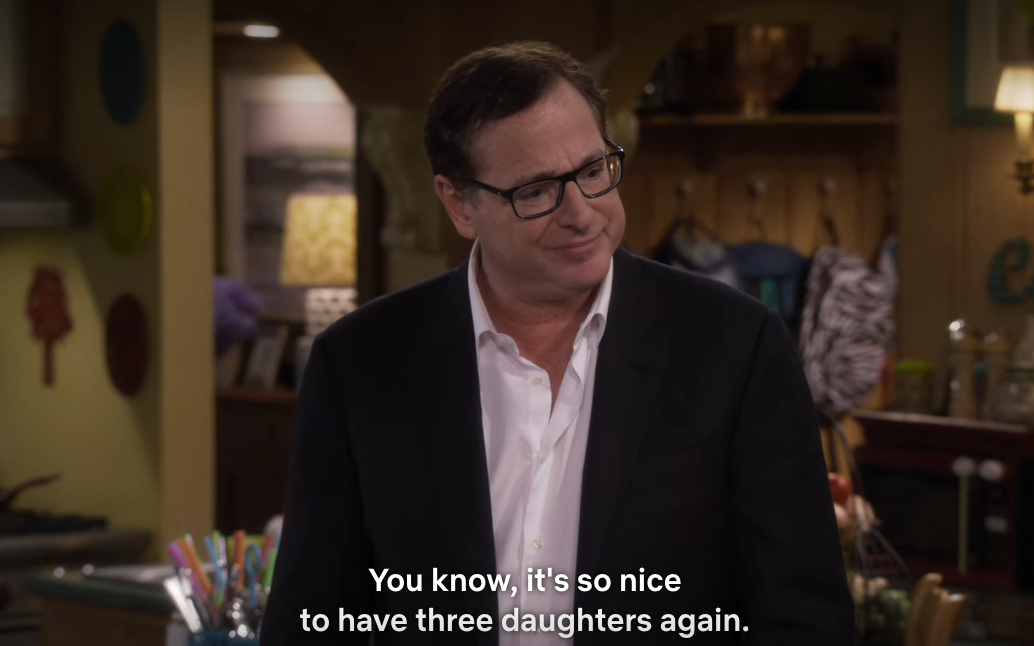 Anyone who's familiar with the original series Full House knows that Danny does have three daughters, the youngest being Michelle. Mary-Kate and Ashley Olsen declined to be part of the Netflix revival, citing the fact that they weren't as invested in acting as adults. In season 1, Danny makes a reference to Michelle, but says she's living in New York City, "running her fashion empire." Her absence is even more awkward in season 5, considering Stephanie just gave birth and there are engagements to celebrate.
While Danny's line is weird—Is Michelle dead? Did she somehow get amnesia again?—some even weirder theories about her character have been floating around for years. One Reddit theory posits that in Full House, the Tanners (Danny, D.J., and Stephanie) are actually in purgatory (the house) after dying in a car accident and "Michelle is actually a Demon Entity that brought them all together." (In Fuller House, they all still live in the same house except for Michelle soooo, maybe?) Elsewhere, the YouTube series Full House Without Michelle asks, "Did Danny Tanner deal with the grief of losing his pregnant wife in a fatal car crash by creating an imaginary daughter named Michelle?," and presents scenes from the show with her edited out to support the theory.
The second half of the season debuts in 2020, but you can probably stop holding your breath for a Michelle cameo. (Or Aunt Becky, for that matter.) Maybe they'll finally zoom out and confirm that a Truman Show-style experiment was really happening all along, with Michelle pulling the strings.
H/T Screen Rant 
READ MORE: