The biggest surprise of Cars 3 isn't that it's getting good reviews. It's the voices behind the talking automobiles.
Disney/Pixar's latest entry in the enduring franchise—which once symbolized the end of a great studio's golden age—is powered by a diverse, talented cast. Cars 3 co-stars Latina comic Cristela Alonzo as Cruz Ramirez, a scrappy young trainer who dreams of becoming America's next drag racing superstar. Lightning McQueen (Owen Wilson), now past his prime, agrees to train the ingenue. It's Million Dollar Baby with less euthanasia. Kerry Washington, Cheech Marin, and Tony Shalhoub round out the roster, which also features Lea DeLaria of Netflix's Orange Is the New Black as Miss Fritter, a spunky bus who is queen of the roller derby.
DeLaria's scene-stealing supporting part is destined to become a fan-favorite character, but her casting is quietly groundbreaking: The lesbian icon is one of just a handful of out queer actors to appear in the No. 1 movie in America. Cars 3 took in $53 million during its first weekend in theaters, en route to a $75 million global bow.
The 59-year-old, who describes herself as a "professional lesbian" on her website, is used to breaking barriers. DeLaria, who starred in the queer coming-age-movie Edge of Seventeen, became the first openly LGBTQ person to appear on a late-night talk show when she sat down with Arsenio Hall in 1993. A standup comedian who hosted Comedy Central's first queer comic showcase, she also appeared in the groundbreaking Friends episode "The One with the Lesbian Wedding." It was the second same-sex wedding ever portrayed on television, and the first featuring two women.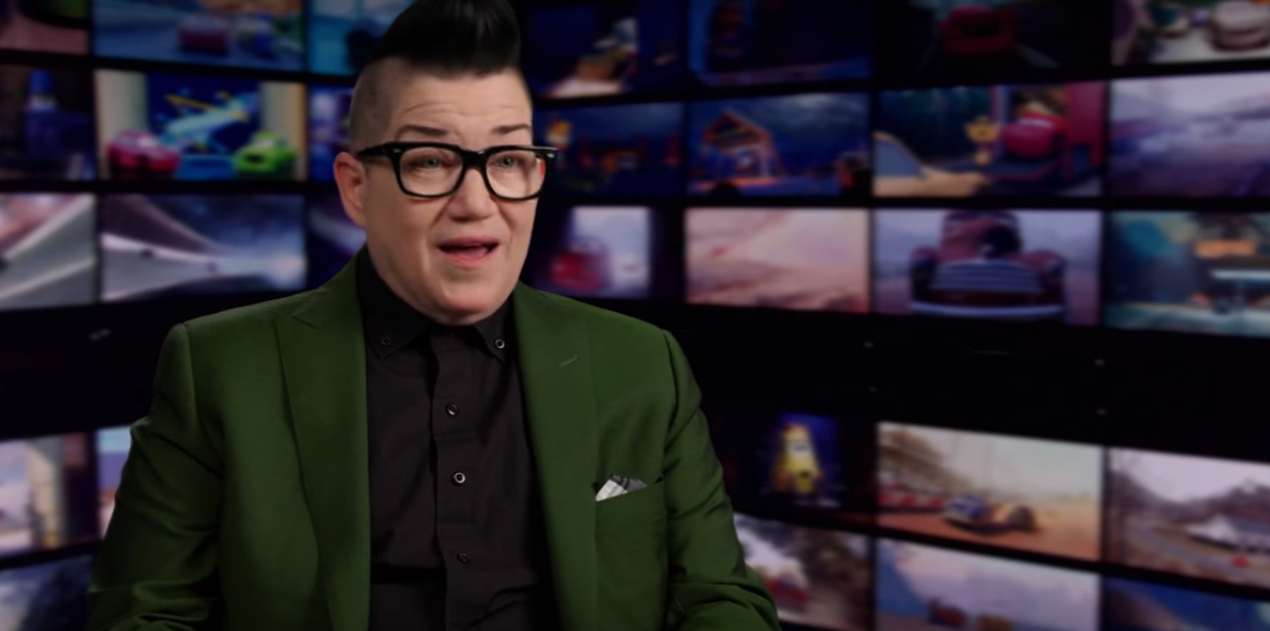 Despite recent advances in LGBTQ acceptance in recent years, Disney has continued to lag behind in queer representation—receiving a failing grade on GLAAD's Studio Responsibility Index the past four years. But at least behind the scenes, the studio has a long history of LGBTQ inclusion. Disney has had numerous queer-identified actors voice major characters in its films, including Nathan Lane (The Lion King), Jonathan Groff (Frozen), Jane Lynch (Wreck-It Ralph), and Harvey Fierstein (Mulan). Pansexual singer Miley Cyrus played the female lead in Bolt, but she wasn't out at the time the film was released.
To date, an openly trans actor has never appeared in a Disney film.
The studio has been applauded and criticized in equal measure in recent years for making small gestures to address its checkered past on LGBTQ issues. Queer people are regularly portrayed as villains in the Disney canon, whether it's effeminate men like Jafar of Aladdin or Scar in The Lion King, or The Little Mermaid's fabulously voluptuous Ursula. The sea witch was famously styled after the influential drag queen Divine, muse of queer filmmaker John Waters.
The trailer for Finding Dory offered a brief glimpse of what looked to be Disney's first-ever lesbian couple: two women pushing a stroller in a blink-and-you'll-miss-it moment. For better or worse, what viewers saw in the previews was exactly what they got, and nothing more. Films like Frozen and Zootopia similarly feature Easter eggs for queer audiences. In Frozen, the burly proprietor of Oaken's Trading Post is revealed to have a husband and children, and Judy Hopps has gay next-door neighbors in Zootopia. You wouldn't know it from the film itself. Bucky and Pronx, billed as the Oryx-Antlersons in the credits, could just be roommates.
The live-action Beauty and the Beast remake, helmed by the openly gay Bill Condon, promised Disney's first "exclusively gay" moment. LeFou, the villainous henchman portrayed by Josh Gad, would be rebooted as a closeted gay man crushing on his hunky best friend, Gaston (Luke Evans). "LeFou is somebody who on one day wants to be Gaston and on another day wants to kiss Gaston," said Condon during the film's press tour. "He's confused about what he wants. It's somebody who's just realizing that he has these feelings."
The "payoff at the end" Condon hinted at, in which LeFou would finally come to terms with his sexuality, was the smallest of asides. During the closing dance sequence, he finds himself paired up with a male partner.
But for a studio that's attempting to make progress on LGBTQ representation, DeLaria represents a major step forward. The actress, who has self-identified as a "butch dyke," has already inspired multiple Miss Fritter toys. On Amazon, parents can buy their children multiple versions of the derby-loving bus—including one that floats in water—or create their own demolition. DeLaria is even a Hot Wheel!
That milestone might seem insipid at a time when queer viewers are fighting for anything more than token inclusion in major franchises, but Cars 3's reach should not be underestimated. Although the films have collectively earned more than $1.4 billion at the box office, where they really rake it in is merchandise. The Cars franchise has already earned more than $10 billion in global toy sales—and the third entry in the series is expected to take in another $5 billion alone. Kids can buy everything from Cars toothpaste to a step stool, pull-ups, blankets, luggage, shoes, shampoo, and a toddler potty.
Millions of children will grow up with Miss Fritter in their home, a toy representing one of the most famous lesbians on the planet. Growing up with dolls like Barbie and G.I. Joe are powerful possibility models for kids, representing our society's view of what men and women are supposed to be. While the Miss Fritter toy isn't explicitly queer in the same way a ripped soldier is overly masculine, a butch female school bus gives LGBTQ kids another possibility outside those gender roles. It's another possibility to model themselves after.
Cars 3 might not be the progress queer viewers were searching for, but it's the one we got.