It's pretty much a foregone conclusion that Floyd Mayweather is going to destroy Conor McGregor in their upcoming fight. Mayweather might be older and he might have been out of the game for two years, but he's also an undefeated boxer that is universally considered one of the greatest of all-time. McGregor is an amazing MMA fighter, but he'll be out of his element in a boxing match, and if his training video is any indication, way out of his element. Not that it really matters. McGregor is set make at least $75 million, win or lose.
Without much of a fight to look forward to, the promoters are concentrating on the pre-show shenanigans. There are four press conferences scheduled, where the two can do what people love watching fighters do most: talk for half an hour. McGregor, though, decided to let his clothes do some of the talking for him. He wore a custom-made pinstripe suit which, as he pointed out, says "fuck you" over and over.
The suit says fuck you pic.twitter.com/y5pargzIsC

— Conor McGregor (@TheNotoriousMMA) July 12, 2017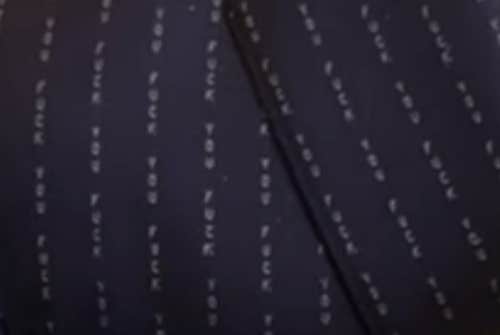 Naturally, people on Twitter fell in love with the suit.
I will take 10 of Conor McGregor's suit plz and thank u pic.twitter.com/cwTIzeEy2d

— Casey Baker (@CaseyBake16) July 11, 2017
https://twitter.com/barstoolsports/status/884900790288232448
https://twitter.com/fakelavy/status/884950959478247424
McGregor even joked that because of Mayweather's tax problems, Mayweather couldn't even afford a suit for the press conference. "He's in fucking track suit! He can't afford a suit anymore!"
https://www.youtube.com/watch?v=pctVE5-sZr8
The shit talking didn't go too far. Unlike Ronda Rousey, McGregor stopped short of calling Mayweather out on his repeated physical abuse of women. Which just goes to show, professional wrestling isn't the only sport where the drama is all scripted.