BoJack Horseman's final season commences today, and earlier this week the show's production designer Lisa Hanawalt looked back at one gripe about BoJack's character: How he holds his phone.
Hanawalt posted a series of illustrations to Instagram and Twitter about the journey of BoJack's phone. The complaints about it used to bug her, she reveals; he's a horse, so talking into one part of the phone with his mouth, then moving it up to his ear to hear seems logical, in terms of horses using smartphones. I mean, we were in uncharted territory here, but Reddit threads still filled up with theories about how a horse should talk on a phone.
"But honestly: A lot of thought and many conversations went into this decision and it still looks stupid," Hanawalt wrote.
https://www.instagram.com/p/B4AWLCeA-DT/
As people in the comments offered their own solutions to BoJack's big head/tiny phone problem (and some revealed they'd never noticed this issue at all), Hanawalt wrote, "Now I realize the most elegant solution was right in front of us." And that solution was a giant BoJack Horsephone.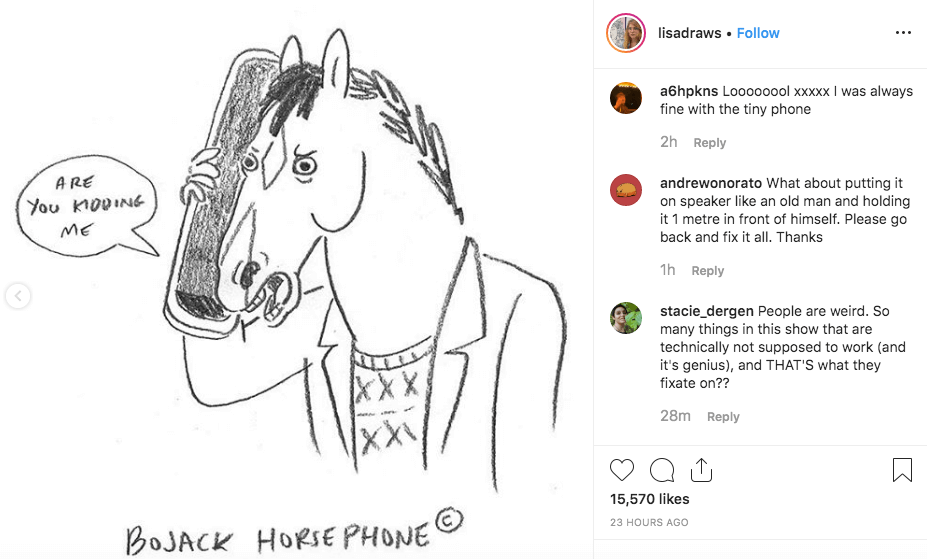 We might not see this creation in the final season (which airs in two parts) but it's a testament to how much people loved this show: Enough to have deep conversations about equine phone etiquette.
READ MORE: