When a photo of Billie Eilish surfaced this weekend showing the singer wearing a tight-fitting tank top, some people apparently couldn't help but call the 17-year-old "thick" and comment on her breasts. The objectifying responses ignited a wave of backlash on Twitter.
Eilish has previously said that she almost exclusively wears baggy clothes to keep anyone from commenting on her body, and her supporters are saying this is the perfect example of why.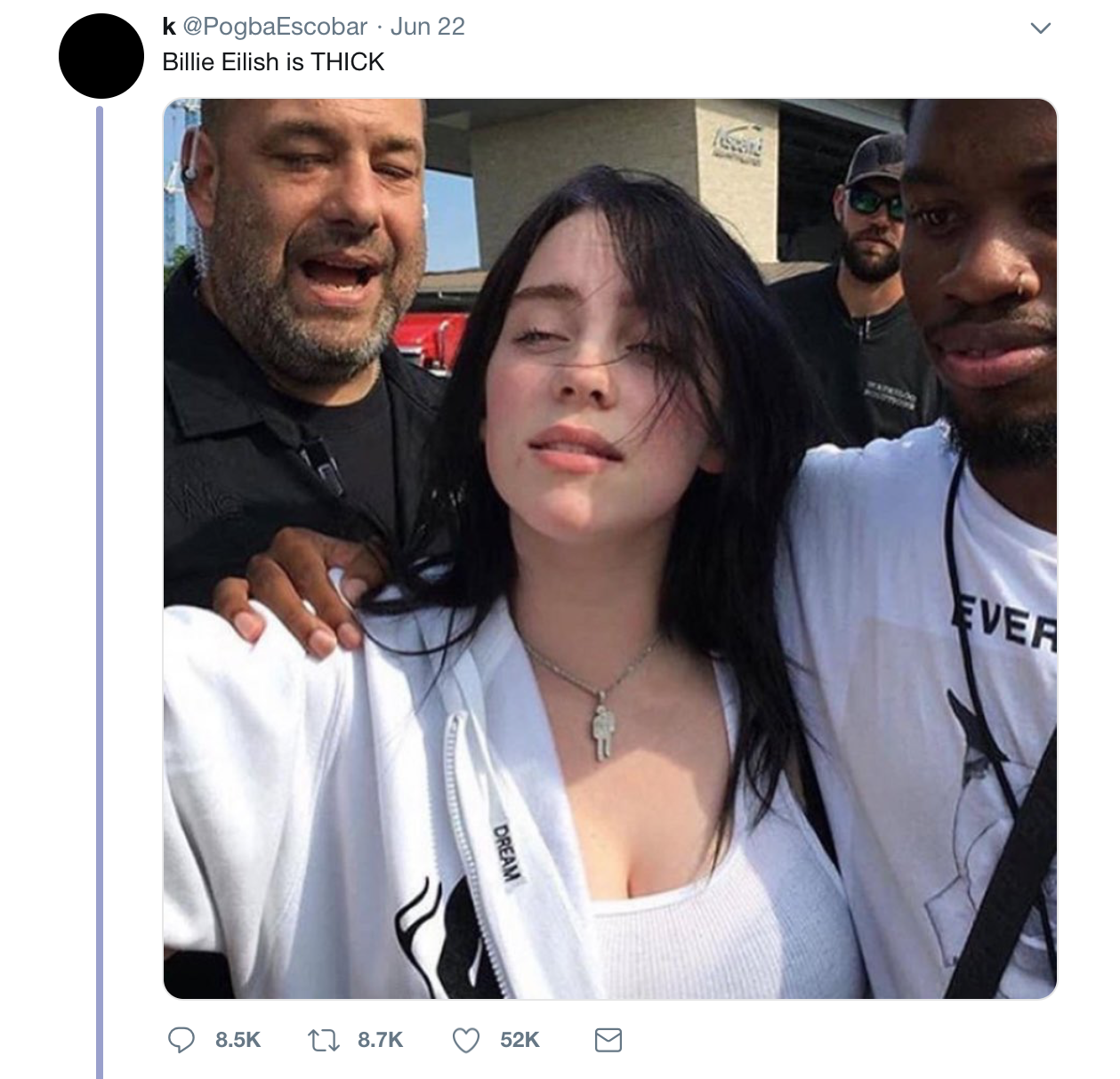 Twitter user @PogbaEscobar shared the photo of Eilish on Saturday, calling her "THICK" and defending his actions when people told him to delete it. "She's legal now in almost half of the country, and all countries outside of the U.S.," he insisted.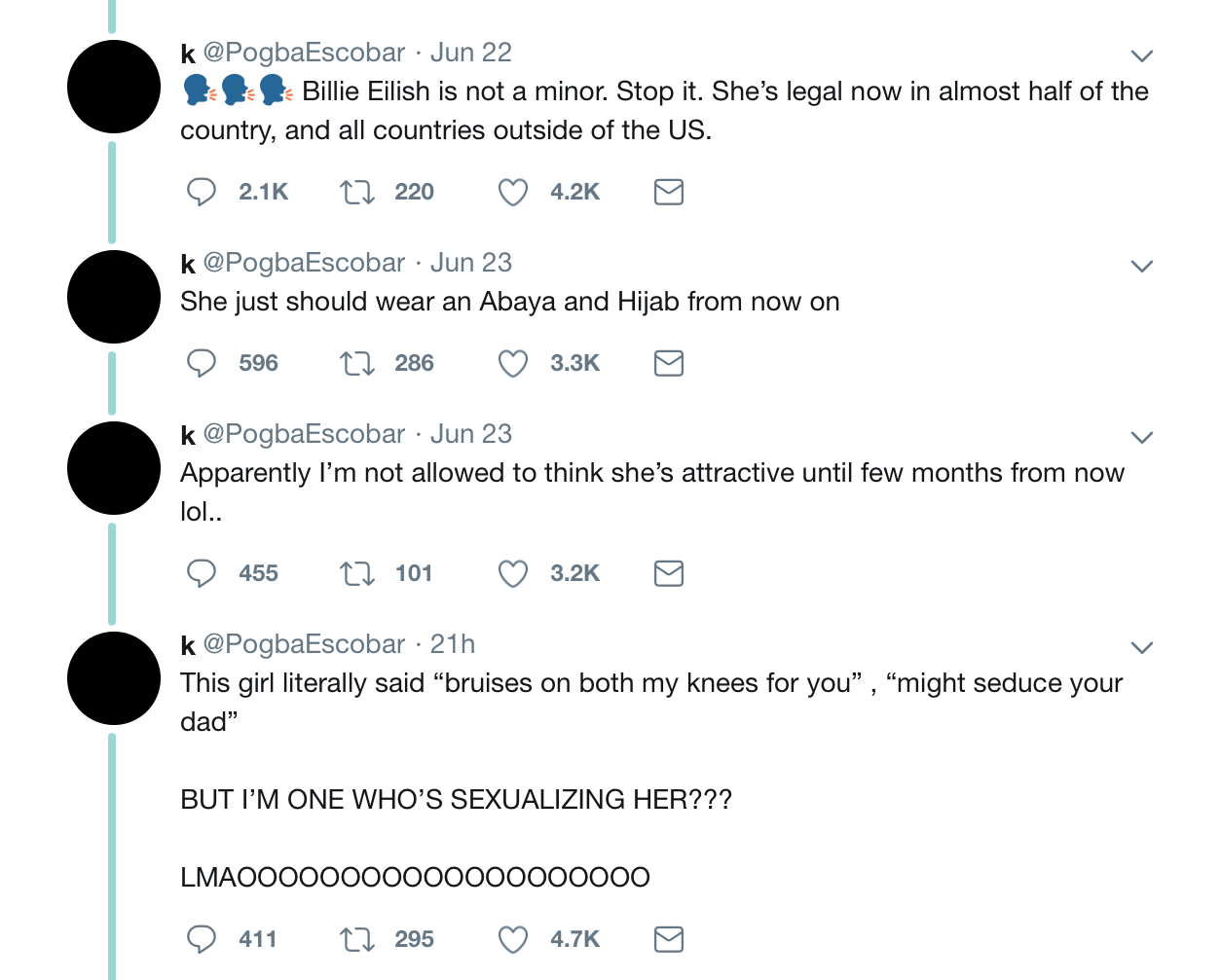 But even if Eilish is legally considered an adult in some places, that doesn't change the fact that she's a teenager who has gone out of her way to impede a sexualized gaze on her body. In a Calvin Klein ad, Eilish said she never "wants the world to know everything about her."
"I mean that's why I wear big baggy clothes," Eilish said. "Nobody can have an opinion because they haven't seen what's underneath. Nobody can be like 'She's slim thick,' 'She's not slim thick,' 'She's got a flat ass,' 'She's got a fat ass.' No one can say any of that because they don't know."
Others on Twitter came to Eilish's defense and fended off people making comments about her body.
Casual reminder that Billie Eilish, a seventeen year old girl, has said that she deliberately wears baggy clothes so she *isn't* sexualised this way by a misogynistic culture that thrives on sexualising teenage girls https://t.co/be2g6xH2Tr

— Nikita Gill is away writing (@nktgill) June 24, 2019
Twitter user @Pokket said Eilish is "still young af and doesn't need grown ass men perving it up" and pointed out that there's a difference between a compliment and a gross statement.
PS – I'm all for complimenting ppl. Billie is gorgeous.

I'm not for calling a 17 yo "thick" & posting multiple photos of her cleavage then saying "she's legal." It's obvious OP wasn't just complimenting her. Learn the difference, dudes (who complained abt this in replies/dms).

— Hillary "Pokket" Nicole (@Pokket) June 23, 2019
Others were able to appreciate Eilish as a person without sexualizing her. One user said she probably dressed differently in this photo due to the summer heat.
https://twitter.com/polovicmartin/status/1142332551450812416
@PogbaEscobar did not respond to requests for comment, although they did post direct messages of other people agreeing that Eilish is "thick."
Eilish has not publicly commented on the incident, but the fact remains that over-sexualization is just another facet of the fight for body positivity.
READ MORE: 
Got five minutes? We'd love to hear from you. Help shape our journalism and be entered to win an Amazon gift card by filling out our 2019 reader survey.
H/T Teen Vogue