The German edition of Nylon magazine tried to put Billie Eilish on their cover without her consent, and the teenage superstar was not having it.
Eilish, who called out the magazine via Instagram, was furious that the publication not only used an unauthorized image of her for its cover, but that it also photoshopped off all her hair and clothes.
The edition of Nylon posted a photo of the cover on the publican's Instagram account, and Eilish commented on it directly, saying:
what the fuck is this shit.

i was never approached by nylon about this piece whatsoever. i did not know it was happening nor did anyone on my team.
this is not even a real picture of me. i had absolutely no creative input.
youre gonna make a picture of me shirtless?? thats not real?? at 17? and make it the cover???? even if the picture was supposed to look like some robot version of me… i did not consent in any way.
ANNNDDD YOU'RE GONNA REMOVE ALL MY FUCKIN HAIR? booooooooooo to you🖕🏻
After criticism from Eilish and her fans, the edition of Nylon edited its original Instagram post with a statement that read:
"For this cover, it was never our intention to create a look that is confusing or insulting to Billie Eilish. It was only ever our intention to honor Billies impact and her work by creating this avatar which is part of a cover series highlighting the power of digital prodigy artists. This avatar is a piece of 3D artwork created in dedication to her achievements and the positive effect she has had on millions around the globe – including us."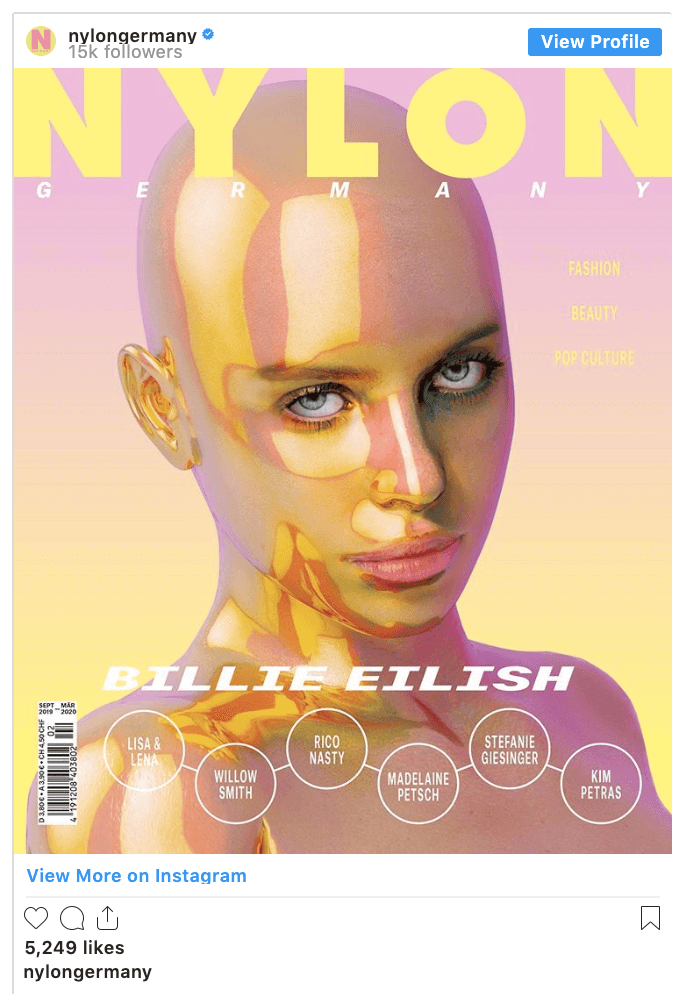 The digital cover has since been deleted from Nylon Germany's Instagram page.
The 17-year-old teenage sensation has been outspoken about not wanting to be over-sexualized at her young age, and fans have supported her wishes–even going so far as to publicly drag a Twitter user who tried making comments about Eilish's body.
Man… pic.twitter.com/68TWMkgOkx

— griselda stan account (@PogbaEscobar) June 23, 2019
https://twitter.com/starzx2000/status/1143151813329412097
Billie Eilish is a MINOR. 17. Y'all are creepy ass weirdos and need to stop

— Beyond Meatball Stan (@hummusnchill) June 23, 2019
To avoid mishaps like this in the future, the least Nylon could do is ask Eilish for her consent. Otherwise, the publication ends up just looking like the "Bad Guy."
READ MORE: