Thus far neither of the artists has weighed in, but Taylor Swift and Beyoncé fans are having a social media meltdown over Swift's performance of "ME!" on Wednesday night at the Billboard Music Awards.
Swift fans were blown away by the performance, using the hashtag #WeLoveMe to show their delight, while Beyoncé fans are using the hashtag #Mayochella to express their disappoint in what they saw as a whitewashing of Bey's iconic 2018 Coachella performance.
#WeLoveMe vs. #Mayochella, explained
Beyoncé's Coachella performance has become the stuff of legends. Two nights, over 30 songs, dancers, a Destiny's Child reunion, an appearance by husband Jay Z, and so much more. At the heart of it all was a full marching band backing up the singer.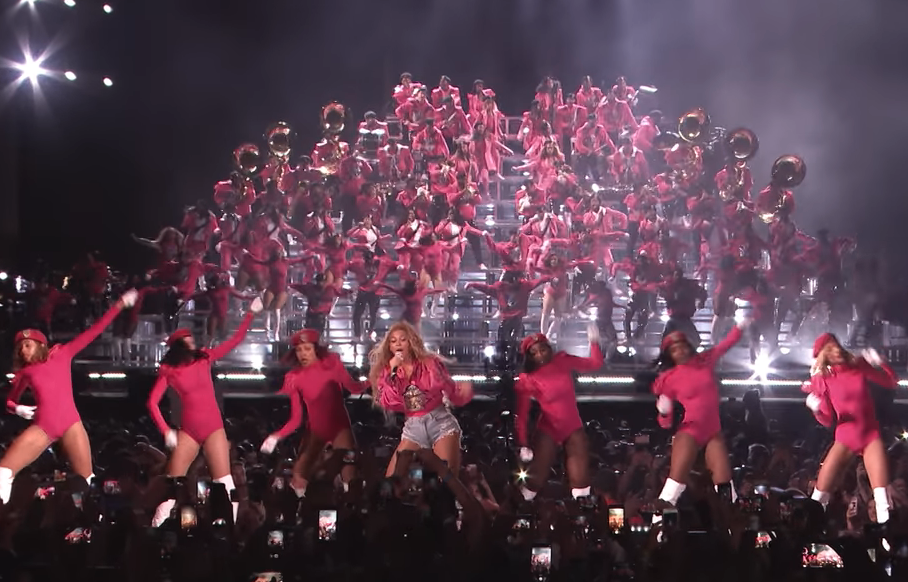 Alex Suskind writing for Entertainment Weekly called it "one of the most consequential live performances of the year (and—I feel pretty safe making this claim—of the 21st century)." Music critic Jon Caramanica wrote in the New York Times  that,"There's not likely to be a more meaningful, absorbing, forceful and radical performance by an American musician this year, or any year soon."
Beyoncé created not only one of the most stunning musical and visual performances of the decade but also a celebration of Black culture, specifically the culture of Black college life. Almost every writer used the word "historic" at some point during their review.
On April 17, Beyoncé released "Homecoming," a Netflix documentary about the performance and the long grueling road she and the other artists took to bring her vision to life.
Two weeks later, Taylor Swift was surrounded by a drumline, about to launch into her new hit song "ME!" at the Billboard Music Awards. You can check out the full performance on Swift's YouTube channel, where it currently sits at No. 5 in trending videos.
Beyoncé fans couldn't help but notice a bit of a similarity.
What in the Melania copying Michelle's speech is this. #Mayochella pic.twitter.com/piWkZ1o95l

— Courtney Enlow (@courtenlow) May 2, 2019
https://twitter.com/actionfoley/status/1123994129195778048
https://twitter.com/actualangelicap/status/1123989168240177153
From the intro whistle to the sound effects to the entrance, I can't. #mayochella pic.twitter.com/05p9SFmka2

— beygency backup (@missbeygency) May 2, 2019
Actual hot sauce vs. tobasco sauce. pic.twitter.com/NzLxbhhugL

— Preston Mitchum (@PrestonMitchum) May 2, 2019
On Twitter, there were more than a few references to the 2000 comedy Bring It On.
https://twitter.com/ShanghaiTheDon/status/1123926495477547009
Yo I'm screaming #Mayochella pic.twitter.com/jEzLzW3eHN

— mookie (@jay_bishop11) May 2, 2019
At first, Swift fans were mostly ignoring the controversy, using the #WeLoveMe hashtag to talk about things like how happy Swift looked, and how hard they were crushing on Brendon Urie of Panic! at the Disco.
I love how happy they are #WeLoveME pic.twitter.com/hCbepglkoo

— K #1 AYHTDWS stan WILL SEE TAYLOR (@karolassswiftie) May 2, 2019
https://twitter.com/darcyswiftplace/status/1123967359532900355
https://twitter.com/sammiearamaki/status/1123964217516797953
But eventually, the controversy became too much. Fans leaped to Swift's defense, pointing out that the singer had been using marching band themes in her videos and stage performances for years.
2008 Taylor Swift performing with a marching band in her "You Belong With Me" video … 11 years before her 2019 #BBMAs performance. pic.twitter.com/NbJF1Qnxr5

— Brian A. Hernandez (@BAHjournalist) May 2, 2019
She even worn a marching band outfit during her Fearless Tour in 2009 but you know… people like to insult her for no reason. pic.twitter.com/J89Ys0thm7

— M-A✌ (@Oh_My_Yatra) May 2, 2019
But let's not forget that Destiney's Child also used a marching band in the 1999 video for "Bug A Boo."
https://twitter.com/J_Buffy25/status/1123919105608814594
Adding to the confusion, Beyoncé's art director Andrew Makadsi simply tweeted out a crying emoji.
https://twitter.com/amakadsi/status/1123781306792513536
The history of Beyoncé and Taylor Swift fan beef
The beef between Beyoncé fans and Swift fans goes back much further than this week, though. Few people will forget the night of the infamous 2009 Video Music Awards when Kayne West interrupted Taylor Swift's acceptance speech to proclaim that Beyoncé had "one of the greatest music videos of all time!" and launched the "Imma let you finish" meme.
It was the ever-classy Beyoncé who later in the night gave up some of her own acceptance speech time to let Swift have her moment. "She's a great person and I really look up to her," Swift said of Beyoncé at the time.
Beyoncé even attended Swift's 25th birthday party, along with husband Jay-Z. By all accounts, the two are friends, or at least friendly (the lasting beef between Swift and West, however, is a different story).
But there's more than just a personal history at play here. The outrage is about more than just one artist, either coincidently or not, copying another's style. The entertainment industry has a long history of white artist ripping off Black ones.
From Elvis Presley's cover of Big Mama Thorton's "Hound Dog" to Softcell's cover of Gloria Jone's "Tainted Love," white artists have undoubtedly made big money from Black music, often without compensation.
It's also clear that many artists cover songs out of admiration, and it's definitely a two-way street. Country music fans were probably a little surprised (and hopefully delighted) by "Ghetto Supastar" and its homage to Dolly Parton and Kenny Roger's "Islands in the Stream."
So was Swift's drumline intro really just a case of unfortunate timing from a woman who's always had a thing for marching bands, or was it directly influenced by the iconic performance of an artist she says she admires?
Until Taylor Swift and Beyoncé chose to publicly address the issue, fans will continue to speculate.
READ MORE: