After Azealia Banks accused RuPaul Charles of ripping off her song, a firestorm of social media controversy ignited between the "Anna Wintour" rapper and members of the drag queen community.
Banks first tweeted to accuse RuPaul of copyright infringement over the weekend, saying his song "Call Me Mother" stole from her 2016 track "The Big Big Beat" (here are the two songs played side-by-side). RuPaul's song was temporarily pulled from Spotify, and Banks said it was because of her complaint, Into reported.
"You will not step on my little black girl toes bitch," she tweeted to RuPaul.
https://twitter.com/cheapyxo/status/1002996455588663296
According to Banks, RuPaul reached out to her to settle the dispute, but she said she was "disappointed" in the RuPaul's Drag Race creator for treating her as "disposable enough to steal from and discard."
https://twitter.com/cheapyxo/status/1003038542371672064
On Monday, "Call Me Mother" returned to Spotify, and Banks came for the entirety of RuPaul's Drag Race queens. In now-deleted Tweets, she called RuPaul "scum" and referred to drag queens as "haunted ass clowns."
"I don't want to see any of y'all suffocated nutsack ass drag queens in a silk gown performing any of my music on that dumbass show ever again," she wrote.
https://twitter.com/_FranDaniel_/status/1003817402486984704
In another tweet she added, "I wanna snatch all their fucking wigs off and throw them in a fire."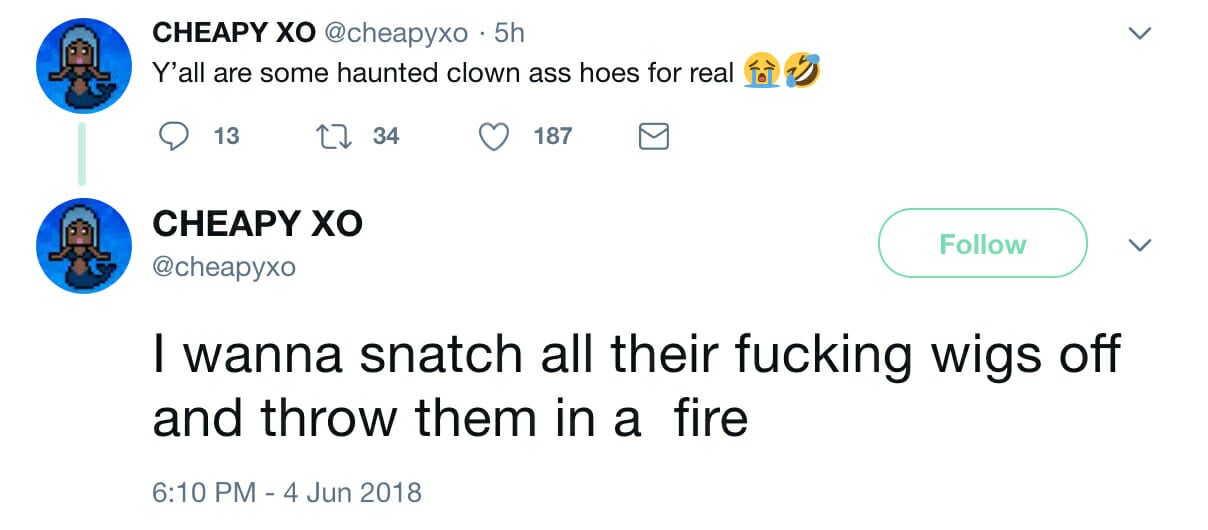 Following the outburst, Monét X Change, who appeared on season 10 of RuPaul's Drag Race, wrote that she would no longer perform to Banks' music. Banks replied, "I do not give a goddamn."
I will no longer perform my Azealia Mix…EVER. @cheapyxo is rotted TRASH.

— Monét X Change (@monetxchange) June 5, 2018
https://twitter.com/cheapyxo/status/1003819251973742592
Banks posted a final follow-up Monday evening, attaching a note (for which she did not credit the author) and writing, "this is the LAST bit of acknowledgement any of you drag race bitches will get from me."
The note defends Banks' view on drag queens and Drag Race, saying, "her distaste with it comes from its ridiculously evolving identity in contrast to how drag has traditionally been a platform informed by a need to be subversive, underground, and abrasive."
https://twitter.com/cheapyxo/status/1003838061392875520
This is hardly the first time Banks has been involved in a social media fight. Last month, Cardi B temporarily deleted her Instagram and made her Twitter account private after an online skirmish with Banks, who called the "Bodak Yellow" rapper an "illiterate, untalented rat."
H/T Into