I don't even know where to start with Apple TV's Truth Be Told. The show is a handful of things at the same time, none of them positive. First and foremost it's a crime show. It dabbles in family drama here, feints at societal commentary there. Quickly, however, the show settles into its place as a suffocating, self-serious drama with a Mad Libs premise, paper-thin characters, and inert writing. The show had my interest at the start, but three preview episodes later? I'm done.
Truth Be Told
RELEASE DATE: Dec. 6, 2019
CREATOR: Nichelle Tramble Spellman
STREAMING: Apple TV
Pulitzer Prize-winning journalist turned podcaster Poppy Parnell takes another look at the case that put her on the map 19 years ago.
The show follows Pulitzer Prize-winning journalist turned podcast host Poppy Parnell (Academy Award winner Octavia Spencer) on her latest story. Actually, it's a retread of a story she covered 19 years ago: the Halloween night murder of Chuck Berman. Back in 1999 Poppy covered the story and helped drive the negative sentiment toward accused killer Warren Cave. At the time of the murder, Cave was 16 years old. We learn all of this in the show's opening minutes. Fast forward 19 years later, and we see adult Warren (Emmy winner Aaron Paul) denied a new trial. But looking at Warren in court has instilled doubt in Poppy. She decides to take up the other side of the coin and prove Warren's innocence. Not only will this help Poppy clear her conscience, she'll also have fodder for her podcast.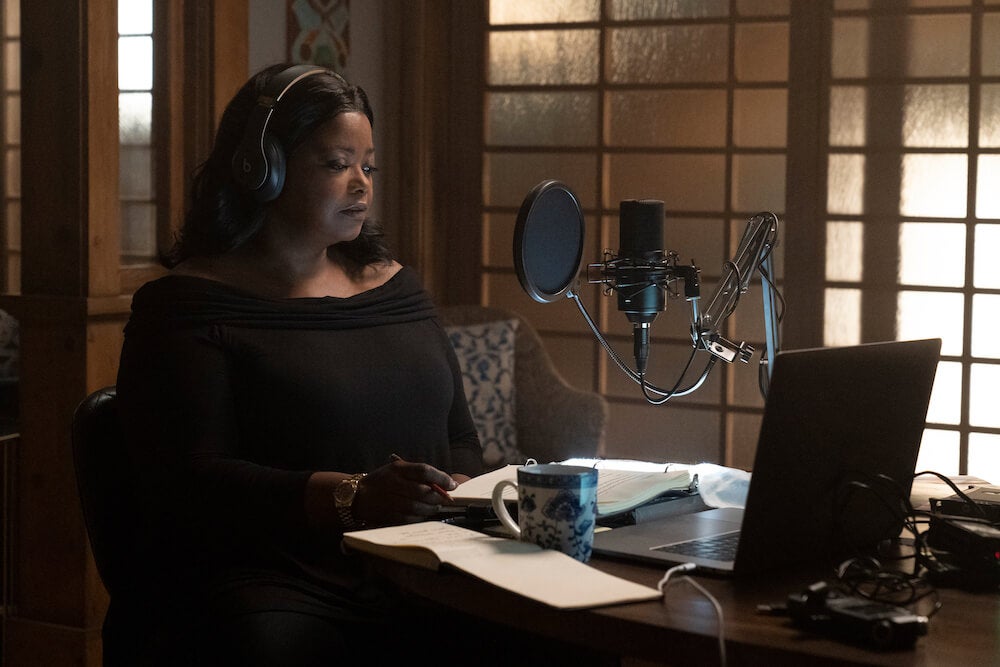 I can't stress the silliness factor of the podcast component enough. Logistically speaking, it makes total sense for that to be part of a show. With the way true crime podcasts have exploded post-Serial, it's surprising it took this long. But it's the way the show incorporates Poppy's pod that gums everything up. Of course everyone listens to it and everyone feels the need to let Poppy know. Between that and Poppy's solemn recordings, which double as frequent voiceover, each new pod reference becomes increasingly laughable.
The story struggles to find anything thematically or dramatically interesting to latch onto. Neither the case for or against Warren is compelling, from what we see, so Poppy's flip-flop is understandable, but her sudden belief in Warren's innocence is flimsy at best. As Poppy digs into the case again, the first thing that becomes clear is that initial investigation was done poorly. Poppy uncovers evidence that you'd assume a competent investigation would've turned up. Or the show's writing is highly suspect. This is a show where we're told repeatedly that there is a witness who has gone into hiding and Poppy will have a helluva time finding them. But it takes Poppy so little time to accomplish this I thought I had accidentally skipped ahead.
Watching Truth Be Told is a deeply humbling and upsetting experience. As someone who has consumed far too many true crime podcasts, movies, books, shows, and news stories, Truth Be Told is pretty terrible. (To be clear, the show is bad with or without that qualifier.) Despite all of the time I've given to this genre, Truth Be Told is the first time I've seriously questioned myself and my choices. The worst part of it is that the show is fiction, based on Kathleen Barber's novel Are You Sleeping. I can't even blame the voyeuristic aspect of true crime for making me feel bad. The ethical gray area true crime lives in is something I've acknowledged to myself in passing before now.
Seeing the genre fictionalized almost renders it into an SNL sketch, except SNL already did it better. That extra layer of removal is the skeleton key to explaining most of Truth Be Told's shortcomings. There's a sense of the audience being in on the hunt when you listening to Sarah Koenig lay out Adnan Syed's story in Serial. There's a palpable charge when you watch the climax of The Jinx. Not only does Truth Be Told not offer those pleasures, it serves up reheated facsimiles. When you're watching Making a Murderer, the procedural missteps and the human errors carry significance. When Truth Be Told features those tropes, it feels like a narrative cheat. Part of the draw of true crime is the high stakes; so much can hinge on so little. There are no stakes in Truth Be Told.
READ MORE:
Despite the talented cast, which also features Lizzy Caplan (in two roles), Mekhi Phifer, and Elizabeth Perkins, the poor writing is laid bare at every turn. No matter how good Octavia Spencer can be, she can't save dialogue like, "I bet they were trading you like playing cards, popping your ass like bubblegum." Sarah Koenig would never.
Following in the footsteps of last month's The Morning Show and See, Truth Be Told is another star-studded dud. It's a dull show with nothing to offer viewers. There is no reason to watch it, other than curiosity or to feel like subscribers are getting their money's worth. To that I say bah humbug. Within 15 minutes of the premiere, you'll know how you'll feel about Truth Be Told. If you're reading this review before watching, please take my advice and skip it. I gave you all the clues.