Starring Jennifer Aniston and Reese Witherspoon, The Morning Show is one of the flagship dramas premiering on Apple TV+ in November. At $15 million per episode—in other words, more than Game of Thrones—it invests a lot of money and star power into what feels like a mediocre Aaron Sorkin wannabe from 2007.
The Morning Show
RELEASE DATE:
11/01/2019
CREATOR:
Jay Carson
STREAMING:
Apple TV+
Despite two A-list stars and a colossal budget, Apple TV's flagship drama feels dull and outdated.
As a female-led drama that begins with a #MeToo scandal, The Morning News is meant to be a relevant, contemporary show about news media and sexual harassment. It's toothless in both regards, paling in comparison to what we saw on The Good Wife over a decade ago; another feminist workplace drama. I can easily see this show vanishing from the cultural consciousness by 2020.
Alex Levy (Aniston) is the co-host of The Morning Show, a popular but banal breakfast news show filmed in New York. When her longtime co-host Mitch Kessler (Steve Carell) is abruptly fired for sexual misconduct, it sends Alex's career into chaos, further disrupted by the arrival of a rebellious local TV journalist called Bradley Jackson (Reese Witherspoon), who goes viral for fighting a protester on camera. Alex is a cynical media insider at the top of her game, while Bradley is a spunky newcomer, inevitably destined to butt heads while the network searches for Alex's new onscreen partner.
This premise offers plenty of promising ideas about workplace sexism and news media in 2019, but the end result is pretty dull. For one thing, it has nothing interesting or new to say about sexual harassment or the TV industry; an embarrassing oversight when Succession is one of the hottest shows of the year. It also just feels incredibly dated. References to the internet are shallow and fleeting, which only adds to the general aura of an old Aaron Sorkin drama. For some reason, there's also a recurring Gilmore Girls reference, which is basically the opposite of topical.
Some viewers may be surprised to learn that despite Witherspoon and Aniston's comedy chops, The Morning Show is a solidly serious drama. Jokes are borderline nonexistent, and instead, we have numerous scenes where people yell (and I mean yell) angry speeches while having breakdowns about their careers. So along with being disappointingly shallow in terms of feminist commentary, this show also made me think, perhaps for the first time in my life, "Wow, will these women ever shut up?" Although in fairness, Steve Carrell also spends most of his time yelling and monologuing.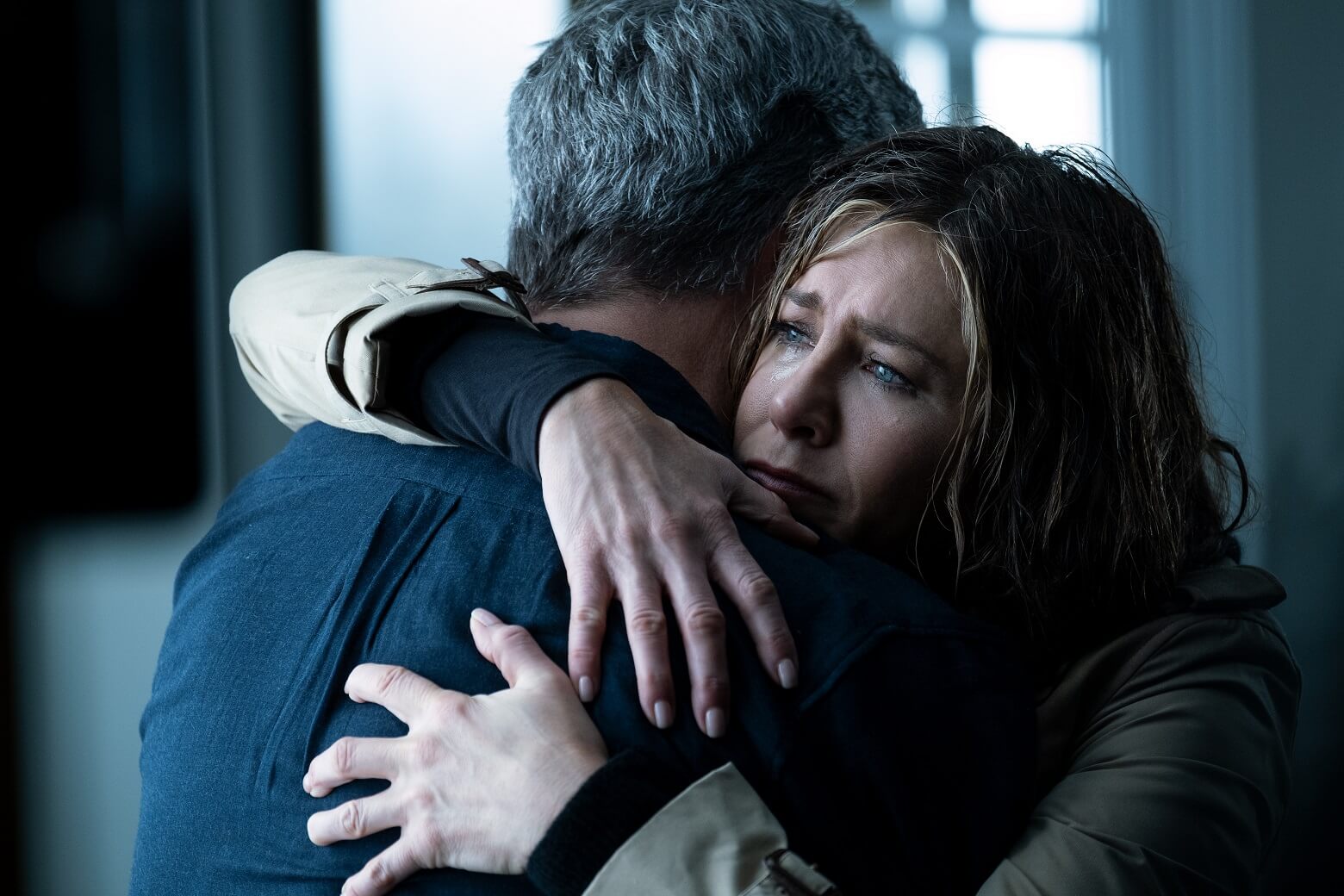 Mitch should only be in the show for one episode, creating a springboard for Alex's story. Instead, we keep returning to his struggle with becoming a #MeToo headline. He's a boring and unoriginal character, spouting the same things we've heard from every famous sexual harasser in America. The general idea is that because he only had workplace "affairs," he's not as bad as outright creeps and rapists. Which, sure. But the show doesn't (yet) delve into the murkiness of these affairs, where Mitch held all the power. Attempting a "both sides" viewpoint, Mitch argues that he deserves a comeback. His producer (Mark Duplass) replies with total sincerity: "I don't know what the half-life is for this, but it's not a day. It's years." I mean… is it, though? As of this week, Louis C.K. is making a comeback tour, and Harvey Weinstein is still being welcomed at industry events, calling a woman "rude" for confronting him in public. Celebrities like Ryan Seacrest, Michael Weatherly, and Chris Hardwick are still going strong. So are Mel Gibson and Chris Brown, for that matter. It feels almost insulting to focus on a man like Mitch whose defining issue is that he "isn't that bad," while also showing him lose his career and income.
It doesn't help that while Witherspoon and Aniston are consummate pros, the dialogue is pretty corny. "Remember the truth?!" Bradley demands in one scene. "Journalism? We're news people, Jones!" Later we get some glaringly on-the-nose commentary about the decline of TV, with Alex's boss (Billy Crudup) noting, "It's kinda funny how the whole world of broadcast could fall off a cliff in a few years." A needlessly smug line for an Apple TV streaming show. And anyway, it rings hollow because the titular Morning Show sucks. In the three episodes made available to review, it's hard to get invested in the future of such a vacuous journalistic institution.
The Morning Show was created by Jay Carson, Hillary Clinton's press secretary during her 2008 presidential bid, and a former political consultant for House of Cards. After leaving the show due to creative differences, Carson was replaced by Kerry Ehrin as showrunner, and Ehrin now has the sole writing credit. She's an experienced writer and producer, co-creating Bates Motel, and writing for numerous shows including Friday Night Lights and Boston Public. But even with a seasoned showrunner and A-list stars onboard, The Morning Show simply isn't distinctive.
At a guess, the target audience here is middle-aged (probably white) women who want to see a grown-up story with strong female leads. But this demographic is hardly underrepresented on TV. If you want prestige drama, you can watch Big Little Lies, or Sharp Objects, or Unbelievable. If you want something with more humor, there's Succession or The Good Fight, which covers similar material to The Morning Show, in a smarter and more entertaining way. The main thing The Morning Show has going for it is the cast, and with such extensive filmographies, you could easily just watch them in something else.
Apple TV+ launches on Nov. 1 with a robust library of movies and series. Here's everything we know about the service.