Gareth Evans isn't entirely sure what the blood budget was for Apostle, but he's certain it was "significant."
Apostle, the new Netflix film from Evans which premiered Friday at Fantastic Fest, stars Legion's Dan Stevens as a shellshocked man named Thomas sent undercover to save his sister from a mysterious cult that has settled on an island called Erisden. It's set in 1905, when spiritualism was in flux and hucksters often served religion as a brand—sometimes literally.  
Apostle grew out of a short film that went through a few iterations but was ultimately never filmed. Evans shot the film in the U.K. after shooting his previous films in Indonesia, and Apostle looks and feels very different than the film he's perhaps best known for: 2011's The Raid. Speaking from a Satanic church-themed karaoke room at the Alamo Drafthouse in Austin, Texas, Evans says he wanted Apostle to be about someone who lost their faith, and the film's naturalistic feel adds to that.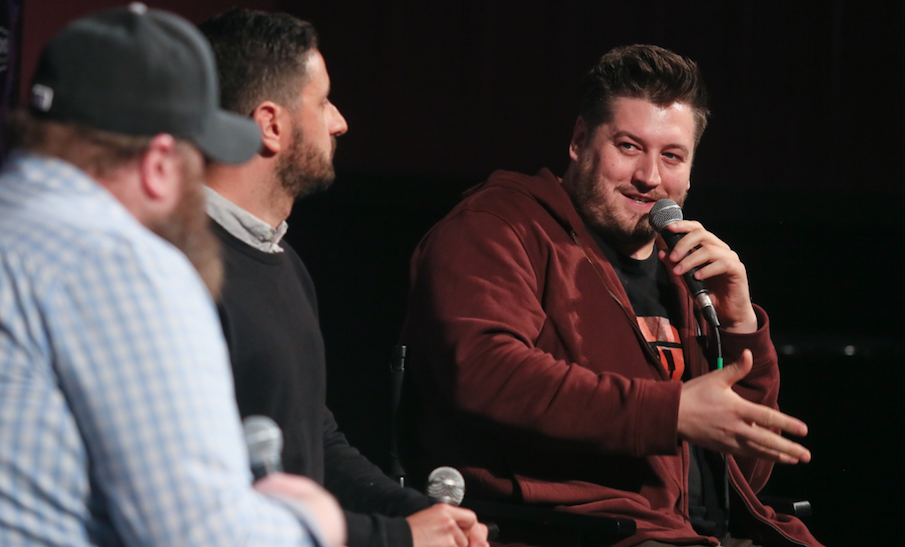 Michael Sheen plays Malcolm, one of three men who settled Erisden. The island is a "blank slate," says Evans, but after a couple nights with Thomas, it's apparent that this isn't the paradise that might have been advertised. There are bizarre bloodletting rituals. Crops have failed. Animals are born dead. "Prophet" Malcolm espouses a vague religion, one built on fear and guilt (and male entitlement). And while religion mixes with the esoteric and supernatural here—mostly in the third act—Evans didn't want Apostle to be "an attack on religion."
"For me, it's more about the corruptibility," he said, "and how people will use faith to galvanize a political movement."
The set design and cinematography are excellent. Evans considered what kind of torture devices—and there are at least two gnarly ones in Apostle—would be era-appropriate and buildable with the materials on the island. And yes, those torture scenes are drawn out and excruciating. But the storyline meanders in the middle half.
An assassin is discovered, but it's not clear why. While Malcolm and his co-founders Quinn and Frank are seen discovering the island, we know little of their relationship before that moment. The film draws out the reveal of the island's source of fertility a little too long, and there's not a whole lot of narrative development. To his credit, Stevens goes all in here, adding a bit of his mysterious interloper from The Guest. When Malcolm's daughter Andrea (Lucy Boynton) tells him he's "seen things," she's not wrong. Stevens' piercing, wide-eyed vibe in this film is relentlessly "I've seen some shit."
Movies about cults are plentiful this year, and The Wicker Man was, of course, influential. But Evans adds in British folk-horror like 1968's Witchfinder General and Ken Russell's controversial 1971 film The Devils, as well as contemporary takes on the genre, like Ben Wheatley's Kill List. When the film finally delves into horror, the pace picks up, but it felt like Apostle was missing the momentum that made Evans' previous films so engaging, and a sense of whose story it's telling. But there sure is a lot of blood.
Apostle debuts Oct. 12 on Netflix.