It's 1983 in the Shadow Mountains, a serene swath of the Pacific Northwest. Red (Nicolas Cage) is a stoic logger; his partner Mandy (Andrea Riseborough) is an artist who runs a shop. They appear to be deeply bonded and talk about esoteric concepts. We never get a sense of how they met or became so bonded, but we do know that when a demented cult leader named Jeremiah Sand (Linus Roache) calls upon his minions—some of them, it seems, directly from hell—to bring her to him, that we're going to get fresh eyes on the revenge-movie genre.
Panos Cosmatos' Mandy is a movie cleaved into two halves, and the second half is when the patented Cage rage really starts to spurt. Cosmatos' first feature, 2012's Beyond the Black Rainbow, was much denser, but there are some shared threads in Mandy. In a post-screening interview with Cosmatos, Cage, and Roache, hosted by Kevin Smith, the director said he was interested in how revenge movies make him feel, and that he was obsessed with The Road Warrior growing up. That influence is certainly felt in Mandy: The demonic bike gang summoned to kidnap her recalls that film as well as Weird Science and Hellraiser, and Jeremiah's "children" call to mind the vampiric family of Near Dark. The late Jóhann Jóhannsson's teeth-rattling score and the otherworldly color palettes add another dizzying layer.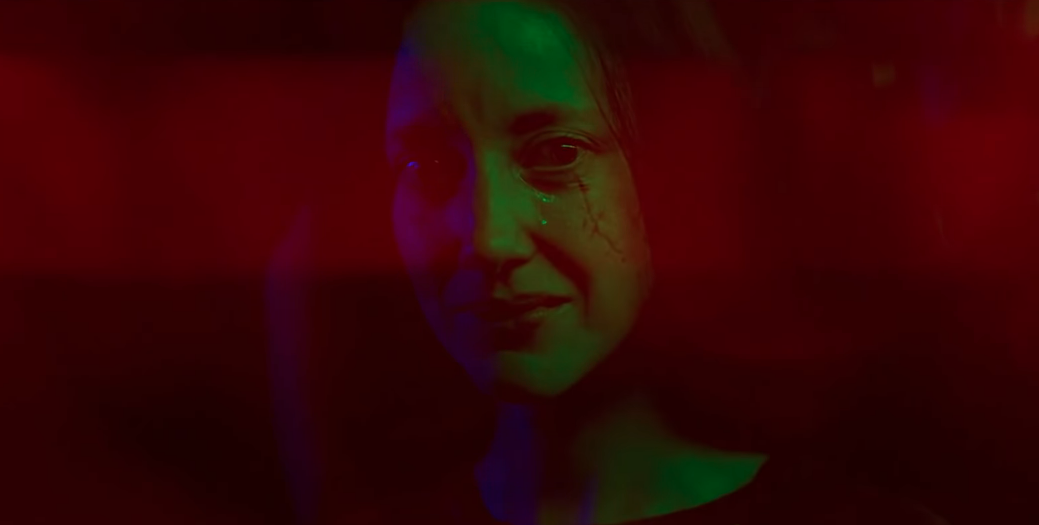 But Mandy could just have easily been set in the present, and its subtext is ripe. It's about male rage and grief (Cage's bathroom scene is a masterclass) and male entitlement. A third-act chainsaw fight between Red and one of Jeremiah's followers could be construed as the ultimate dick measuring contest. In the post-screening interview, Roache said he thinks the film is an "amazing exposé of the male ego."
This is crystallized in a scene in which Mandy is drugged and presented with Jeremiah's bad folk music, and then, presumptuously, his dick. His proclamation that God has sent him into the world to "take what is so very much mine" is left hanging in the air before being swatted down by Mandy in spectacular fashion, though it seals her fate. I did find myself wanting more time with Mandy, who, in early scenes, is made to appear almost alien. But perhaps that was purposeful: While Red carries out the revenge, it's in her world.  
Cage revealed that Cosmatos initially wanted him to play Jeremiah, but he felt more of a kinship with Red, and that he could do more with this grieving character. (Cage also revealed he's always wanted to play Captain Nemo, which, yes.) His emotional journey is impressive and visceral, but there's also some levity: In one scene, Cage calls a demon a "vicious snowflake" before doing a line of cocaine. Elsewhere, he takes in a hallucinatory commercial for a macaroni and cheese brand called Cheddar Goblin, created by Casper Kelly, the twisted mind behind viral Adult Swim short Too Many Cooks.
The last third feels a bit like Brawl in Cell Block 99 in its descending levels of revenge and madness, but Mandy has a little more beauty and hope under all that blood and gore.