Model and women's rights advocate Amber Rose took on gossip site the Shade Room on Instagram this week.
The tension started when the Shade Room reposted a video Tuesday of Blac Chyna's mom, Shalana Hunter, aka Tokyo Toni. The video was from a livestream Toni hosted featuring her looking around jumpily "for her haters."
All of this was shared in good fun, but things took a turn when the Shade Room invited fans to caption the video. The post raked in over 24,000 comments, and many of them make fun of Toni's physical appearance or accuse her of being on drugs.
In Rose's mind, it would be one thing if people were making fun of a celebrity's Instagram livestream, but making fun of someone's mom is a different story. Rose is a friend of Chyna's, and apparently understands how tough it can be to protect a loved one from social media criticism. She posted an Instagram story sharing her thoughts on the situation.
"Y'all really dgaf about anyone's family, relationships, reputation or livelihood," Rose wrote. "Y'all are negative af… let somebody post a video of y'all mamas and see how the f*ck you feel."
The gossip sites weren't the only ones Rose was frustrated with, though. She was also tired of commenters not owning up to their role in the gossip cycle.
"The nerve of all the cornballs in the comments telling you that this is the life you asked for so just deal with it… smh," she wrote.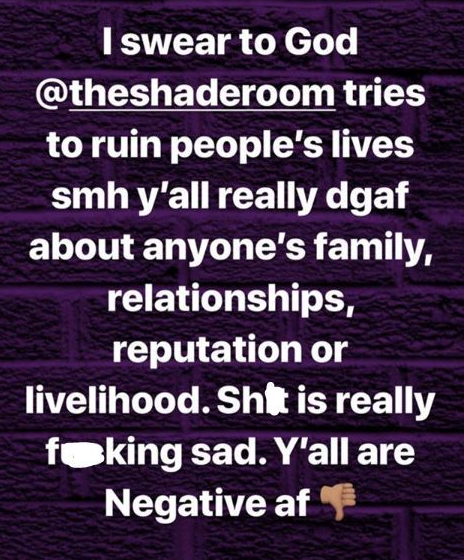 Hip-Hop Vibe has the full set of screenshots from Rose's Instagram Story.
For Rose's part, the storm seems to have passed. She even tied her feisty 'gramming tendencies into her new Fashion Nova line:
https://www.instagram.com/p/BjsVygcFlUc/?taken-by=amberrose
It's all just another day for the self-proclaimed Rocky Balhoea of Instagram.