If you've ever suspected cats are quietly plotting to take over the world, you were right. 
The leaderless collective of cats (or, perhaps, humans claiming to be cats) known as the Whiskas Liberation Front, or WLF, seeks an end to cat oppression. They care not for cheap, low-grade snacks, nor stiff nap cushions. They use the Internet and mainly Twitter (under the hashtag #WLF) to fight injustice, especially when it's related to their own comfort cause.
We spoke with WLF comrade Widu, who gave us a rundown: The collective was founded in May 2010; its members, located all over the world, are likely "well into the thousands." And while the original goal of the "Central Catmittee" was obtaining "posh food," it's a little more ambitious now. 
Every Wednesday evening, the collective congregates at 9pm BST to take out frustrations on a "politician or organization that the collective deems unacceptable," according to Widu. The WLF evokes its displeasure at said target by metaphorically "widdling" (read: peeing) on him, her, or it. Cat power, indeed.
When former British prime minister Margaret Thatcher passed away, WLF members angry with her policies celebrated with a "yowl," a collective cry on Twitter. One reason why WLF members might be more angry with her than most: she ended free milk for schoolkids before taking the U.K.'s top office.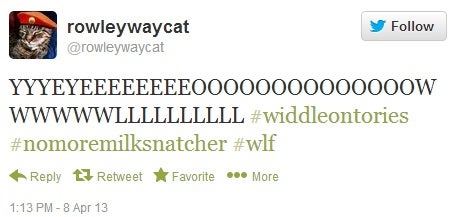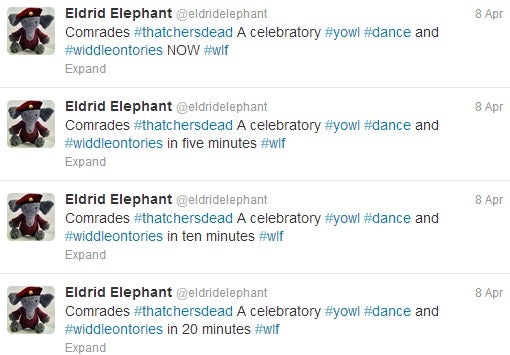 However, not all of the members were on board. Some found the jubilant mood around a person's death distasteful.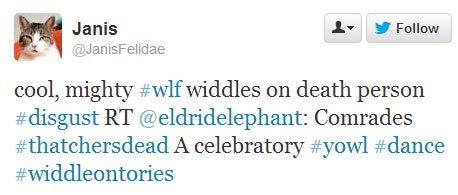 This is no mere roleplaying. All the comrades are real cats, Widu assured us, and many have thousands of Twitter followers. Many of the cats have passed away (or "joined the 10th Battalion," to give the WLF euphemism). Widu herself joined that battalion in January last year. Members mark the transfer of a comrade to the 10th Battalion with a yowl, this time celebratory in tone.
The WLF does not simply look out for its own interests, however. It has run fundraisers to help feed stray cats and for St. Francis Hospice for Cats. Members also raised money in aid of Daisy, an honorary WLF comrade who was abused.
To become a WLF member, one must abide by the code and code of conduct to keep conversation respectful, safe, and fun. Prospective cadets need to engage in the #wlf conversation on Twitter and follow existing comrades. Become involved enough with the members and the cause. Wannabe recruits might just received a beret for their service, which they can adorn on their Twitter avatars.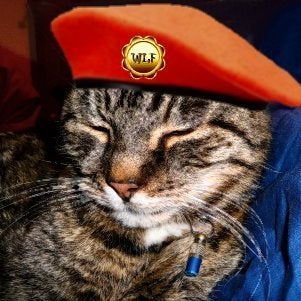 Photo via @rowleywaycat/Twitter
Widu (a.k.a. @BigWidu) is a founding member of the WLF, along with @RowleyWaycat, @MrGingerCat, @tiddlesfry, and @NyxTheNightCat. Comrades are privy to an anthem and training videos, are invited to take part in marching songs, and can adorn a uniform—a T-shirt for their humans to wear. There are also comrades of a canine heritage, who stand fast with their feline friends. Among such sympathizers is Buddy, a male golden retriever in Canada.
Members occasionally get together to hold a "Catference." in May, comrades will meet to discuss policy, cadet training, and issues regarding staff (i.e. the cats' human companions). In a post on Eldrid Elephant's blog, one of the main hubs for WLF activity, members have offered suggestions for the agenda. They include animal testing, animal cruelty and a discussion about refocusing the WLF towards its "socialist campaigning roots."
The WLF has received some attention beyond the Internet. Among its most notable advocates is Cerys Matthews, a singer and BBC 6 Music radio host who has mentioned the collective on air. They made her an honorary member.
The movement has had a profound impact on some of its members, honorary or otherwise. For Widu, the WLF comrades "have been an inspiration to me and have always been there for me during difficult times."
Never leave a good cat behind.
Photo via @MrGingercat/Twitter