How do you become a popular figure in social media?
Perhaps you can gain a following by being a trusted resource for news in your industry. Maybe you're already a celebrity. Perhaps you create and share amazing content. Or maybe you'll gain notoriety simply by claiming you work at Google—even when you don't.
A Google+ user who goes by the name of Victoria Nigar claims to be a Google employee, and there are more than 42,000 people who have her in their circles. According to CircleCount, an unofficial Google+ user tracker, Nigar is the 10th ranked user in Canada and sits just outside the top 500 Google+ users CircleCount has indexed. Somewhat more alarmingly, she's ranked as the 13th-top Googler at PlusClout.
The problem is that she doesn't seem to actually be a Google employee, and may not even be a real person.
All the evidence points towards Nigar being a complete fake. As Google+ user Max Love notes, the user has stolen their profile photo from model Susan Coffey. The profile's display name has been changed at least twice, having initially been called Nigar Memmedova and then Google Girl.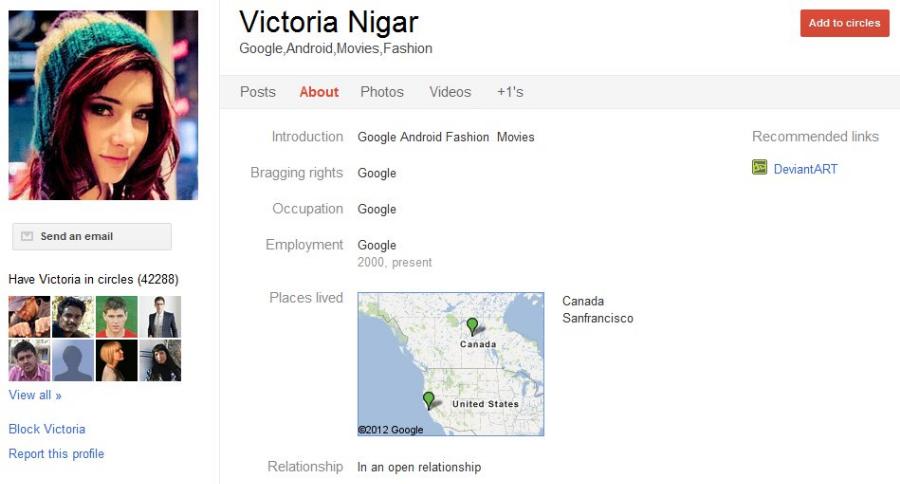 Most of the early posts were in Russian, which contrasts with the user's claims to have lived only in Canada and "Sanfrancisco." The vast majority of the public posts from the account are simply reshares of memes and popular YouTube videos.
Many of us are not fully truthful about our identities on the Web and adopt a pseudonym for a variety of reasons. However, the real issue here is the claim that she's a Google employee.
Several well-known figures in tech journalism and social media have fallen for the ruse, such as Veronica Belmont, who shared Nigar's profile as part of her Women in Tech circle. Even prominent Google+ evangelist Louis Gray was duped, as he shared a circle of Googlers that included Nigar back in September.
The fact that Nigar's account was legitimized by these two voices may have helped the profile to gain so many followers. The content that's being posted on the profile helps too, as it's the kind of images, videos, and helpful Google+ tips that many find entertaining or useful. Those people are likely to reshare the posts with their own circles, which often leads to an increase in followers for the post's originator. Having a profile photo of a pretty model certainly doesn't hurt either.
The perception that Nigar is a legitimate Google employee is a dangerous one. If she shares false information about Google and her followers believe it, that could be damaging to the company as it trickles through the Google+ ecosystem. That's just one example, as there are many ways in which the profile could damage Google or its users.
Many Googlers, such as Natalie Villalobos, Bradley Horowitz and Chris Chabot, have a check mark on their profiles to designate them as verified accounts. Several others, including Shana Gitnick, a Google+ Photos engineer cited on the official Google+ Page, are not verified.
Would it really be that difficult for Google to verify all of its employees' accounts to make it clear they're legitimate?
That the profile's non-legitimacy has only really come to light now is interesting since, until recently, Google has been at war with those who've not used their real name on Google by banning their accounts. The real-name rules were relaxed ever so slightly yesterday; you can have a pseudonym on Google+, as long as it's an established identity, and Google can verify who you really are.
In any case, this reflects poorly on Google's control over its own social network. Its own rules on identity have clearly been flouted here—and in a dangerous way.
A Google spokesperson told the Daily Dot that the company does not comment on individual profiles. According to Google+'s community standards, it does not "allow impersonation of others or other behavior that is misleading or intended to be misleading."
Photo via Google+