With hundreds of millions of tweets per day, it's impossible to follow everything happening on Twitter. Every Friday, the Daily Dot rounds up notable Twitter news and stories from the past week—in 140 characters or fewer.
You'll no longer be able to leave tips for tweets you've faved using Flattr after Twitter shut down that service's API access.
Twitter has a video partnership with BBC America. It seems secondary video will be embedded on Twitter as shows air.
The company also has a new data editor who'll be crawling your tweets for interesting insights.
Lindsey Vonn's ex-husband joked about calling in her new beau Tiger Woods's apparent cheating during the Masters. Or was he joking?
Meanwhile, Adam Scott won the tournament. Not the Adam Scott of Parks and Rec fame, who seemed to enjoy the inevitable increased attention.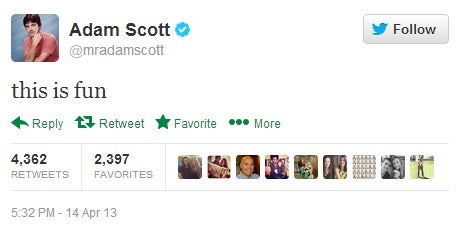 Comedian Kevin Hart was arrested on suspicion of DUI. He made some jokes about the inherently funny drunk driving (sarcasm!) after posting bail.
Newfoundland's premier deleted her account after finding out it was following a feed promoting porn.
Also in Canada, Quebec's ban on tweeting from courtrooms came into effect Monday.
Twitter can help prevent heart disease! But only if you pay attention to people tweeting about heart disease prevention.
Porter Airlines is suing a union representing striking workers for $4 million over alleged defamatory comments on Twitter.
A freelance worker's being sued for £50,000 over a complaint of a £150 unpaid bill.
A Saudi journalist shut her account over reported threats to her and her family.
Indian celebrities are taking complaints of trolls to police at least five times a month.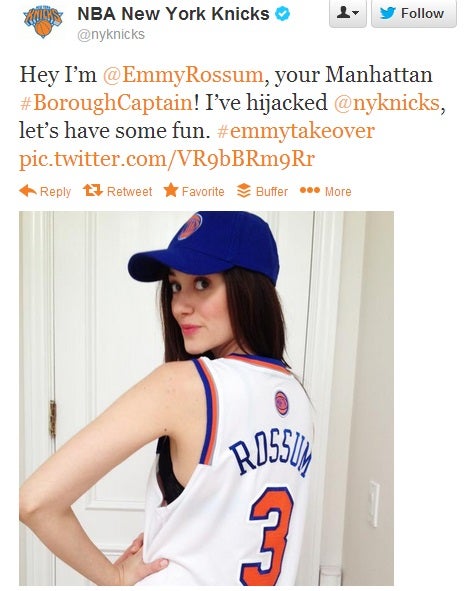 This week's notable new users: Heather Graham is finding her feet, so help her out why don't you?
Photo of the week: More from Rossum's Knicks takeover, with a snap of "assistant captain" Cinnamon Rossum. If only all Twitter takeovers were as cute. (@nyknicks)