On the Halloween costume originality scale, dressing up as a Tinder profile falls somewhere on the lower end of the scale, somewhere in between going as a sexy cop and Snow Walter White.
But one Bay Area bro apparently didn't get the memo that everyone and their brother would be dressing up like a Tinder profile this year. He's already set on his costume, and he's offering monetary compensation to whoever has a "creative/artistic background" and is willing to make it for him.
Here's his ad, in the "gigs" section of Craigslist San Francisco: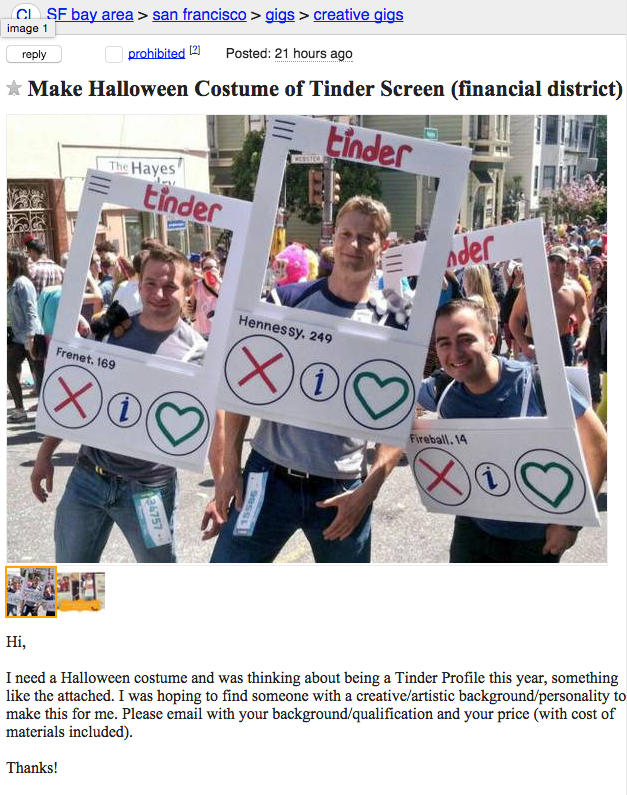 The poster then attached a few photos of dudes in Tinder Halloween costumes, all of which look like they were made by the wearer, in under 20 minutes, for the cost of a Michaels Crafts Store gift card. Compensation is listed as "negotiable."
You might be wondering, "Why would anyone with a creative/artistic background/personality deign to design this dude's Halloween costume? Is an MFA in graphic design and/or an undergraduate degree in the arts a prerequisite for employment?"
But according to Alan, the original Craigslist poster, he's actually gotten two replies so far: One from an artist, who offered to do it for $25, and one from a graphic designer, who offered to do it for $100. (He's going with the lady who offered to do it for $25.)
"The costume isn't extremely complicated as you can see, so I wasn't really looking for any particular type of background," Alan told me in an email. "As with anything free market/capitalistic, I just figured if I threw this out there, someone with a creative/artistic bent would hopefully respond.
"I'm typically really bad with planning ahead and thinking of creative costumes, and even worse at making these myself, so this seemed like a good way to get it done before Halloween this Friday." 
Kudos on using the free market to outsource your costume, Alan. We hope it's a hit, and some lucky SF lady dressed as a sexy bunny rabbit swipes right on you this Halloween. Best of luck to her, 'cause that cardboard screen is gonna be hella difficult to take off.
Photo by Tinder/Instagram