When New York City resident Samantha Hartsoe decided to investigate why her apartment was always freezing, she was not expecting to find a whole other apartment hidden behind her mirror. But that's just the magic of the big apple.
It started when she realized there was a breeze coming from her bathroom, a place with no outside windows and so, theoretically, nowhere for that breeze to be coming from. After discovering the source appeared to be her bathroom mirror, Hartsoe took the mirror off the wall to find the stuff of nightmares hidden behind it.
An entire room was located behind her bathroom mirror. Understandably, Heartsoe immediately called her friends to come over for back up. Less understandably, she also decided to climb right through the hole and look around.
Tying a torch to her head and armed with a hammer for self-defense, Heartsoe climbed through the tight space to go explore whatever nightmare world existed on the other side.
She discovered not just one room but an entire, empty apartment, complete with construction debris and trash bags scattered over the floor. Most worrying of all there was an unlocked main door, something Heartsoe quickly dealt with by securing the latch on the inside.



Naturally, everyone who has seen the 1992 horror film Candyman completely freaked out when they saw this TikTok.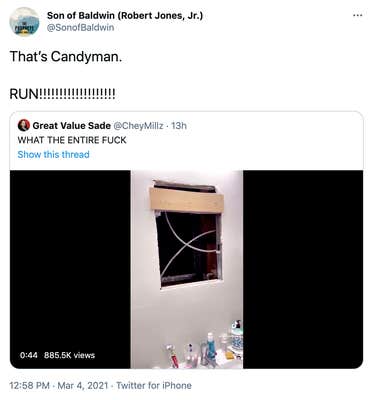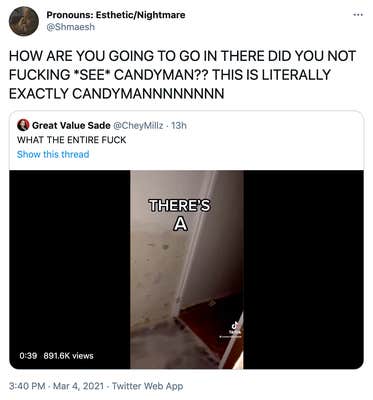 Some were busy ragging on white people and our ability to make the worst possible choices when confronted with a horror movie type situation.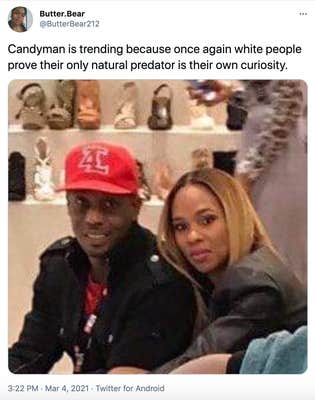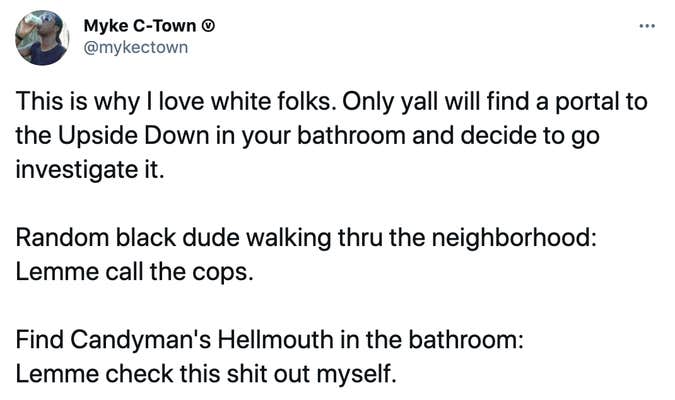 While others shared a little-known and horrifying fact—Candyman is based on a real murder, committed using a hole in the bathroom wall just like the one in the video to move between apartments. Apparently installed as maintenance hatches in places with lax building codes, such holes between apartments are rare but more common than you might think (as generally, you'd think the number of person-sized holes in the walls between apartments would be zero).


So it might be worth checking behind your bathroom mirror tonight. Just in case.
The Daily Dot has reached out to Hartsoe and will update this story if she responds.