A YouTube channel allegedly belonging to Tamerlan Tsarnaev reveals that the the 26-year-old Boston Marathon bombing suspect—shot and killed during a police standoff—was at least partially invested in news regarding Al Qaeda, the terrorist organization best known for its attacks on the World Trade Center in 2001.
YouTube channel Muazseyfullah features no videos but does show a series of activities, including what Tsarnaev watched, liked, and talked about online.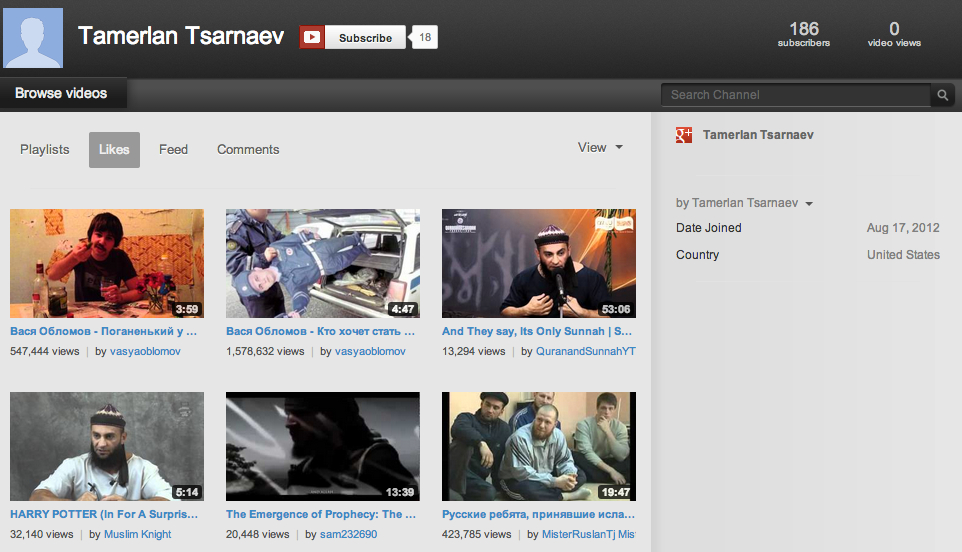 The most jarring component is a playlist titled "Islam," a seven-video series that focuses on the fundamentalist Muslim preacher Feiz Mohammad, a man who believes that Harry Potter is evil. As Mother Jones notes, there's also a video that details the Black Flags From Khorasan, a prophesy embraced by Islamic extremists. 
The playlist is one of three available on Tsarnaev's channel. A fourth, called "Terrorists," is unplayable because the videos have been deleted by YouTube.
The other two available channels are similarly eye opening. One, called "Favorite Videos," alternates between Islamic scripture reading and a video of a chameleon changing colors as it walks around multi-colored Wayfarer sunglasses. 
A look through Tsarnaev's feed reveals a number of other Islamic fundamentalist videos, including one that specifically points to Feiz Mohammad's disdain for Harry Potter, as well as a February subscription to a channel called Allah is the One. 
History has proven that a name attached an online account doesn't exactly mean that the purported person is behind it, but Tsarnaev's authenticity is a little more believable. For one, the account was started in August 2012, insinuating that it existed before anybody tried to take advantage of the name's newfound infamy. 
Along those lines, the account hasn't shown any activity in two months. As Twitter's rash of parody accounts has shown, anybody operating under false identities here is prone to hamming it up for the cameras. 
Photo via Jellebc/Twitter