One Baltimore resident, snowed in during this latest storm to hit the East Coast, now had a problem many have faced before. After having a few drinks too many, she felt a desperate longing for Taco Bell. And walking there would've been a two-mile round trip in the snow.
With six words, she quickly summed up how we were feeling about the weather, proving once again the storm will bring out the best and worst of us: "Guys it's snowing like a bitch outside."
And so begins this Craigslist ad, which might be an another early contender for best listing of the year.
Guys it's snowing like a bitch outside, I've had a few drinks too many, and my sh*tty little hybrid douchemobile can't possibly make it to the neighborhood Taco Bell in this weather. I need someone with a 4 wheel drive vehicle to come pick my drunk ass up, take me to the Taco Bell drive-thru, and drive me back home. Then we can hang out and play video games if you're not a rapist. This is maybe 2 miles round trip. I'll pay in tacos. or chalupas. whatever. Seriously my desire for tacos right now is totally unmanageable, so I'd probably even buy you a 7 layer burrito if you asked nicely.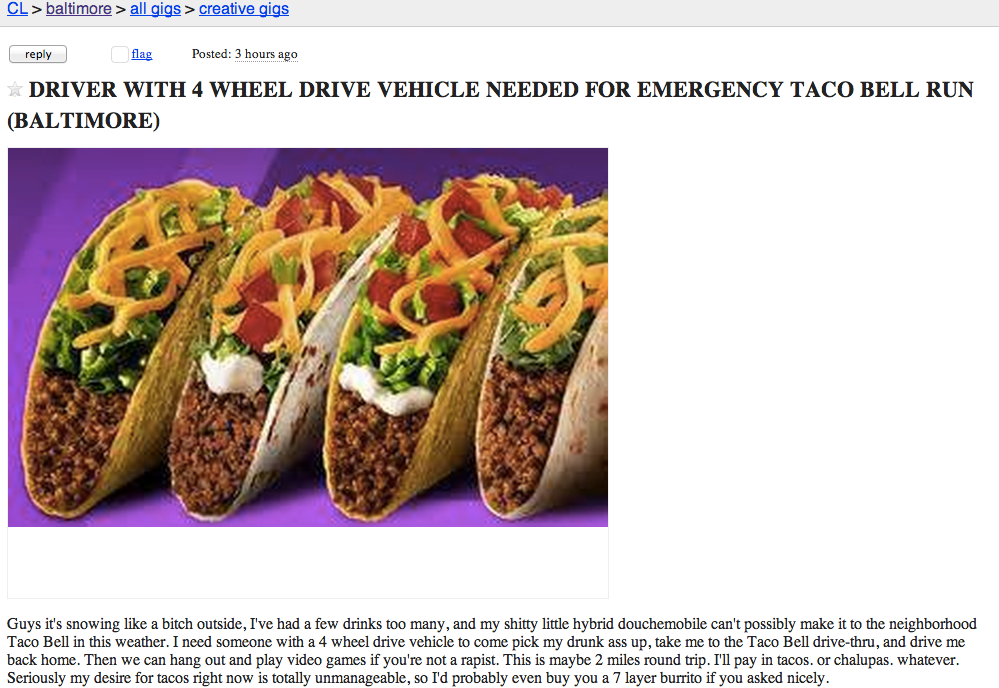 So the status of this person's massive craving stayed unknown until the ad made the front page of Reddit and the Craigslist ad poster made an appearance. "That drunk, snowed-in taco muncher is me," she wrote.
The poster was nursing a "taco baby" after sobering up enough to make the drive, and while the car got stuck in the snow, Taco Bell was finally obtained.
"I had a nacho loco taco, a crunchy taco, a soft taco, a chalupa, and some Cinnabon bites that tasted like straight up assholes," squirrelsoup wrote. 
And no, squirrelsoup wasn't high.
If this isn't a great argument for Taco Bell to start delivering, I don't know what is.
Photo via Mike Baird/Flickr