Hello! Every week, our internet culture staff will discuss the world of streaming entertainment in this newsletter. In this week's edition:
Hacks looks at the generational effect of comedy
Barry Jenkins' big foray into television is a triumph
Netflix's Army of the Dead is a ridiculous thrill ride
Sign up to receive this newsletter in your inbox.
---
CULTURAL OBSESSIONS
Vaxxed, waxed, and watching Hacks
The "Smartaissance" is a term that's already been in circulation. But now Jean Smart, HBO's go-to scene-stealer—Mare of Easttown, Watchmen—has the perfect starring role: Deborah Vance, a salty Las Vegas comedian struggling to keep her material relevant, though she isn't that interested in reaching a younger audience.
In new comedy series Hacks, that younger audience appears in the form of Ava (Hannah Einbinder), a snarky TV writer who lost a deal after tweeting a bad joke. She's paired up with Deborah by their mutual manager, played by Paul W. Downs—a series creator along with fellow Broad City alums Lucia Aniello and Jen Statsky.
Hacks is about the gap between millennial and boomer humor, but more about how women are still held to a different standard in comedy. Deborah is modeled after Joan Rivers and Phyllis Diller, comics who broke barriers but had to work twice as hard to compete with men. Ava is any number of ambitious young writers in Hollywood, and though at very different points in their careers, she and Deborah are still in the same business.
There have been plenty of shows about standup comedy in the last few years, but they're often about the culture of standup, in the usual hubs: NYC and L.A. The Vegas-based Hacks is about process: When Deborah hears the joke that got Ava fired, she tries to workshop it; she chases Ava down in her Rolls Royce after their tense initial meeting, and it turns into an impromptu writing session.
There are comedy insights written into the script, like when Deborah's personal blackjack dealer (Poppy Liu) describes how she transformed one of the comic's gaudy outfits into a cute crop top: "If you can't make it good that's on you."
I thought about that line in light of how "It's a joke" was most recently deployed to try to excuse a comedian's racism. The first episode of Hacks imparts an important, often ignored lesson: Ava tells Deborah the bad joke that "crossed a line" and got her blacklisted.
"Oh no, honey," Deborah responds. "There is no line. It's just not funny."
—Audra Schroeder, Senior writer
---
SPONSORED
Put your mask supply on autopilot with a subscription
We live in a world where you can subscribe to anything from cat food to underwear (which is pretty dang great, honestly). Now that masks have become a part of our everyday lives, why not put them on subscription too?
Armbrust's Subscribe and Save program not only keeps your mask supply coming, but also offers 30% off the total cost. That's one less thing you'll have to worry about.
---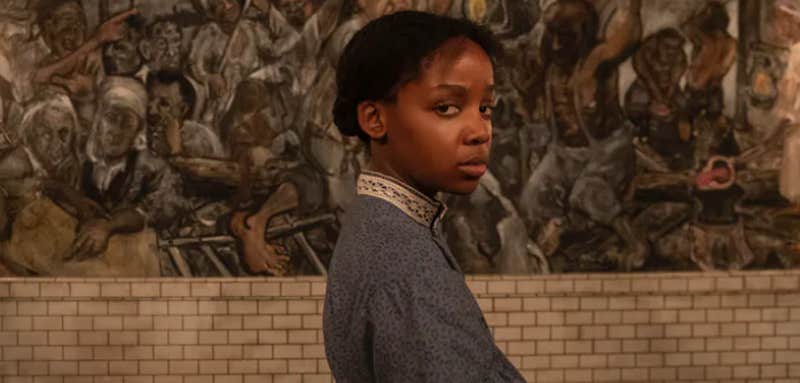 NOW STREAMING
The Underground Railroad is a technical marvel and an astounding adaptation
The Underground Railroad is not an easy watch. Sitting at 10 episodes, Barry Jenkins (who directed every episode and wrote or co-wrote several of them) doesn't shy away from depicting the trauma or violence faced by the characters in Colson Whitehead's Pulitzer Prize-winning novel.
As much as that violence is a reality in the lives of Cora (Thuso Mbedu), Caesar (Aaron Pierre), and the slaves who live on the Georgia plantation they eventually escape from, The Underground Railroad is also incredibly restrained in what it depicts as it lingers in those moments of levity; it's not a show that depicts trauma for trauma's sake.
Those 10 episodes—and in the age of the "blank-hour movie" descriptor used by some film auteurs, there's no mistaking that The Underground Railroad is television—give viewers ample room to breathe.
The Underground Railroad is now streaming on Amazon Prime Video.
—Michelle Jaworski, Staff writer
---
REVIEWS
Netflix's Army of the Dead is a ridiculous thrill ride
Army of the Dead tells us exactly what to expect within its first 10 minutes.
As a zombie outbreak hits Nevada, Elvis impersonators and scantily-clad showgirls rip each other apart to the strains of "Viva Las Vegas." This sets the tone for a balls-to-the-wall action thriller with a healthy sense of its own absurdity. A heist movie featuring an undead tiger, a bikini-clad zombie queen, and an unabashedly absurd premise.
What kind of person tries to rob a zombie-infested casino? A Zack Snyder protagonist, that's who.
Co-written by Snyder, Shay Hatten, and Joby Harold, this film steers clear of the director's more divisive habits: sexism, maudlin slow-mo, grim masculinity.
Instead, Army of the Dead ramps up Snyder's sense of humor, offering a satisfying range of punchy, charismatic characters.
Army of the Dead debuts May 21 on Netflix.
—Gavia Baker-Whitelaw, Staff writer
---
CELEBRITIES
Lee Pace's post-vaccine selfie aroused Twitter, and served as a helpful reminder that Halt and Catch Fire is streaming on Netflix.
---
Now Playing: "Giovanni" by Jamila Woods
Questions? Feedback? Contact us at [email protected].