CNN's Twitter account was hacked by the Syrian Electronic Army (SEA) Thursday. The brief takeover was visible in a series of tweets where the SEA proclaimed it had control of the account and that "all your reports are fake." A few other tweets were sent before CNN regained its account.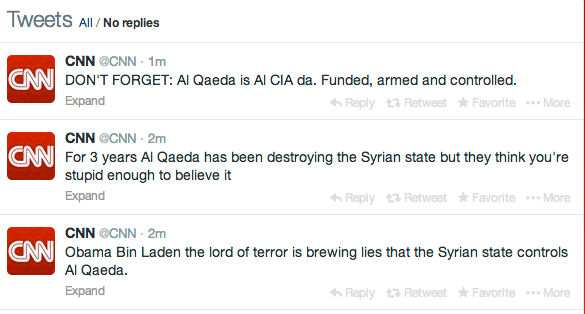 All of the tweets have since been deleted and @CNN is back to normal. 
While this particular attack was shortlived, it's hardly the first time the SEA has taken over a Twitter account—or another site, for that matter. The Saudi government, Skype, Time magazine, Fox, and even yours truly have all fallen victm to the group. Western news agencies are a common target of the SEA, with one of its main purposes being to defend Syrian President Bashar al-Assad. 
The group's method? Usually phishing attacks. All it takes is one gullible employee and boom, your passwords are no longer safe. 
But at least for today, order at @CNN has been restored. We've reached out to CNN for comment. 
Update: A source at CNN gave the following statement to the Daily Dot: "Some of the organization's social media accounts were compromised via third-party social publishing platform. We are working with the affected users and vendor to remedy the issue." 
Illustration via Syrian Electronic Army/Twitter