For the second time in three days, an established enemy of the Syrian Electronic Army has been caricatured as a "cockroach" on a hacked social media account.
This time, it's BuzzFeed UK.
A tweet posted Thursday afternoon to the British BuzzFeed's account read "#BREAKING: Ira Winkler(@irawinkler) approved to be the cockroach of the Internet," along with a picture of the man's face expertly photoshopped onto a cartoon cockroach's body.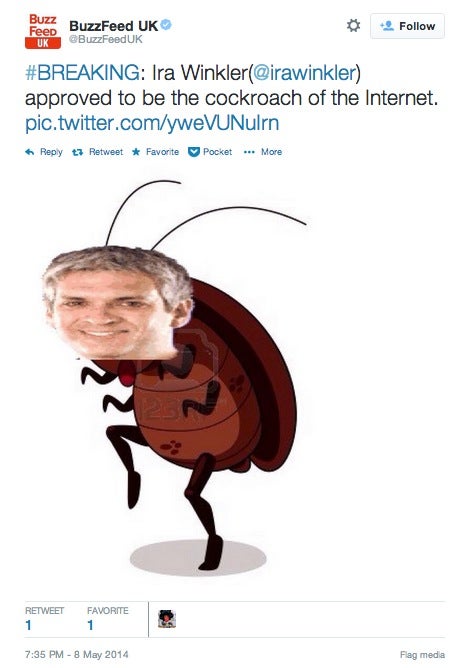 The night before, the same account tweeted a since-deleted account that offers up some explanation: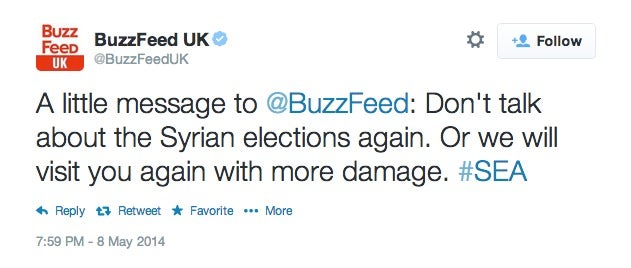 It's possible the second tweet was prompted by a BuzzFeed rewrite of an Associated Press story, published Thursday morning, on fighting in Syria.
On Tuesday, someone hacked a Wall Street Journal account and tweeted the same picture, with the similar but simpler message of "@Irawinkler is a cockroach."
The first hack was speculated to be the work of the Syrian Electronic Army, a band of hackers loyal to Syrian President Bashar al-Assad and who have successfully hacked a great number of media Twitter and Facebook accounts, including the Daily Dot's. As CNN Money reported, it seems to refer to a spat between the group and Winkler, who at a recent security conference referred to the SEA as "the cockroaches of the Internet." Winkler has also has suggested ways businesses can use the SEA to improve their security practices.
These two recent attacks lacks a lot of the SEA's hallmark bragging, or even a hint of their usual pretension that their tweets could pass as legitimately coming from the news site in question. As of this writing, the SEA hadn't announced anything about this attack on their own Twitter or Facebook feeds, and a spokesperson for the group didn't immediately respond to the Daily Dot's request for comment.
@BuzzfeedUK seemed unconcerned with the hack, following up with a tweet to a list of 26 places in London that serve brunch.
Update: A representative from the SEA confirmed to the Daily Dot that they were behind the attack.
Illustration by Jason Reed