Here's your new show, MTV: scorned lovers who post on their soon-to-be ex-girlfriends' Facebook accounts lambasting them for cheating.
Scottish man Martin Melrose, 24, accessed his girlfriend's Facebook and wrote a scathing note alleging she was cheating on him with another man via a secret Facebook account. He claims that girlfriend Sarah Borthwick, 22, used his money to set up secret flings with the other man.
"Since this was hidden on Facebook, I'll reveal it on Facebook," writes Melrose on her account, saying the affair has gone for a year. It's unclear how he discovered Borthwick's relationship, but said she was sleeping with the man, named Robert McNeill, during their one-year anniversary in Amsterdam.
Melrose's expletive-laden rampage, which is still public to view, continues with the accusation of a covert account created by Borthwick: "She made up this second Facebook account to pretend to the guys at the [Red Cross] that she was single and to hide her slut behaviour from me."
He writes that Borthwick's relationship with McNeill was framed as a platonic one, where she repeatedly shrugged off advances from him.
Not so, according to deleted emails that Melrose somehow accessed, in which he claims  "disgusting details" were discussed.
"So after a quick nap I'm going to wake her up and chuck her in a taxi out my life forever," he concluded. The note was tagged with seven of her coworkers.
Clearly sounding distraught about the dissolution of the relationship, Melrose described the closely shared moments they had together including spotting her money and taking her out to dinner weekly. Then it took a turn:
"[Of course] we argued, but when we did it was either about me being 'paranoid' that she might have been sleeping with that prick, that she was [texting] guys and deleting them from me, that she was lying about staying at his flat then coming straight to mine the next morning….fucking disgusting!"
Scottish newspaper The Daily Record talked with Melrose, who said he had "suspicions" of an affair.
"She started a new job last August but never told anyone about me so they believed she was single. One colleague started texting her and I saw pictures of them together posted on Facebook from work nights out," said Melrose.
He confronted her about her secret Facebook account but Borthwick denied any wrongdoing. Also, apparently this Scottish city is just brimming with hackers, because Melrose claims to have logged into the deleted account and found "hundreds of messages" between her and McNeill.
"They confirmed she had been cheating on me. I'm upset but this gives me more time to spend with my friends and doing jujitsu," reasoned Martin.
Borthwick's sister, Rachel, defended her and said Melrose could have dealt with this is "in a more mature way" than using Facebook.
"He wasn't perfect either but I know what she did doesn't even compare," she said.
Borthwick and McNeill both had no comment.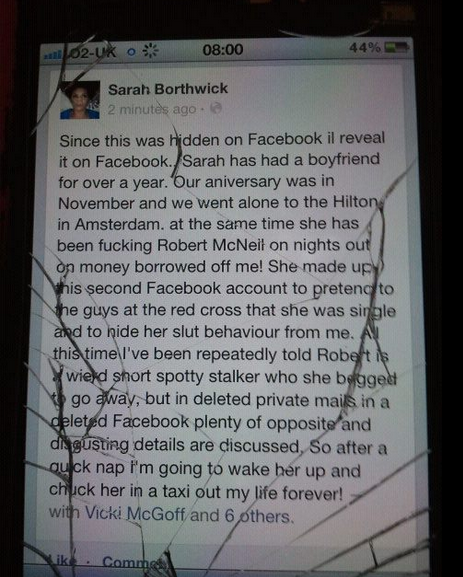 Photo via Martin Melrose/Facebook