Police arrested a San Francisco man Tuesday night after an incriminating photo posted to Facebook led to a wild and ultimately successful online goose hunt.
Gregory Tyler Graniss, 22, was charged with suspicion of felony vandalism and intent to descry a passenger transit vehicle after police used Facebook, Twitter, and Reddit to track down an unidentified man found in a photograph.
The photo, snapped by Bay Area freelance photographer Susana Bates as fans celebrated the San Francisco Giants' Sunday night victory in the World Series, showed a young fan in black and orange smashing a raised metal barricade through the front window of a $700,000 municipal bus.
On Monday, San Francisco's Red Devil Lounge posted the photo to its Facebook page, along with a message: "Please help the SFPD locate this jerk that used the Giants celebration as a reason to destroy things and endanger people. This isn't what San Francisco is about. Be smart and safe and kind when you celebrate."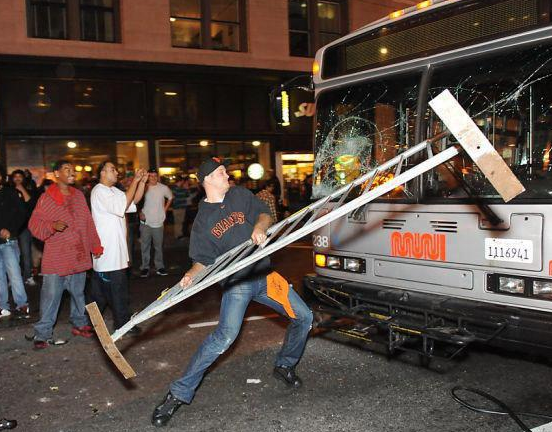 More than 19,000 people shared the post, sending it around San Francisco with as much whip and fervor as a Barry Zito curveball.
The incriminating photo made it to Reddit on Tuesday when user SlowInFastOut posted a message reading "Anyone know this guy? If so call 311 and let them know" to the subreddit r/SanFrancisco.
Police tracked Graniss down at 7pm Tuesday night and arrested him on suspicion of felony vandalism. According to a San Francisco Weekly report, investigators believe they had enough evidence related to the crime to make the arrest, though police would not articulate exactly what kind of evidence they had.
"This was a senseless act of destruction and there is no tolerance for such criminal behavior in San Franscisco," police chief Greg Suhr said in a statement. "With assistance from the public, investigators moved swiftly to identify this suspect and make an arrest."
Photo via Red Devil Lounge/Facebook