Redditor SirTechnocracy didn't get down on one knee to propose to his girlfriend. He didn't even get off the couch. 
All the Stanford MBA candidate needed was Good Guy Greg, Success Kid, and the Most Interesting Man in the World. Oh, and the help of 18 deviantART artists to orchestrate the perfect proposal.
At about 10:30 am SirTechnocracy posted the following album on r/AdviceAnimals, Reddit's meme forum, with the title "This is a marriage proposal (she will recognize my username): I can't believe the day is finally here." 
"It would be far more romantic to her than just taking her to a restaurant," SirTechnocracy wrote in response to someone criticizing his post. "Especially with all the pictures I commissioned for this (getting all those together took months and a couple thousand dollars)."
The following album features 21 art pieces that reflect special moments in the 18-months relationship of SirTechnocracy and his girlfriend. It has been viewed more than 31,000 times.
SirTechnocracy's hunch was right. An hour after the post went up, his girlfriend saw the proposal and accepted.
"She just ran up and hugged me almost in tears for like a minute (which seemed like forever)," SirTechnocracy added.
After accepting SirTechnocracy's proposal in real life, she hopped on Reddit to accept it with the following meme.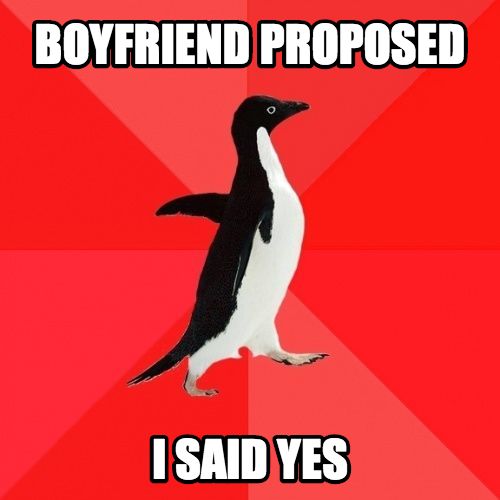 SirTechnocracy's girlfriend, who goes by ladytechnocracy, also came to her boyfriends defense regarding the manner of the proposal. 
"I understand that the concept of a Reddit proposal is… unconventional (hell, I'd never think of it), but this is honestly the most romantic thing someone has ever done for me," his girlfriend, ladytechnocracy, wrote. "The adviceanimals crack me up, and the commissions are amazing. Also, to clarify, SirTechnocracy is a serious Redditor, but by no means a basement-dwelling neckbeard (I think it's an unfair stereotype applied to a lot of us on the site)."
In December 2011 another lovesick netizen proposed to his girlfriend using memes. Only he printed them out on cards and surprised her while she was out to dinner with friends.
SirTechnocracy and ladytechnocracy have yet to set a date. When they do, Reddit will likely be the first to know.
"In truth this proposal was just to make her happy; she was with me when we commissioned the ring," SirTechnocracy said. "She wanted my actual proposal to her to be a surprise, something we would remember forever and that showed real commitment and understanding."
Illustration by Belliko-art/deviantART