For some reason, the Red Hot Chili Peppers were recently added to the Feb. 2 Super Bowl halftime show, where they'll perform alongside Bruno Mars. Can't wait to see what jokes Neil Hamburger tweets that night.
Even more perplexing: People are still buying tickets to Red Hot Chili Peppers shows. A photo was posted to Reddit's r/Funny yesterday, by a woman claiming her "friend" paid $228 for two Red Hot Chili Peppers tickets. When they arrived in the mail, this is allegedly what was waiting instead: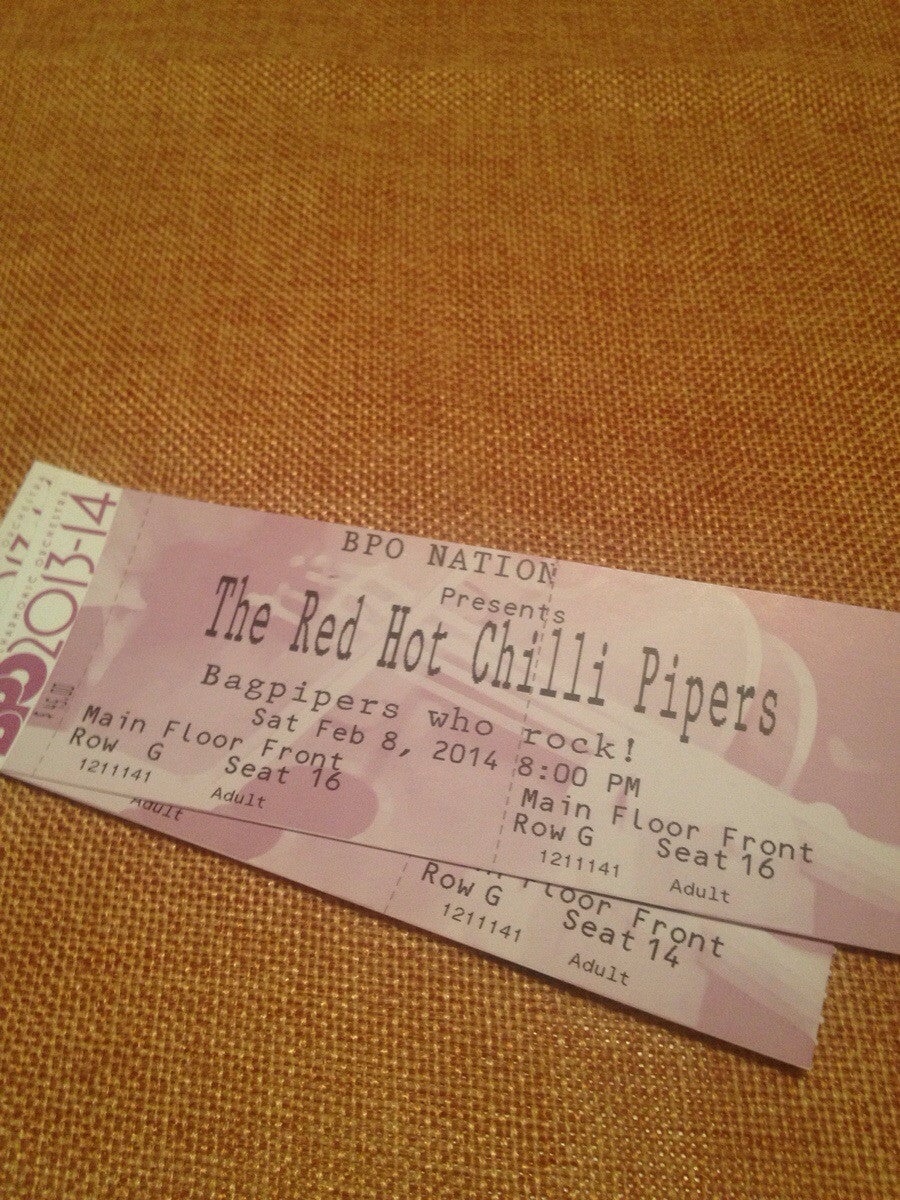 While the Red Hot Chilli Pipers are indeed a real band from Scotland, complete with bagpipes, the buyer's friend insists she originally purchased Red Hot Chili Peppers tickets. The comment thread then devolves into a discussion of mail fraud, then fishing without a license, then tax evasion, then bagpipe puns.
But back to these Chilli Pipers tickets: The cheapest ones start at $35, according to the Buffalo Philharmonic Orchestra website, which lists them as playing Feb. 8. There's no mention of where this woman bought the tickets, how she paid, or what show she was trying to see, and the OP didn't respond to questions. The Red Hot Chili Peppers are only playing one other U.S. show in February besides the Super Bowl, in Brooklyn.
This could just be one big troll to get promotion for the Red Hot Chilli Pipers. A few of their fans infiltrated the thread and encouraged her to keep the tickets:
"ive seen them. its a fun show. of course my ticket was closer to 10$."
Burn. There's also the matter of the seats not being next to each other, which more than one redditor pointed out:
"Man that sucks! You two are going to have some jerk in between the two of you the whole concert!"
Other redditors offered their ticket mix-up horror stories. This might be the most horrifying:
"My mom bought tickets to see Yo Yo Ma. She had even invited friends to go with her and my dad. But she always though [sic] it was odd that he was playing with the Smothers Brothers. When she arrived at the show she realized….it was Yo Yo Man (tommy smothers)."
Photo via David Davies/Flickr