Don't kid yourself, marriage is not some intimate pact between you and the love of your life. Marriage is a contract with society. Otherwise, you could just move in together, start boning, and fight about the cable bill. Woe be to those who try to keep their relationship secret. You buy that ring, you throw a party, and you update your Facebook status like a good citizen. That way, the rest of us can keep you in check when you get drunk at 2am and try to hit on a waitress at Denny's.
Now the proposal, that's different. You keep that to yourself. You're asking someone a question, and the answer doesn't have to be yes. Don't put yourself, not to mention the rest of us, through the embarrassment of listening to you plead with some woman that you already bought the ring, and besides, she's the only one who can deal with your sleep apnea.
And for the love of all that is good DO NOT propose using the Jumbotron at a sporting event. The Jumbotron ain't Paris. It's not known for its romantic imagery. It's known for capturing stuff like this.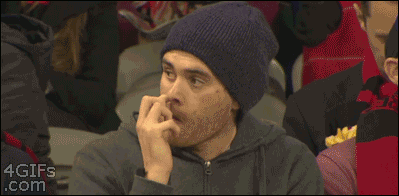 At the very least, if you're gonna try to pull off a public proposal, you should know the answer ahead of time. Advice that comes too late for a man who was at Sunday's Boston Red Sox-Chicago Cubs game at Fenway. Although there's currently no video of the incident (a word you never want to hear used to describe your proposal) apparently a man tried to use the Jumbotron to propose to his girlfriend. Instead of the usual kiss followed by a round of applause, the camera cut away and it was never mentioned again. That's when the crowd started chanting, "She said no! She said no!"
The scoreboard proposal at Fenway may have just gone awry. There was no hug, the camera cut away and the crowd groaned.

— Pete Abraham (@PeteAbe) May 1, 2017
Holy hell somebody just proposed to their girlfriend at Fenway and I think they said no.

— Ty Anderson (@_TyAnderson) May 1, 2017
Dude just got stood up in front of 30,000 #Fenway #SCtop10 pic.twitter.com/1fljlJJyQQ

— Jake Thomas (@Jake_TidBits) May 1, 2017
The couple was never identified, but there are a few pictures and a brief ten-second video of a what appears to be a man and a woman arguing, with a cameraman standing around awkwardly.
https://www.youtube.com/watch?v=41L9KHSe-iY
That was no doubt a fun car ride home. At the very least, assuming they were from Boston, it wasn't all bad news. The Sox ended up winning 6-2.
H/T the Washington Post