An alleged prick—and confirmed Irish TV star—who showed up in a Facebook photo being depicted as a prick is threatening to sue the guy who posted it. This prick does not like being called a prick one bit. 
Irish actor Phil Penny has gained infamy and notoriety over the past few years for his role on Tallafornia, an Irish reality show that opened on the country's TV3 last January. Today it's widely considered to be the leprechaun land's answer to MTV's Jersey Shore. 
He's earned a reputation as the silk-shirted party boy with gelled hair and a devious womanizing streak—he's like The Situation on Guinness. 
For that, he's become Public Enemy No. 1 among Irish folks who like to make fun of reality shows. One time, after a fellow cast member leaked his phone number to the public, Penny received more than "1,000 missed calls and almost as many text messages," almost all of which contained wild forms of verbal abuse and even a few death threats. 
So it should come as no surprise that, when a jocular Irish bloke named Jamie found Penny drinking coffee at an airport, the jocular Irish bloke wrote the word "prick" on his arm and nestled up next to Penny for a picture, lifting his tagged arm up ever so slightly so that the "prick" denotation would get explicitly reserved for Penny.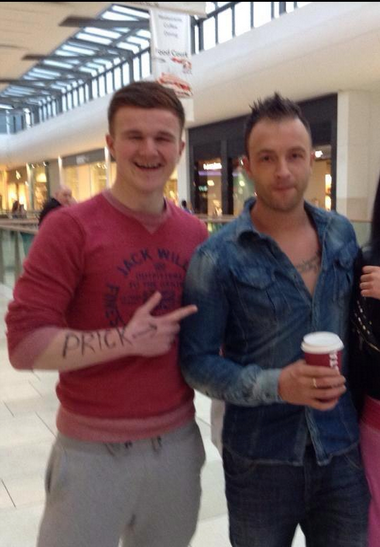 Jamie took the picture and immediately uploaded it to Facebook, where it surely got a hundred million likes and comments. 
One such comment came from the mighty Phil Penny himself, who wrote this message: "Just to let u no ur being sued.goodluck"
Jamie tried to remind Penny that it was just a joke, but Penny wasn't having any of it. He continued with his tirade, telling Jamie that he wants a "public f*cking appoligy" and demanding that Jamie take the photo down immediately.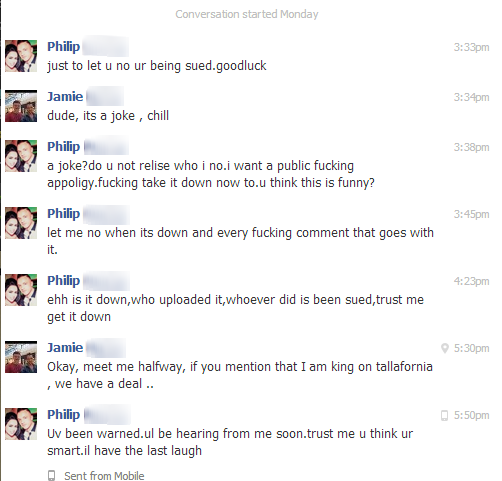 The whole kerfuffle ended up on Reddit, where a since-deleted post of the picture attached to a note about Penny's lawsuit threat has generated more than 4,000 upvotes in r/funny.
It's popular, but it does raise the question: Could Penny actually get the last laugh?
According to Hunt v. Star Newspaper, a court case from 1908, the answer is no. Jamie arrives at the crucible protected by the "fair comment" act, which allows for freedom of speech, even if such speech is quite slanderous, so long as the "fair comment [appears] as comment" and not as fact.
"The law as to fair comment, so far as is material to the present case, stands as follows," the ruling reads. "In the first place, comment in order to be justifiable as fair comment must appear as comment and must not be so mixed ups tim the facts that the reader cannot distinguish between what is report and what is comment … In the next place, in order to give room for the plea of fair comment the fact use be truly stated. If the facts upon which the comment purports to be made do not exist the foundation of the plea fails."
In the hypothetical case of Jamie v. Penny, the comment in question was scribbled onto a forearm with magic marker. Penny has the right to sue anybody for anything, but odds are he stands no chance. 
He does, however, stand the great chance of maintaining his reputation as an extremely unlikable guy.
Photo via Imgur