Friends grieving the loss of Parwhine Lucia Mejia Kaur logged on to find that the girl's Facebook account had been accessed by someone claiming to be the girl's murderer.
Kaur, who was 18 and lived in Malaysia, was found dead last week after having gone missing for days. Police found her lying face down in a storm drain near a soccer field in Bandar Puchong, a neighborhood in the southwestern corner of the East Asian country. 
Police reported that a passerby came upon Kaur at 6:50pm that night. Her belongings were scattered around her body. "Initial investigations also revealed that there was a cut on the front side of her neck," reported Yahaya Ramli, assistant commissioner for the Subang Jaya police. 
Dealing with the death was hard enough for Kaur's friends and family, but it was made that much worse when they logged onto Facebook to find that the girl's account had been updated with a cryptic message: "Hehe…no one cn.find me !!!! Parhwine kaur's murderer"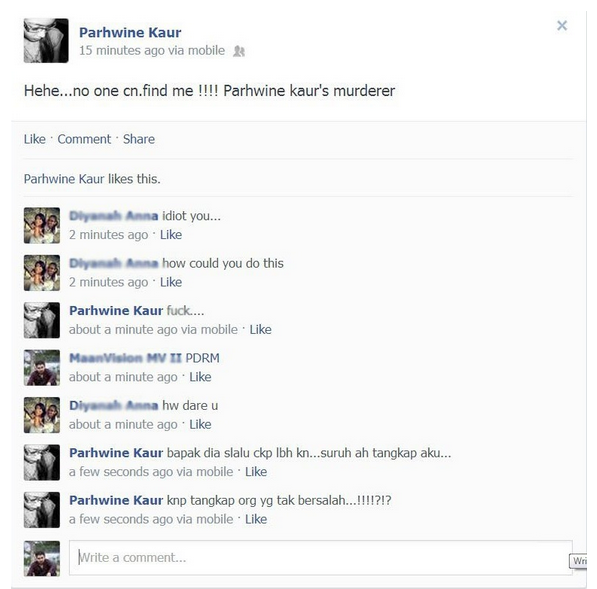 The news came to light Wednesday when one of Kaur's friends, a photographer who goes on Facebook by the name MaanVision MV II, posted a screenshot of the post along with a message reading "Is this a joke?" More than 138 people commented on the post, many of whom hoped that the activity may help find the girl's murderer. 
For now, he or she remains at large. Kaur's Facebook account has not been updated since Wednesday.
H/T Lipstiq | Photo via Parwhine Kaur/Facebook