Upon reaching one million Twitter followers, one man took to the site to show his appreciation—and his junk.
Spanish actor and comedian Paco Leon promised his many followers that he would strip down to absolutely nothing and post a photo if he reached a million followers. When he hit that milestone on September 26, Leon, best known for his work in Spain's popular comedy series Aída, made good on his promise (NSFW, obviously).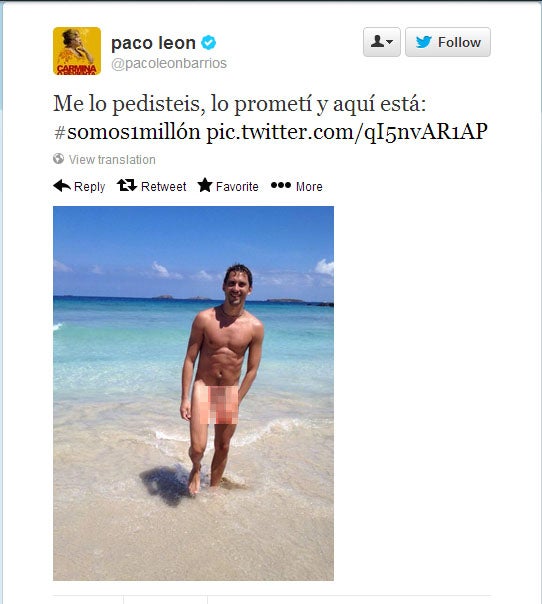 More than 17,000 people made sure to share Leon's rather impressive anatomy with the world.
He also produced a music video dedicated to his "Un millón de amigos" as part of the celebration. While the video features everything from a ballpoint-pen microphone to a makeshift Twitter chandelier, Leon's genitals do not make an encore appearance.
Leon has touched upon his achievement in the days since the photo was posted and began to make its rounds.
Salgo a la calle y la gente me mira raro …

— paco leon (@pacoleonbarrios) September 28, 2013
"When I go out, people look at me weird," he tweeted.
We can't imagine why.
H/T Huffington Post | Screengrab via Carlos Ruiz B.k./Vimeo