One Direction fans have never had any trouble finding plenty of drama, often to the consternation and bafflement of outsiders. This week, though, it's the media fanning the flames of fan drama rather than the fans themselves; and it's not just the boy band's girlfriends who are caught in the crossfire—it's an adorable little puppy.
Most fans were delighted when 1D member Liam Payne (the dirty blonde one) got back together with longtime girlfriend Danielle Peazer after a short breakup last year. But not all fans supported the relationship, commonly called "Payzer," and when Payne announced that they'd solidified it even further by buying a dog together, some fans waged a backlash.
"Everybody meet mine and @daniellepeazer new dog Loki :)" wrote Payne on Twitter, revealing the world's most adorable Siberian Husky puppy. Peazer echoed the sentiment, calling Loki "the new love of mine and [Liam]'s life."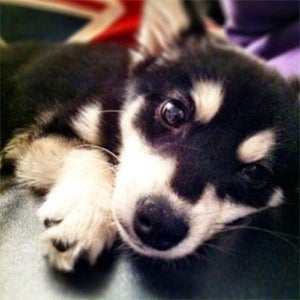 Photo via daniellepeazer/Twitter
Most fans greeted the news in high Directioner fashion, creating photosets of Loki and holding "which 1D puppy do you like better?" contests. And of course, there's the requisite puppy-on-puppy fanfic (unfortunately not work-safe). Some fans speculated that Payne and Peazer were just trying to hold on to a fading love by doing the boy band equivalent of having a baby together. And others just thought Loki's adoption was "fishy."
But some fans allegedly took their anger at the Payzer relationship directly out on the puppy—at least according to the Metro UK, Buzzfeed, EOnline, MSN, Yahoo, DigitalSpy, and countless gossip blogs around the Internet.
Or did they?
One fan was reported as having tweeted "i will look for you, i will find you, and i will kill you" at Liam and the puppy—but since this is a quote from Liam Neeson in the movie Taken, it was probably a joke taken out of context. That is, if the tweet existed at all. It doesn't show up in searches on Twitter or Twitter analytics site Topsy, and no news outlet has named the original poster.
Harder to explain is the hashtag #DieLoki, which angry Directioners reportedly tried to turn into a trending topic. At least until you realize that no one is actually threatening to kill puppies on it. The harshest anti-Loki tweet from a Directioner using the #DieLoki tag is a now-deleted tweet from a very apologetic @_directionERJEN: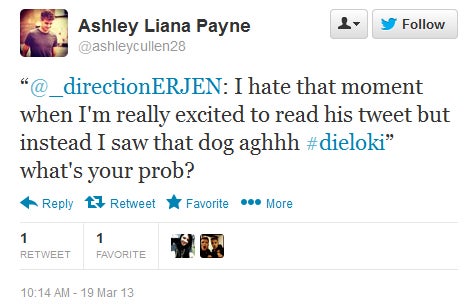 Screengrab via ashleycullen28/Twitter
Since issuing the now deleted tweet, the alleged 14-year-old has been anxious to assure others that she means the dog no harm. She also tweeted Payne and Peazer directly, telling them she
"didn't mean to trend" the hashtag.
But it doesn't look like she did. According to Topsy, the earliest public tweets using the #DieLoki hashtag were all horrified reactions to news reports of there being a #DieLoki hashtag.
The source of the rumor may have been the British tabloid Daily Mirror. "I am outraged and appalled f***ing Loki the dog! that dog aint nothing but the scum on my shoe," reads one tweet that was allegedly sent to Payne and Peazer over the puppy. But it seems the tweet never existed, and the Twitter user who supposedly posted it was never named.
The Mirror also cited trolls debating whether to kill Loki with a knife or a gun. Again, not real. But by the time the Daily Record and others picked it up, the media was off. The UK Metro, a source cited in several other news reports, did not respond to the Daily Dot's request for links to the tweets they quoted.
So why was it so easy for dozens of news sites to believe totally un-fact-checked rumors about a bunch of Directioners? Fans of One Direction have waged many wars in their time, including making death threats against the members' girlfriends and each other, battling eating disorders, carving the word "Bravery" onto their bodies, inventing a vast mythos of dead fans, and attempting to forcibly out Harry Styles and Louis Tomlinson from a homophobic closet that by their own accounts they're not actually in.
But they aren't actually puppy-killers.
Perhaps the drama coming from the fandom is so constant and vacillating that reporters didn't have to source the rumors of puppy threats in order to believe them. After all, it wouldn't be the worst thing that the 1D fandom had ever done or said. But when otherwise reliable news sites don't bother to source the rumors—because they're so obviously true, right? right?—it would seem that the impetus is, for once, not on the fans to change and police their own behavior.
The fandom has been busy handwringing over its puppy-hating contingent. "This is why I hate saying im a directioner," tweeted one fan. "THIS IS THE TYPE OF SHIT THAT MAKES EVERYONE HATE US," echoed another.
Hatred? Perhaps not; but when you're already unfortunate enough to be one of that most reviled group of Internet denizens—a bunch of excited teenage girls—you're an easy target for misconception and ridicule.
But in this case, it appears the criticism is unwarranted. Most of the Payzer fans have been happily celebrating the couple and the new addition to their family—-with adorable results: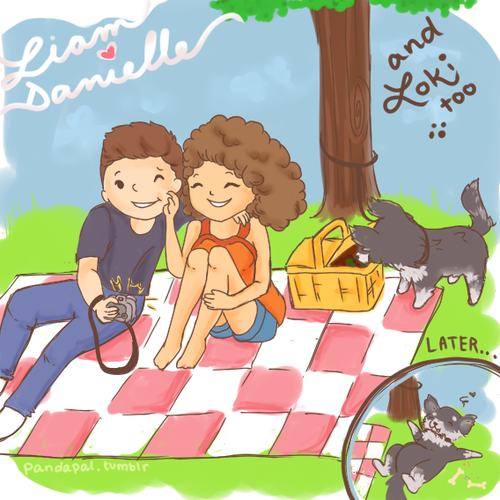 Illustration by pandapal/Tumblr
As for Loki, he promptly got a fake Twitter account that's since been followed by 33,000 Directioners.
Photo via daniellepeazer/Twitter